Sports
In Brief: White pulls out of slopestyle
Thu., Feb. 6, 2014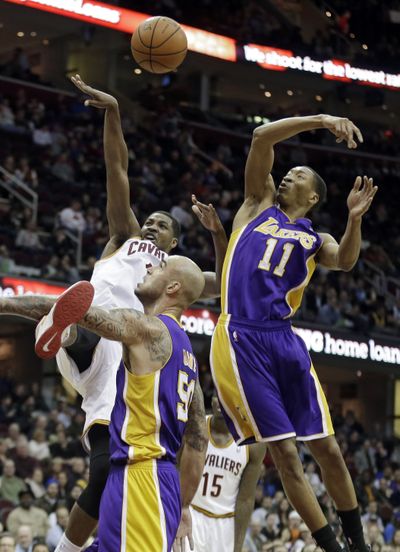 Winter Olympics: Shaun White is pulling out of the Olympic slopestyle contest in Krasnaya Polyana, Russia, to focus solely on winning a third straight gold medal on the halfpipe.
White issued a statement to the "Today" show, saying that after much deliberation, he decided to concentrate on one event. The 27-year-old snowboarding star jammed his left wrist during slopestyle practice Tuesday and was among the several riders complaining about the unsafe conditions of the course.
• Jamaican bobsledders missing equipment: Jamaica's beloved bobsled team has arrived at the Sochi Olympics – without its equipment.
Driver Winston Watts said he and teammate Marvin Dixon couldn't take their initial practice runs on the Sanki Sliding Center track in Krasnaya Polyana, Russia, on Wednesday because their luggage, including the runners for the two-man sled, have not yet made it to Russia. If the gear is further delayed, Watts plans to borrow from other bobsled teams so he can train.
• Lodwick chosen to carry flag: The United States has chosen six-time Olympian Todd Lodwick to be the team's flagbearer at Friday's opening ceremony for the Sochi Games.
Lodwick is competing in the Nordic combined in Sochi. He is the first American to compete in six Winter Games. Lodwick was part of the team that won silver in Vancouver in 2010.
• King will not attend opening ceremonies: Billie Jean King will not attend the opening ceremony of the Sochi Olympics in Russia because her mother is ill.
King, chosen in December to help lead the U.S. delegation, told The AP that because of her mother's "failing health, I will not be able to join the U.S. Presidential delegation at this week's opening ceremonies of the Sochi Olympics.
Lakers' Sacre fouls out, stays in game
NBA: The depleted Los Angeles Lakers had to keep Robert Sacre on the court after he fouled out in the fourth quarter of a 119-108 victory at the Cleveland Cavaliers.
The Lakers had eight available players coming into the game. Then Nick Young twisted his left knee in the first half and Chris Kaman fouled out early in the fourth quarter. When Jordan Farmar left with an injury in the final period, that put Los Angeles at five players.
Sacre committed his sixth foul with 3:32 remaining, but stayed in the game because coach Mike D'Antoni was out of healthy bodies. The Lakers were assessed a technical foul.
• Spurs deny Wizards in 2OT: Tim Duncan scored a season-high 31 points before fouling out in the second overtime, and the visiting San Antonio Spurs beat the Washington Wizards for an league-high 16th time in a row, holding on for a 125-118 victory.
Patty Mills scored 11 of his 23 points in the two overtimes for the Spurs, who haven't lost to the Wizards since a 110-95 defeat on Nov. 12, 2005.
• Thunder reach 40 wins: Kevin Durant had 26 points, nine rebounds and seven assists and the Oklahoma City Thunder earned a 106-97 victory over a Minnesota Timberwolves team without Kevin Love.
Reggie Jackson added 20 points and nine assists for Oklahoma City (40-11), which became the NBA's first team this season to 40 wins.
• Cold-shooting Blazers hold off Knicks: Nicolas Batum had 20 points and 10 rebounds and the Portland Trail Blazers overcame poor-shooting nights by their two All-Stars to beat the New York Knicks 94-90.
LaMarcus Aldridge finished with 15 points and 12 rebounds while shooting just 5 of 17 from the floor, while Damian Lillard shot 4 of 12 for his 12 points.
Crawford, Chicago shut out Anaheim
NHL: Corey Crawford made 29 saves in his first shutout of the season, and the Chicago Blackhawks pulled within one point of Anaheim for the overall NHL lead with a 2-0 win over the Ducks in Anaheim, Calif.
Marian Hossa scored in the second period and captain Jonathan Toews added a late goal for the Blackhawks.
Jonas Hiller stopped 23 shots for the Ducks.
• Sharks slip past Stars in OT: Tommy Wingels scored with 3:08 remaining in overtime to lead the Sharks to a 2-1 victory over the Dallas Stars in San Jose, Calif.
Marty Havlat scored in regulation and set up the game-winner in overtime.
Valeri Nichushkin tied the game early in the third period for the Stars.
• Lightning's Stamkos to miss Olympics: Tampa Bay Lightning star Steven Stamkos will not play for Canada in the Sochi Olympics.
Steve Yzerman, the Lightning's general manager and Team Canada's executive director, said that doctors ruled out Stamkos because he hasn't recovered sufficiently from a broken right leg which required surgery to have a titanium rod inserted into the tibia.
Stamkos will be evaluated again in two to three weeks.
American Phinney leads Dubai Tour
Cycling: American Taylor Phinney won the first stage of the inaugural Dubai (United Arab Emirates) Tour, finishing ahead of a quality field in a 10 kilometer individual time trial.
The 23-year-old from Boulder, Colo., who specializes in time trials and individual pursuits, clocked 12 minutes 3 seconds.
His BMC Racing teammate Steven Cummings of Britain was second, 14 seconds behind.
Local journalism is essential.
Give directly to The Spokesman-Review's Northwest Passages community forums series -- which helps to offset the costs of several reporter and editor positions at the newspaper -- by using the easy options below. Gifts processed in this system are not tax deductible, but are predominately used to help meet the local financial requirements needed to receive national matching-grant funds.
Subscribe to the sports newsletter
Get the day's top sports headlines and breaking news delivered to your inbox by subscribing here.
---