Sports
Miller, Svindal should determine men's downhill
Sun., Feb. 9, 2014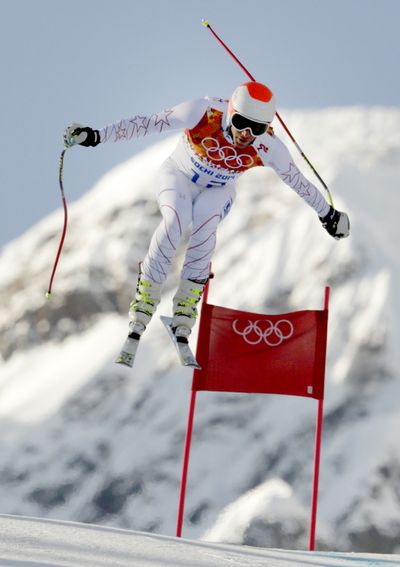 KRASNAYA POLYANA, Russia – Ask just about any Alpine ski racer or coach at the Olympics who is most likely to win the men's downhill today and two names pop up over and over: Bode Miller and Aksel Lund Svindal.
That's based, in part, on the pair's past accomplishments.
"They have so much experience," Austrian Alpine director Hans Pum said, "and so many victories."
It's also based on current form, and what they showed during three training runs on the difficult, and at times dangerous, Rosa Khutor course leading up to the sport's first race of the Sochi Games. Miller, a 36-year-old American, produced the fastest times Thursday and Saturday. Svindal, a 31-year-old Norwegian, was third Friday, second Saturday.
"Bode is fast, that's the bottom line," Svindal said. "Right now he looks like the favorite. … But there is me, and I would say three, four other guys that could beat him. So we'll see what happens."
Miller and Svindal go back to their days on the lower-tier Europa Cup ski circuit more than a decade ago. Stepping up to World Cup competition, they traded the overall title, with Miller winning in 2005 and 2008, and Svindal in 2007 and 2009.
Each won three medals, one of each color, at the 2010 Vancouver Olympics, where Miller raised his career haul to five, a record for a U.S. Alpine skier. In the downhill, which was won by Didier Defago of Switzerland, Svindal took silver, and Miller bronze.
One factor that could weigh on some racers' minds today: 10 of Saturday's 55 starters failed to finish.
"If you're not totally focused and paying attention, this course can kill you," Miller said.
Local journalism is essential.
Give directly to The Spokesman-Review's Northwest Passages community forums series -- which helps to offset the costs of several reporter and editor positions at the newspaper -- by using the easy options below. Gifts processed in this system are not tax deductible, but are predominately used to help meet the local financial requirements needed to receive national matching-grant funds.
Subscribe to the sports newsletter
Get the day's top sports headlines and breaking news delivered to your inbox by subscribing here.
---