News > Obituaries
Obituary: Parks, Mary Alice "Pat"
Age 95
Sun., Feb. 9, 2014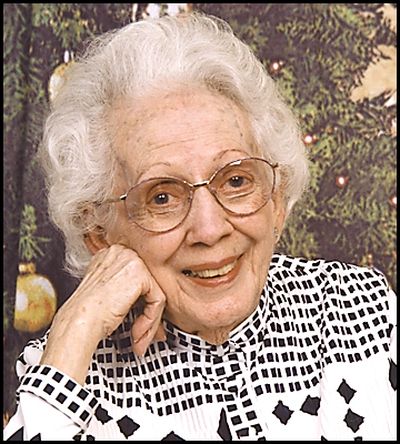 PARKS, Mary Alice "Pat" (Age 95) Passed away peacefully on February 5, 2014 with family by her side.
She was born in Cartersville, GA., on August 12, 1918 to Charles and Ruth Ellis but lived most of her life in Pensacola, FL.
She married her husband of 23 years, Clarence Parks, on June 21, 1940, and was a member of the First UMC, Pensacola, where she kept the nursery for 30 years.
She volunteered with the American Cancer Society and worked at Upjohn Health Care in Pensacola before moving to Spokane, WA., to be closer to family, and then joined the Spokane Valley UMC.
Pat is survived by her daughter, Ruth Ohl Andrew (Dennis), Spokane, WA; her son, Charles Parks, Cleveland, GA; and grandchildren, Phillip Ohl (Diane), Richland, WA., and Allison Ohl Workman (Chris), Danielsville, GA. Pat was great-grandmother to Jamie Ohl and Tate Ohl, Richland, WA., who both attend WSU and Asher Ellis Workman, an elementary student, Danielsville, GA.
In lieu of flowers the family suggests memorials to the Sullivan Park Care Center, 14820 E. 4th, Spokane, WA.
99216, or the First United Methodist Church, 6 East Wright Street, Pensacola, FL.
32501.
Condolences may be left at the Hazen & Jaeger Valley Funeral Home web site: http://www.hazenjaegervalley.com.
Local journalism is essential.
Give directly to The Spokesman-Review's Northwest Passages community forums series -- which helps to offset the costs of several reporter and editor positions at the newspaper -- by using the easy options below. Gifts processed in this system are not tax deductible, but are predominately used to help meet the local financial requirements needed to receive national matching-grant funds.
Subscribe to the Coronavirus newsletter
Get the day's latest Coronavirus news delivered to your inbox by subscribing to our newsletter.
---