News > Features
Turning 50: Kim Varner meets cancer head on, looks past 50th
Mon., Feb. 10, 2014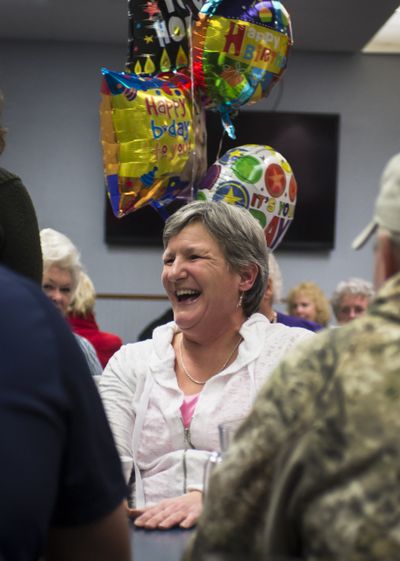 Kim Varner just wanted to live to her 50th birthday.    In December, after another cancer surgery and another staph infection, the Spokane native wasn't sure she would make it to join the other 4.8 million baby boomers who will reach the half-century mark this year.
But her Jan. 28 birthday came and went and Varner is 50 and alive. Her next goal is to make it to April for a trip to New York to visit her godson and celebrate the 50th birthday of her childhood best friend.
"I'm going to get through it," Varner said. "I'm going to build my health back up."
Varner was diagnosed with invasive breast cancer just weeks after her 48th birthday. She was shocked because 10 years earlier she had embraced a healthy lifestyle, joined Weight Watchers and lost 100 pounds. She became a gym rat, loving cycling classes. Her mother had breast cancer but she never thought she would face the same fate.
While going through treatment, her high school friend caught a cold, landed in the hospital and died. She was 50. It was a reality check for Varner.
"We can go at any time," Varner said. "We have to really enjoy what we have."
And that she did when she walked into her surprise party Jan. 29 at Five Mile Heights Pizza, the same neighborhood pizza joint she enjoyed as a kid. Besides the surprise, she savored seeing friends from her 1982 graduating high school class.
Varner didn't even realize she is a baby boomer, a somewhat common belief for this group born the year the Beatles invaded America and Martin Luther King Jr. received the Nobel Peace Prize. JFK was already dead and they were too young to protest Vietnam or participate in the summer of love. The oldest of the baby boomers, born in 1946, were already 18 when she was born.
"I thought the baby boomers were a lot older than us," Varner said. "I thought those guys were old and dead."
She fondly remembers after-school specials on TV, "The Brady Bunch" and "The Partridge Family." On Sundays the family made popcorn and watched "The Wonderful World of Disney" on television.
She had an eight-track player in her Chevy Corvair and two tapes: Simon & Garfunkel and The Carpenters. Her family got the first cable stations and Varner remembers her dad watching cable news in the mornings. The highlight of her childhood was watching man's first walk on the moon in 1969.
"It literally stopped time," she said. "It seemed like I stood there for hours."
Varner vividly remembers Mount St. Helens erupting in 1980. Her large family and her aunt's family of six spent three days cooped up inside together, an experience she described as "super scary, hot and fun all at the same time."
Varner and her friends watched movies such as the filmed-in-Spokane "Vision Quest," "Flashdance," "Grease" and any Barbra Streisand movie at the Fox Theater. For many years viewers could bring their own snacks from home. When the rules changed, Varner and her friends worked yard jobs to earn money for popcorn and candy.
She married Tom Varner in 1984. The couple will celebrate 30 years in September. They joke they are dinosaurs because they are one of the few couples they know who remain married. They have two children, ages 26 and 28.
Her son joked the other week that he was the only guy in the bar who knew the words to all of Madonna's songs. Varner laughed that she relates to nothing in the baby boom generation, except a strong desire to live and enjoy the rest of her life.
"I have a new perspective on life," she said.
Local journalism is essential.
Give directly to The Spokesman-Review's Northwest Passages community forums series -- which helps to offset the costs of several reporter and editor positions at the newspaper -- by using the easy options below. Gifts processed in this system are not tax deductible, but are predominately used to help meet the local financial requirements needed to receive national matching-grant funds.
Subscribe to the Coronavirus newsletter
Get the day's latest Coronavirus news delivered to your inbox by subscribing to our newsletter.
---