News > Spokane
Rick Dobrow, new Spokane police assistant chief, doesn't meet qualifications
Tue., Feb. 11, 2014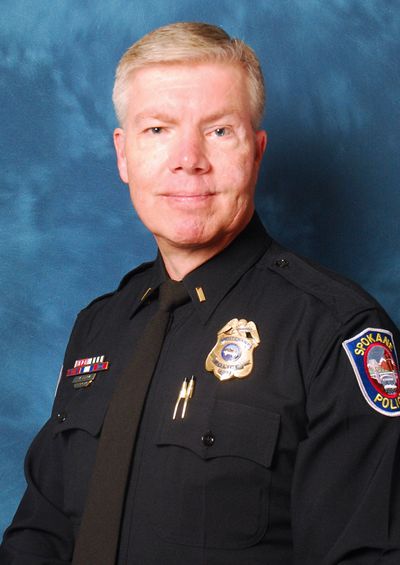 Spokane's new assistant police chief doesn't meet the stated minimum qualifications for his new job.
Rick Dobrow, who has served on the force for 20 years, was announced as the new assistant police chief on Monday.
The job description on file with the city's Human Resources Department says the "minimum qualifications" for an assistant police chief include having a bachelor's degree and at least five years experience as a lieutenant or captain.
Dobrow doesn't have a bachelor's degree and he has less than three years experience as a lieutenant and captain. He has an associate's degree and was named a lieutenant in May 2011 and a captain last September, police spokeswoman Monique Cotton said.
"It's important to have the right people in the right positions at the right times, and he clearly has extensive experience in law enforcement," Cotton said.
The assistant police chief position is not part of the city's civil service system so Mayor David Condon and Chief Frank Straub have authority to ignore many requirements for the job. The "minimum qualifications" were last written for the position in May 2013 – after Straub already was leading the department.
Councilman Jon Snyder, chairman of the City Council's public safety committee, said he's seen Dobrow at many neighborhood council meetings.
"I've never seen any indication that he wouldn't be a solid candidate for this position," Snyder said. "The chief created the qualifications, and if he sees reason to stray from them, I'm going to assume that he has good reasons."
Dobrow started work as a police officer in Stockton, Calif., in 1982, according to a department newsletter. He joined the Spokane force in 1994. Dobrow was given the department's Purple Heart award after a serious motorcycle crash in September 2006.
Cotton said Straub knew Dobrow didn't meet City Hall's requirements. The City Council does not have to vote to approve appointments for assistant directors or assistant chiefs. City Council President Ben Stuckart said he was also OK with the chief and mayor forgoing the job's minimum requirements.
"I've only had great interactions with Mr. Dobrow," Stuckart said.
The vacancy filled by Dobrow occurred after Assistant Chief Craig Meidl informed Straub late last month that he was stepping down and wanted to return to being a lieutenant. That followed several other changes at the top of the department. Last year, the Spokane City Council agreed to create six new departments within the police force to allow Straub and Condon to appoint more leaders outside the civil service system. Most of the director positions are empty, though one was filled Monday when the City Council accepted Straub's recommendation to appoint Selby Smith, a longtime Drug Enforcement Agency official, as the director of police investigations.
Local journalism is essential.
Give directly to The Spokesman-Review's Northwest Passages community forums series -- which helps to offset the costs of several reporter and editor positions at the newspaper -- by using the easy options below. Gifts processed in this system are not tax deductible, but are predominately used to help meet the local financial requirements needed to receive national matching-grant funds.
Subscribe to the Coronavirus newsletter
Get the day's latest Coronavirus news delivered to your inbox by subscribing to our newsletter.
---