News > Spokane
Spokane officer retired following false police report
Spokane police investigators were poised to recommend Barry O'Connell be fired
Thu., Feb. 13, 2014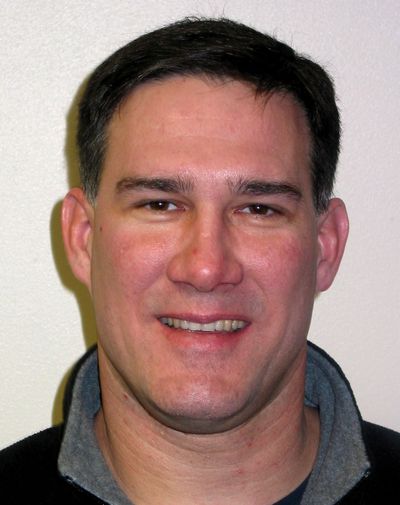 A Spokane police officer with a troubled work history was forced into retirement this month after he filed a false police report.
Officer Barry O'Connell, who has been suspended three times without pay in recent years for separate violations of department policy, retired Feb. 3, just as investigators were about to recommend he be fired.
O'Connell was placed on paid administrative leave in late November after his superiors suspected he arrested a woman without probable cause.
The woman was suspected of violating a protection order.
The department eventually determined she should have been arrested but that he filed a false police report and forgot to do a background check on the suspect until he was reminded to do so.
In an internal investigation, O'Connell acknowledged he did poor work on the report.
"This turd is mine and I did crappy work," he said in a formal interview the department conducted. "It was never meant to deceive, but I can see where people would have questions concerning that."
Less than a year earlier, O'Connell forgot to conduct a background check on a man he arrested for violating a no-contact order with his girlfriend. The man already had been convicted twice of violating the order, according to the department's internal investigation. Had O'Connell checked, the man likely would have faced a felony charge for repeated violations. Instead, he was charged with a misdemeanor and a prosecutor later said it was too late to change the charge.
The victim in the case later complained to city police Ombudsman Tim Burns, and O'Connell was given a written reprimand.
In the most recent case, O'Connell forgot to perform a background check until after he booked the woman into jail on a misdemeanor charge. After he was reminded by a superior, he did the background check and the charge was changed to a felony.
O'Connell has been the focus of more than 15 internal investigations within the department. Of those, six followed vehicle crashes, four of which were determined to be preventable. He received a verbal warning, counseling and letter of reprimand for three of the preventable crashes. In 2011, O'Connell earned about $75,000 a year plus overtime.
He was suspended three times without pay in recent years:
• In 2012, he was suspended for three weeks after his daughter shot herself in the leg with his service weapon. He was found in violation of department policy requiring officers to secure their duty weapons.
• He was suspended for 40 hours in 2010 for "conduct unbecoming" of an officer. In that case, O'Connell was found to have been involved in a minor road-rage incident in his personal vehicle. After the incident he went back to the Public Safety Building for his shift and instead of heading for his normal patrol, he sought out the woman in the road-rage incident.
• The city also suspended O'Connell without pay in 2009 for 40 hours after he was accused of sexual harassment and "improper conduct."
"The department will not tolerate misconduct and is taking steps to ensure that staff follows policy and procedure," said Monique Cotton, Spokane Police Department spokeswoman.
Spokane Police Guild President John Gately said the department correctly "followed due process" in the investigation.
"Barry has retired from the department and has moved on to the next chapter of his life," Gately said. "That was the resolution he chose."
In the most recent case, O'Connell wrote in his police report that he spoke to the victim before he arrested the woman, a statement that was untrue. He spoke to her by phone after the arrest while at the Spokane County Jail. Because he did not interview the victim first, O'Connell's superiors were concerned that he did not have probable cause before he made the arrest.
He also wrote in the police report that he performed a background check "while transporting" the suspect to jail. O'Connell acknowledged that didn't perform the check until after the suspect was booked into jail.
"I'm very embarrassed by this report because this is not accurate," O'Connell said, according to transcripts of his interview during the internal investigation. "This is not the quality of work I've done for 20 years."
Local journalism is essential.
Give directly to The Spokesman-Review's Northwest Passages community forums series -- which helps to offset the costs of several reporter and editor positions at the newspaper -- by using the easy options below. Gifts processed in this system are not tax deductible, but are predominately used to help meet the local financial requirements needed to receive national matching-grant funds.
Subscribe now to get breaking news alerts in your email inbox
Get breaking news delivered to your inbox as it happens.
---