Sports
NBA, basketball, Golf, PGA, LPGA, Men's basketball, NCAA
Fri., Feb. 14, 2014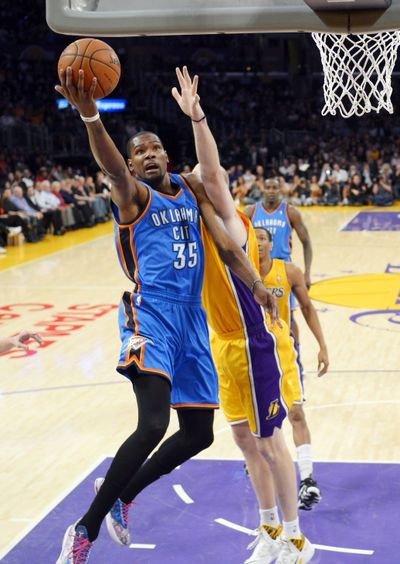 NBA: Kevin Durant scored 19 of his 43 points in the fourth quarter and the Oklahoma City Thunder sent the undermanned Los Angeles Lakers to a record-setting seventh straight home loss with a 107-103 victory on Thursday night.
The Thunder have a 1 1/2 game lead on Indiana for the NBA's best record. Their 43-12 mark has equaled the best start in the franchise's 47-year history.
The Lakers have lost 22 of their last 27 games and are tied with Sacramento for last place in the Western Conference.
Oklahoma City is 20-7 without second-leading scorer Russell Westbrook, who is recovering from knee surgery.
• Noah nets double-double in Bulls win: Taj Gibson scored 16 points and Carlos Boozer returned from an injury to add 15 in the Chicago Bulls' 92-76 victory over the Brooklyn Nets.
Joakim Noah had 14 points and 13 rebounds for his fifth straight double-double. The Bulls (27-25) moved two games above .500 for the first time since they were 6-4 on Nov. 21. They have won four of five.
The Bulls shot 50 percent to the Nets' 38.8 percent. Mike Dunleavy and Jimmy Butler each had 14 points for Chicago. The Bulls are 2-0 against the Nets this season.
Johnson takes lead with six birdies
GOLF: Dustin Johnson moved down the coast of California and brought his game with him in the Northern Trust Open in Los Angeles.
So did Jimmy Walker.
Johnson made six birdies on a warm, sunny day at Riviera (Pacific Palisades) for a 5-under 66, giving him a one-shot lead when the opening round was suspended by darkness. Walker birdied his last three holes and was in the large group at 67 that included Francesco Molinari of Italy and Torrey Pines winner Scott Stallings.
Four days ago, Johnson closed with a 66 in the gray, cold weather of Pebble Beach to finish one shot behind Walker. In conditions that could not have been any different – and could not have been any better – he made birdie on all of the par 5s at Riviera and only had one bogey on his card, at the long par-3 fourth.
• Pettersen leads in Victoria: Norway's Suzann Pettersen carded a 6-under 66 to lead the women's Australian Open by a shot after the first round at the Victoria (British Columbia) Golf Club.
Kim Welch (Washington State University) finished the day at 10-over 82.
Auburn ends 15 years of losses in Nashville
WOMEN'S BASKETBALL: Tyrese Tanner scored on a jumper with 24 seconds left to give Auburn the lead, and Peyton Davis and Kiani Parker both added a pair of free throws as the Tigers pulled out a win at Nashville, Tenn., for the first time since 1999, upsetting No. 16 Vanderbilt 68-62.
Tanner scored 18 points to lead Auburn (14-10, 5-6 SEC), while Christina Foggie tossed in 24 points to lead Vanderbilt (17-7, 6-5), hitting 2 of 8 from long range to tie the record for most career 3-pointers in program history (256).
Spartans stay tied for Big Ten lead with win
MEN'S BASKETBALL: Adreian Payne had 20 points and 14 rebounds, as No. 9 Michigan State cruised past Northwestern 85-70 in Evanston, Ill., to stay tied atop the Big Ten.
The Spartans (21-4, 10-2) are even in the standings with rival Michigan – with the two teams scheduled to meet in Ann Arbor on Feb. 23.
The Wildcats (12-13, 5-7) had not allowed 80 points in a game in over a month.
• Winter continues to postone contests: A winter storm continues to wreak havoc in the South and East, forcing the cancellation of sporting events.
Due to hazardous weather conditions, a pair of men's basketball games featuring Top 25 teams were postponed – No. 13 Louisville at Temple, and No. 23 SMU at Rutgers. Both games have been rescheduled for tonight. No tipoff times have been set.
Local journalism is essential.
Give directly to The Spokesman-Review's Northwest Passages community forums series -- which helps to offset the costs of several reporter and editor positions at the newspaper -- by using the easy options below. Gifts processed in this system are not tax deductible, but are predominately used to help meet the local financial requirements needed to receive national matching-grant funds.
Subscribe to the sports newsletter
Get the day's top sports headlines and breaking news delivered to your inbox by subscribing here.
---