News > Obituaries
Obituary: Roberts, Cordella Claudine
Fri., Feb. 14, 2014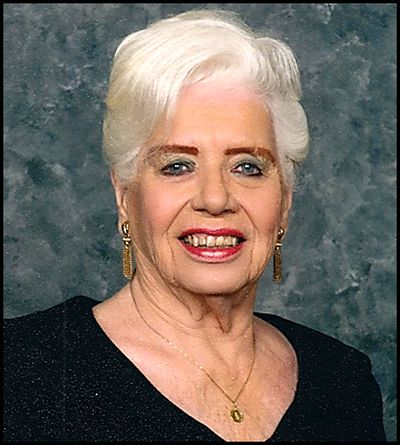 ROBERTS, Cordella Claudine (Kaska) (Age 90) Following a diagnosis of gastric cancer, Cordella Roberts passed away on Sunday, February 9, 2014, surrounded by her family.
Cordella was born on July 19, 1923, in St. Joseph, Missouri, to Joseph and Claudine (Dupin) Kaska.
She attended St. James Catholic School and graduated from Benton High School in 1941.
Her first job was at Fort Leavenworth, Kansas.
After the war, she returned home to St. Joe, where she held various clerical positions at the St. Joseph Livestock Exchange.
On January 11, 1946, at the Frog Hop, she met the love of her life, Jack Edward Roberts, a cub reporter for the St. Joseph Gazette, who had recently mustered out of the Army Air Corps.
By March, they were engaged, and on July 20, 1946, the day after Cordella's 23rd birthday, they were wed. For their honeymoon, Jack and Cordella took the train to Winter Park, Colorado, the first of their many trips together.
In 1947, the two moved to Utah, where Jack worked as a reporter for the Salt Lake City Tribune and Cordella worked as the bookkeeper for Gallagher's Trucking Co.
In 1952, Jack took a position with United Press in Seattle.
Their first child, Kimberly, was born that December.
In 1953, when Jack was hired as city hall reporter for the Spokesman-Review (a position he held for the next 31 years), they moved to Spokane, where Cordella gave birth to sons Jeffrey, in 1955, and Brett, in 1958.
From the start, Cordella insisted on annual family vacations.
These weeks-long camping trips began as canvas tent pilgrimages to St. Joe, and later expanded to tent-trailer journeys through Canada and down the West Coast, and eventually to cross-country trailer trips to New England, Virginia and Florida.
In Spokane, Cordella kept busy with her children, serving as leader for their Camp Fire and Cub Scout groups and regularly chauffeuring them to assorted lessons, rehearsals and practices.
She was notorious for throwing large home birthday parties for each of the kids, inviting all of their school and neighborhood friends.
She was a member of Our Lady of Fatima, and later, St. Augustine parishes.
In 1965, Cordella returned to the work force to earn for her children's college educations.
She began as bookkeeper for the Inland Empire Girl Scouts Council, chairing the annual cookie sale for many years, and retiring as Finance Director in 1988.
After Cordella's retirement, the summer camping vacations became months-long road trips across the U.S. with Jack and the dogs, Joey and Brit, in her beloved trailer.
With Jack now playing clarinet in the El Katif Shrine Band, Cordella joined the El Carnak Daughters of the Nile.
They enjoyed many social gatherings with fellow band members and their wives, traveling to various parades and PNSA functions throughout the West, and highlighted by a three week trip to Europe.
Jack passed away in December 1996.
From then on, Cordella never went a day without reminding all who would listen of what a fine man her husband was and how much she loved him.
She continued traveling, sometimes by herself, making many trips to Missouri and Canada, a train odyssey throughout the Southwest, Caribbean and New England cruises, a pilgrimage to the Holy Land and Rome, and overseas trips to Denmark, Spain, Morocco and China.
Cordella is survived by her daughter Kimberly Roberts (John Webster) and sons Jeffrey Roberts (Terry) and Brett Roberts (Wendy), her grandchildren Kaitlin Webster, Misty Flores, Autumn Conley, Ben Smith and Allie Roberts, all of Spokane, and her former neighbor and beloved friend, Stephanie Zoldak.
A Vigil Service and Photo Memorial will take place on Monday, February 17, at 4:30 PM at Hennessey Funeral Home, 2203 N. Division, Spokane.
A Funeral Mass will be celebrated on Tuesday, February 18, at 11:00 AM at St. Augustine Catholic Church, 428 W. 19th Ave., Spokane.
To view Cordella's online memorial, please visit www.hennesseyfuneralhomes.com.
Arrangements entrusted to
Local journalism is essential.
Give directly to The Spokesman-Review's Northwest Passages community forums series -- which helps to offset the costs of several reporter and editor positions at the newspaper -- by using the easy options below. Gifts processed in this system are not tax deductible, but are predominately used to help meet the local financial requirements needed to receive national matching-grant funds.
Subscribe to the Coronavirus newsletter
Get the day's latest Coronavirus news delivered to your inbox by subscribing to our newsletter.
---