News > Spokane
Joe Pakootas, Colville Tribe CEO, starts run for U.S. House
Tue., Feb. 18, 2014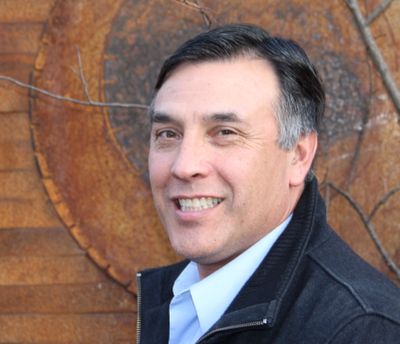 As a member of Congress gains stature in Washington, D.C., opponents often have more trouble defeating them in elections back home. Eastern Washington Democrats are hoping the reverse is true this year as Joe Pakootas prepares to run against Republican Rep. Cathy McMorris Rodgers.
He's counting on a boost from the public's general low opinion of Congress, and thinks its partisan wrangling and its short time in session will work against the 10-year incumbent who is part of Republican leadership.
"She's part of that decision-making group," said Pakootas, the chief executive officer of the Colville Tribal Federal Corporation. A race against a Republican will be easier this year because of last year's partial government shutdown, fights over the debt ceiling and repeated votes to abolish the Affordable Care Act, he contends.
McMorris Rodgers, the fourth-ranking member of her party in the House as the Republican Conference chairwoman, is often at or near the podium as GOP leaders announce or defend policy. She was given the high-profile assignment last month of responding to President Obama's State of the Union speech.
State Democratic Party Vice Chairwoman Valerie Rongey said previous challengers have run against McMorris Rodgers by taking issue with her voting record, but that's not something most voters focus on. Democrats now believe voters will find more points of disagreement "every time she speaks to a camera," Rongey said.
At 56, Pakootas has served on the Colville Tribal Council and as tribal chairman, but is making his first political run outside the reservation. He's pointing to a business background that includes taking the reins of the tribal corporation that operates gaming, recreation, commercial and retail facilities and moving it from the red to the black in about nine months.
"The way I operate is sitting down and talking, negotiating over issues," he said. Members of both parties need to "sit down like adults" and work out their differences over things like jobs, women's rights and the Affordable Care Act.
He thinks the federal government needs to spend more on roads, bridges and other public works projects, but not go deeper into debt to do it. It should adjust other spending and cut waste.
He didn't point to any particular cuts, but added: "There is always some waste in government."
Pakootas is critical of the recently passed farm bill, which he believes still provides too many subsidies for large farms while cutting the food stamp program. He wants Congress to do more to protect voting rights for the poor and minorities that he believes are under attack by recent laws in some states.
As a Native American from Inchelium, far outside the district's main population center of Spokane, Pakootas acknowledges he faces two hurdles right out of the blocks. One is that he's not well known throughout the district.
"I'm just going to have to get myself out there and sell myself to the public," he said.
He believes he'll have to raise and spend between $1 million and $1.5 million for a successful campaign. That would be two to three times the amount Democratic challengers in the district have raised in the last three campaigns combined. To reach that goal, he'll need help from national sources, such as the Democratic Congressional Campaign Committee, which sat out those three races.
The other hurdle is that tribal members in his home base often have low turnout in congressional elections. "That's going to be part of my responsibility, too, to get out the vote" among tribal members, and he has a history of working with the two other tribes, the Spokanes and Kalispels, he said.
Pakootas would be the first Native American candidate for Congress from a major party in Eastern Washington's 5th Congressional District since Mel Tonasket, another Colville, ran as a Republican in 1980 and got 10 percent of the primary vote. Tonasket also got 9 percent of the vote as an independent candidate in a three-way general election in 1978.
Rongey believes Eastern Washington's 5th Congressional District is more diverse than most people think, and doesn't see Pakootas' race as an issue. Statistics from the state Redistricting Commission, however, show the district as it was redrawn in 1992 is the state's least diverse. Nearly 86 percent of the residents are white and about 2 percent are Native American.
Pakootas hopes he can convince the district's rural voters that he can relate to their issues because many of them share the same problems with reservations: high unemployment and weak economies.
Local journalism is essential.
Give directly to The Spokesman-Review's Northwest Passages community forums series -- which helps to offset the costs of several reporter and editor positions at the newspaper -- by using the easy options below. Gifts processed in this system are not tax deductible, but are predominately used to help meet the local financial requirements needed to receive national matching-grant funds.
Subscribe to the Coronavirus newsletter
Get the day's latest Coronavirus news delivered to your inbox by subscribing to our newsletter.
---