Sports
Eagles snuff out Orange's perfect season
Thu., Feb. 20, 2014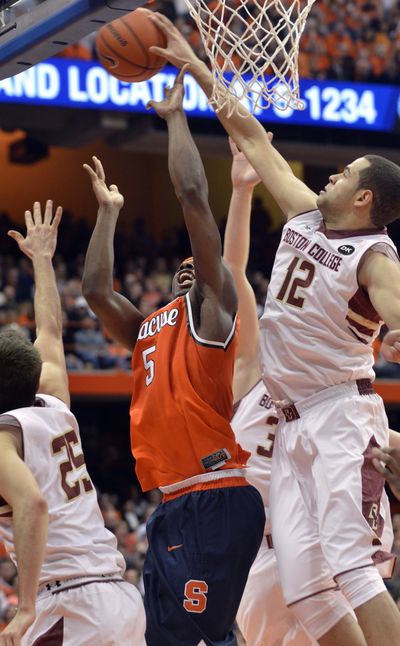 Men's basketball: Olivier Hanlan and Patrick Heckman hit 3-pointers in overtime, while Lonnie Jackson made four straight free throws in the final 26.2 seconds, and lowly Boston College stunned top-ranked Syracuse 62-59 on Wednesday night, ending the Orange's unbeaten season.
The Eagles (7-19, 3-10 Atlantic Coast Conference), which had lost five straight, rallied from a 13-point second-half deficit to pull off the improbable upset in Syracuse, New York. The Orange (25-1, 12-1), which had won its last two games by a combined three points, shot a season-low 32.2 percent from the field including going 2 of 12 from 3-point range.
The loss leaves No. 3 Wichita State as the lone unbeaten team in Division I.
Short-handed Spurs pull it out in Portland
NBA: Patty Mills came off the bench to score 29 points, while Marco Belinelli hit a go-ahead 3-pointer with 1:34 remaining and the visiting San Antonio Spurs defeated the Portland Trail Blazers 111-109 in a battle of short-handed teams.
Mills scored 24 points during the second half to lead the Spurs, who rested starters Tim Duncan and Tony Parker.
Belinelli had 20 points and Manu Ginobili 16 for San Antonio, which sat Kawhi Leonard with an injured right hand.
Damian Lillard scored 31 points, Mo Williams added 19 and Wesley Matthews had 18 for Portland as both teams had six players score in double figures.
Trail Blazers forward LaMarcus Aldridge, the team's leading scorer and rebounder, missed the game with a groin injury and is expected to be out at least a week. Also sidelined were forward Joel Freeland (knee) and center Meyers Leonard (ankle).
• Irving, Cavaliers make it six straight: Kyrie Irving scored 22 points and the Cleveland Cavaliers won their sixth straight game, 101-93 over the visiting Orlando Magic.
Irving, chosen MVP of the NBA All-Star game Sunday, paced a balanced offense that extended the Cavaliers' longest winning streak since they won eight in a row in March 2010, LeBron James' final season in Cleveland.
Arron Afflalo led Orlando with 23 points. The Magic have lost 14 consecutive road games and are an NBA-worst 3-25 away from home.
• Boozer and Bulls win four in a row: Carlos Boozer scored 20 points, while D.J. Augustin had 19 against his former team and the visiting Chicago Bulls won their fourth straight game, beating the Toronto Raptors 94-92.
Kirk Hinrich scored 19 points. Jimmy Butler had 16 and Taj Gibson fouled out with 10 as the Bulls won for the fifth time in six games and halted Toronto's winning streak at three. Joakim Noah had eight points and 13 assists for the Bulls.
DeMar DeRozan led the Raptors with 32 points while Kyle Lowry fouled out with 16. Lowry, who had seven assists, failed to extend his career-best streak of double-doubles to four games.
• Nets set to acquire Thornton: The Brooklyn Nets have agreed to acquire guard Marcus Thornton from the Sacramento Kings for Jason Terry and Reggie Evans.
The deal, first reported by Yahoo! Sports, would remove two little-used veterans from the Nets' aging roster. It was confirmed to The Associated Press under condition of anonymity because it was still awaiting NBA approval.
McDowell forces extra holes for win
Miscellany: Graeme McDowell pulled off a stunner on a day of comebacks in the Match Play Championship in Marana, Ariz.
McDowell won the last three holes against Gary Woodland to force extra holes, and then beat him with a 6-foot birdie on the 19th hole.
Jason Dufner also escaped against Scott Stallings. The PGA champion rallied from 3 down with five holes to play to beat Stallings with a par in 19 holes.
• Multi-car wreck allows all involved to walk away: Rookie Parker Kligerman was involved in a multi-car wreck, sliding on his roof halfway down the front-stretch in the first full practice for the Daytona 500 in Daytona Beach, Fla.
Matt Kenseth and Joey Logano started the melee when they got together coming out of turn 4 during a drafting session. Trevor Bayne then hit Logano, who slammed into Paul Menard. Dave Blaney also was involved. No one was injured.
• Davis suspended a second time: Washington Redskins tight end Fred Davis was suspended indefinitely without pay for violating the league's substance abuse policy.
It's the second substance-abuse suspension for Davis. He was also sanctioned for the final four games of the 2011 season after testing positive for marijuana.
He said this suspension is unrelated to the first one. He also said he will be permitted to apply for reinstatement in the fall.
• Bailey avoids arbitration for huge contract: Starter Homer Bailey agreed to a six-year, $105 million deal that avoids arbitration and will help the Cincinnati Reds with their cash flow by temporarily deferring some of the salary.
The deal includes a $25 million mutual option for 2020 with a $5 million buyout.
Local journalism is essential.
Give directly to The Spokesman-Review's Northwest Passages community forums series -- which helps to offset the costs of several reporter and editor positions at the newspaper -- by using the easy options below. Gifts processed in this system are not tax deductible, but are predominately used to help meet the local financial requirements needed to receive national matching-grant funds.
Subscribe to the sports newsletter
Get the day's top sports headlines and breaking news delivered to your inbox by subscribing here.
---