Sports
Americans shut out of medals
Finland blanks U.S. for hockey bronze
Sun., Feb. 23, 2014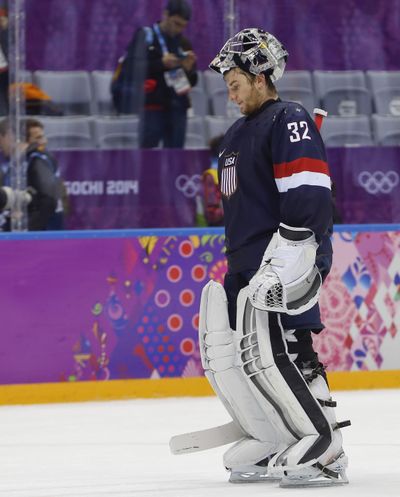 SOCHI, Russia – At least they didn't break any furniture.
Yet.
Then again, the U.S. hockey team's charter flight home isn't scheduled to take off until today. Although their fourth-place finish Saturday night was better than the sixth they managed at the 1998 Nagano Olympics – when several players went all Rolling Stones and started pitching chairs and desks out of windows – there won't be many souvenirs worth hanging onto from here, either.
The Americans' embarrassing 5-0 loss to Finland in the bronze-medal game featured plenty of quit.
Patrick Kane wound up with three penalties and two missed penalty shots – a once-in-a-career stat line – but he wasn't the only U.S. player who was having trouble finding the net. The Finns enjoyed a 7-3 advantage in power plays, converting the last two, but by then it hardly mattered.
The Americans were never coming back. Not with the way Finnish goalkeeper Tuukka Rask was playing.
"They played hard and taught us a real good lesson for 60 minutes," U.S. center David Backes said.
"Yeah, we did collapse," defenseman Ryan Suter concurred. "We had a great first period, we were all over them, had a couple of good chances, couldn't get one by him and it ended up costing us."
"Once they got those two goals, a lot of frustration set in for us," captain Zach Parise said. "We started trying to beat guys one-on-one. We stopped playing that team game that got us to where we are."
How the U.S. even reached the bronze-medal game was a tough question. The Americans scored at least five goals against all of their first four opponents, except Russia. Then T.J. Oshie scored more goals in the shootout against those Russians than the U.S. team combined in its last two games.
Canada exposed them in a 1-0 semifinal, that wasn't as close as the score. Then the Finns dominated them.
In part that's because this was a team built not to lose. Its strong suit, maybe its only suit, was defense. And once it fell behind opponents like Canada and Finland, whose defenses were just as organized and whose goalies were just as tough-minded, the U.S. had too little firepower and no idea how to come back.
They had only two real scoring options up front – speedy Phil Kessel and the usually shifty Kane – and both of them were pounded relentlessly by the Canadians. They were so worn out by the time Finland picked up the pace that they were no longer really options at all.
"We get all this rhetoric about how we've got a high-powered offense, then," Backes said ruefully, "you don't score a goal for two games."
There was bound to be some lingering disappointment after the loss to Canada. But there was also something about the composition of this U.S. squad that made you expect a 180 from the way that Nagano group responded to adversity. That team was a bunch of aging pros who groused about the accommodations early, partied their way through the preliminary round, and were ready to get out of town about the time the furniture started crashing down in the athletes' village.
| | | | | |
| --- | --- | --- | --- | --- |
| Country | G | S | B | T |
| Russia | 11 | 10 | 8 | 29 |
| United States | 9 | 7 | 11 | 27 |
| Norway | 11 | 5 | 10 | 26 |
| Canada | 9 | 10 | 5 | 24 |
| Netherlands | 8 | 7 | 9 | 24 |
Local journalism is essential.
Give directly to The Spokesman-Review's Northwest Passages community forums series -- which helps to offset the costs of several reporter and editor positions at the newspaper -- by using the easy options below. Gifts processed in this system are not tax deductible, but are predominately used to help meet the local financial requirements needed to receive national matching-grant funds.
Subscribe to the sports newsletter
Get the day's top sports headlines and breaking news delivered to your inbox by subscribing here.
---