News > Features
Around the Remote: Sochi Olympic Games closing
Sun., Feb. 23, 2014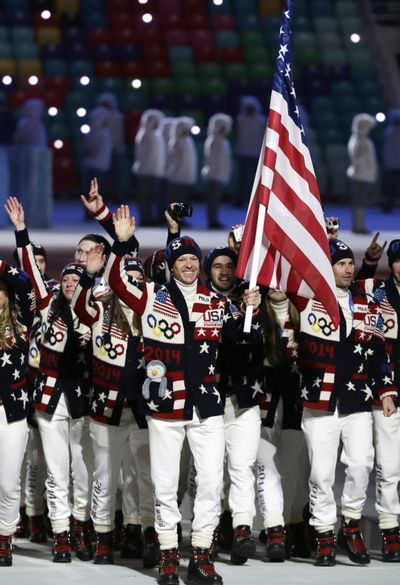 Don't miss
WINTER OLYMPICS CLOSING CEREMONY: Give yourself a medal. Over the past 17 days, you welded yourself to the couch and saw more action than Bob Costas. You blurted out "USA! USA! USA!" until your lips turned blue. And you witnessed enough annoying commercials to last a lifetime. Alas, the end is here. The athletes are done and the Olympic flame is about to be extinguished. Now, you can go back to ignoring all those weird cold-weather sports like you used to do. 8:30 p.m. Sunday, NBC.
Other bets
SUNDAY: Eleven pairs of familiar faces are back to compete in a new season of "The Amazing Race." At stake: $1 million and a whole lot of frequent-flier miles. 8 p.m., CBS.
SUNDAY: A couple of Americans – Shirley MacLaine and Paul Giamatti – show up for the Season 4 finale of "Downton Abbey." But what we really want to know is if Lady Mary (Michelle Dockery) is ever going to settle on a new beau? 8 p.m., KSPS; 9 p.m., KCDT.
SUNDAY: J.K. Simmons takes a break from those Farmers Insurance ads to star in the new sitcom "Growing Up Fisher." He plays a blind lawyer and family man whose marriage is ending. Jenna Elfman also stars. 10:36 p.m., NBC.
MONDAY: Get those chairs a spinning. It's time to face the music on "The Voice" again as Usher and Shakira return to replace Cee Lo Green and Christina Aguilera. 8 p.m., NBC.
MONDAY: Larry Hagman may have left us, but the devious schemes and double-crosses continue on "Dallas," which returns for its third season. Watch your back, Bobby. 9 p.m., TNT.
TUESDAY: The latest edition of "Frontline" delves into "The Secrets of the Vatican." It examines the reasons Pope Benedict XVI stepped down and the work of Pope Francis to set the Catholic Church on a new path. 9 p.m., KSPS and KCDT.
WEDNESDAY: "Survivor: Cagayan" brings a new hook to the venerable reality series as teams are separated in tribes of Brawn, Brains and Beauty. Apparently, if you've got all three, you're out of luck. 8 p.m., CBS.
WEDNESDAY: "The Americans" returns for more addictive spy games. Philip and Elizabeth (Matthew Rhys and Keri Russell) finally bring some stability to their forced marriage, but a horrific event makes them fear for not only their lives, but for those of their children. 10 p.m., FX.
THURSDAY: Rejoice, "Scandal" fans. The buzzy drama returns from hiatus with the first of eight new episodes and Sally (Kate Burton) is about to deliver a shocking announcement that will rock the White House. 10 p.m., ABC.
FRIDAY: The delectable thriller "Hannibal" returns for its second season and you just know there will be blood. Probably lots of it. 10 p.m., NBC.
SATURDAY: Former pro sports great Deion Sanders returns to prime time in "Deion's Family Playbook." It's a reality series that follows his daily life as the father of five and a football coach at a charter school he cofounded. 10 p.m., OWN.
Local journalism is essential.
Give directly to The Spokesman-Review's Northwest Passages community forums series -- which helps to offset the costs of several reporter and editor positions at the newspaper -- by using the easy options below. Gifts processed in this system are not tax deductible, but are predominately used to help meet the local financial requirements needed to receive national matching-grant funds.
Subscribe to the Coronavirus newsletter
Get the day's latest Coronavirus news delivered to your inbox by subscribing to our newsletter.
---