News > Obituaries
Obituary: Latimer, George Allen Jr.
Age 90
Sun., Feb. 23, 2014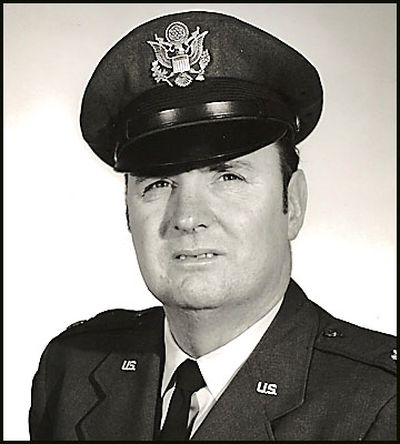 LATIMER, George Allen Jr. (Age 90) George passed away on February 19, 2014 in Liberty Lake, WA.
He was born on January 3, 1924 in Rockford, WA., to George Latimer Sr. and Lora Elvy.
He received a BA from Eastern Washington University and his Master's Degree from Whitworth College.
George served in the military in WWII and continued serving in the Air National Guard where he achieved the rank of Lt.
Colonel.
He worked in Education for 30 years, first as a teacher, a coach, and then went on to be High School Principal at East Valley High School in Spokane for almost 20 years.
George met and married Phyllis McBride in 1950 and together had a family of three children; they recently celebrated their 63rd anniversary in November.
He belonged to several civic and fraternal organizations including the Masons, Shriners and Eagles.
He is survived by his wife, Phyllis; his children: Velvet and Roger Chamberlain of Ephrata, WA., Leslie and Bradley Deakins of Federal Way, WA., and Rex Latimer of Liberty Lake, WA.
He has ten grandchildren and 24 great-grandchildren.
He is preceded in death by his father, George Latimer Sr; mother, Lora Elvy; and one sister, Blanche Giffin.
Visitation will be from 10 AM to 5 PM on Monday, February 24, 2014 at Heritage Funeral Home.
A Funeral Service will be held on Tuesday, February 25, 2014 at 12 noon in the Sunset Chapel at Fairmount Memorial Park, 5200 W Wellesley, Spokane, WA.
Local journalism is essential.
Give directly to The Spokesman-Review's Northwest Passages community forums series -- which helps to offset the costs of several reporter and editor positions at the newspaper -- by using the easy options below. Gifts processed in this system are not tax deductible, but are predominately used to help meet the local financial requirements needed to receive national matching-grant funds.
Subscribe to the Coronavirus newsletter
Get the day's latest Coronavirus news delivered to your inbox by subscribing to our newsletter.
---