News > Obituaries
Obituary: Mckay, Sr. Mary Eileen (Victor Mary), Snjm
Sun., Feb. 23, 2014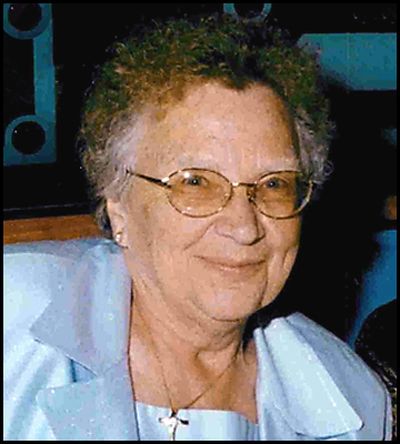 McKAY, Sr. Mary Eileen (Victor Mary), SNJM Mary Eileen was born November 26, 1929, to John and Gertrude Pattee McKay in Seattle, Washington, the sixth of sixteen children.
She was educated at Cathedral Elementary School and Immaculate and Holy Names High School in Seattle before entering the Sisters of the Holy Names in 1948.
She pronounced her vows in 1951 as Sister Victor Mary, named for an elder brother.
She spent a few years caring for the elder Sisters of her religious community before beginning her teaching career in 1956.
Over the years she earned a B.S.
in Education from Marylhurst College and a Master of Basic Science degree from Fort Wright College of the Holy Names as well as advanced studies in creative education and in the teaching of religion.
She used her education for classroom teaching, mostly in parochial schools in Spokane, until 1981.
She began directing religious education programs from 1981 to 1990.
At that point she was offered the opportunity to teach religious education at Shelton Correction Center and found that she enjoyed being of service to that underserved population and that they were very receptive to her message of love and acceptance.
She continued that ministry at Washington Correction Centers until she was hired as chaplain at El Paso de Robles facility in California until 2001.
Mary was challenged in school as a child and felt that her difficult experiences inspired her to create methods and activities to better assist children who may otherwise have experienced failure in school.
She was a very creative and innovative teacher, bold in her attempts to help students learn successfully.
Mary retired in 2001 because of failing health.
Mary Eileen never missed an opportunity to express gratitude for every little or big thing to the people around her, a quality that endeared her especially to the hearts of her care-givers.
Mary has been a wonderful teacher, by example, of warm-hearted openness, playfulness, acceptance and a heart of gratitude.
Mary Eileen's signature art work of weaving colorful designs in large hoops may have been a metaphor for her life: all the colors woven together to manifest the integration of body, mind and spirit, a beautiful life's work.
Thank you to the lovely care-givers in the memory care unit at Brookdale Place at Harbor Crest who assisted the Sisters of the Holy Names and Mary Eileen's family in loving her into her next life.
Survivors include the Sisters of the Holy Names, her brothers, James, Matthew, Conlon, Malcolm, Stephen, and Thomas, and her sister, Caroline Hall.
Sister Mary Eileen died February 19, 2014, at Brookdale Place at Harbor Crest in Spokane, Washington.
Mass of Resurrection will be at 11:00 a.m., Wednesday, February 26, 2014, at Convent of the Holy Names.
Memorial gifts may be made to the Sisters of the Holy Names Retirement Fund, 2911 West Fort Wright Drive, Spokane, WA 99224.
Local journalism is essential.
Give directly to The Spokesman-Review's Northwest Passages community forums series -- which helps to offset the costs of several reporter and editor positions at the newspaper -- by using the easy options below. Gifts processed in this system are not tax deductible, but are predominately used to help meet the local financial requirements needed to receive national matching-grant funds.
Subscribe to the Coronavirus newsletter
Get the day's latest Coronavirus news delivered to your inbox by subscribing to our newsletter.
---