News > Obituaries
Obituary: Mctighe Sj, Rev. Edward P.
Age 83
Sun., Feb. 23, 2014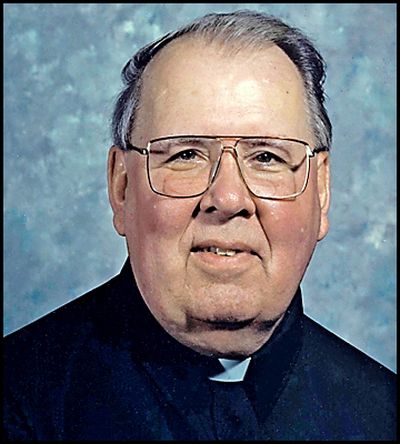 MCTIGHE Rev.
Edward P. SJ Father Ed passed away on February 3, 2014 in Los Gatos, CA., from natural causes.
He was born in Aberdeen, WA., on July 30, 1930 to Edward and Maybelle McTighe.
Ed was educated at St. Aloysius Grade School, and Gonzaga High School in Spokane.
He was called by the Lord to enter the Society of Jesus in 1948, and after preparing for thirteen years, Ed was ordained a Priest.
He received several degrees from Gonzaga University, and taught English and Music at Gonzaga Prep.
For sixty-six years, Father Ed taught at the Jesuit High School in Portland, OR., as well as at Bellarmine Preparatory School in Tacoma, WA.
His life was full and rewarding as a teacher.
His crowning love was for music, playing the piano and entertaining people wherever he went.
In his later years, Father Ed served as a Chaplain at St. Vincent Hospital in Portland, OR, and visiting Chaplain in Arch Cape, OR.
He is survived by his sister, Patricia Halpin; brothers, Tom (Judy) McTighe, Denny (Colleen) McTighe; half-brother, Jim; half-sister, Mildred; and many nieces and nephews.
He was preceded in death by his parents, Edward and Maybelle, and his brother, Ron McTighe.
A Memorial Mass was celebrated in his honor at the Jesuit High School in Portland, OR., on Friday, February 14th.
A Memorial Mass will be said in Spokane at the Jesuit House on the Gonzaga Campus, 1106 N. Astor St., on Wednesday, February 26th, at 2:00pm.
Father Ed will be interred at Mt.
Saint Michaels Cemetery in Spokane, WA.
In lieu of flowers, please send donations to The Oregon Province of the Society of Jesus, P.O.
Box 86010, Portland, OR, 97286-0010.
Local journalism is essential.
Give directly to The Spokesman-Review's Northwest Passages community forums series -- which helps to offset the costs of several reporter and editor positions at the newspaper -- by using the easy options below. Gifts processed in this system are not tax deductible, but are predominately used to help meet the local financial requirements needed to receive national matching-grant funds.
Subscribe to the Coronavirus newsletter
Get the day's latest Coronavirus news delivered to your inbox by subscribing to our newsletter.
---