News > Obituaries
Obituary: Miller, Vivien Katherine (Kalanek)
Age 88
Sun., Feb. 23, 2014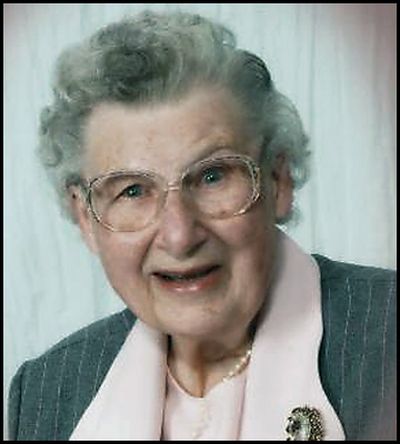 MILLER, Vivien Katherine (Kalanek) Vivien Katherine (Kalanek) Miller was born December 16, 1925 in Dickinson, ND.
She grew up in the area and married Ben J. Miller on November 16, 1944.
They moved to Chattaroy in 1960 to operate a dairy farm.
Vivien was a devoted mother, grandmother, and great-grandmother.
She especially enjoyed her great-grandchildren.
She loved to play cards and dance.
She passed away peacefully on February 18, 2014.
She is preceded in death by her parents, William and Mildred (Polensky) Kalanek; her brother, Billie Kalanek; her husband, Ben; and her son Bernard William.
She is survived by her sister, Daphne Hibl; brother, Gary Kalanek (Connie) and their children and grandchildren; her son, Bruce A. Miller (Gail) and their children; Amanda Nelson (Zac), Charlotte Miller, Melissa Benson (Roy), and Amy Cade (Jonathon); her daughter-in-law, Pat Johnson (Bob); her and Bernard's children; Jolette Barber (Mark), Vickie Daniels, and Gretchen Miller; great-grandchildren, Tegan Daniels, Katherine and Elizabeth Nelson, Elena Cordier, Izadore Cade, and Melissa Barber.
She was loved much and will be greatly missed.
Services will be held as follows: Rosary will be on February 24 at 7:00pm at Riplinger Funeral Home 4305 N Division in Spokane and Funeral will be on Tuesday February 25, 2014 beginning at 11:00am, St. Joseph's Parish, 3720 E Colbert Rd., Colbert, WA, burial to follow at the Chattaroy Cemetery.
Online guestbook at www.riplingerfuneralhome.com
Local journalism is essential.
Give directly to The Spokesman-Review's Northwest Passages community forums series -- which helps to offset the costs of several reporter and editor positions at the newspaper -- by using the easy options below. Gifts processed in this system are not tax deductible, but are predominately used to help meet the local financial requirements needed to receive national matching-grant funds.
Subscribe to the Coronavirus newsletter
Get the day's latest Coronavirus news delivered to your inbox by subscribing to our newsletter.
---