A&E > Entertainment
Man at the helm takes the stage
Aaron St. Clair Nicholson's solo show benefits Opera CdA, JACC
Fri., Jan. 3, 2014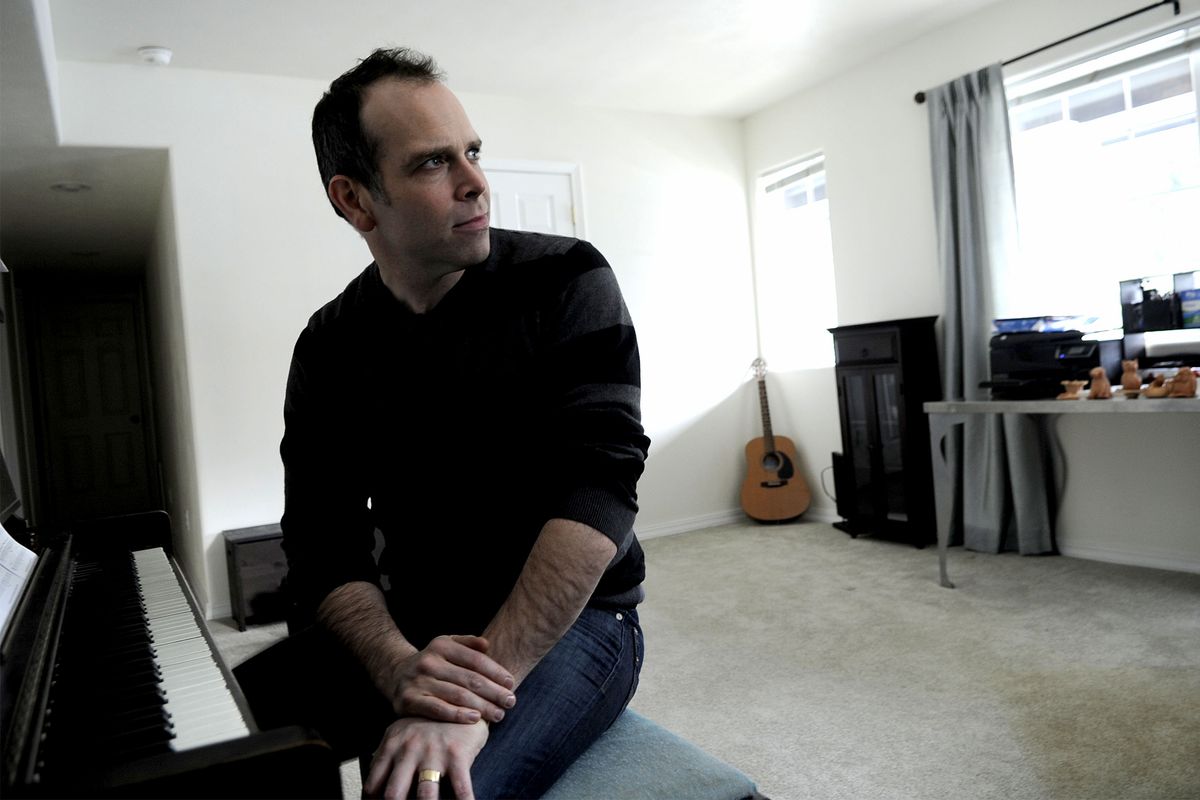 Aaron St. Clair Nicholson is artistic director of Opera Coeur d'Alene. A baritone, he'll perform a solo recital on Saturday. (Kathy Plonka)
It might be a one-man show. But baritone Aaron St. Clair Nicholson will be performing with some "old friends" Saturday night.
They're classical and contemporary, a mix of popular opera arias and Americana, a few of his favorites, songs to which he always returns.
"They're special to me," Nicholson said. "They're old friends of mine. They're all songs I've sung for a long time."
Sharing them with the community gives the Inland Northwest newcomer a chance to meet some new friends while raising awareness for Opera Coeur d'Alene and The Jacklin Arts and Cultural Center. Nicholson is giving his first recital since moving here last spring to run Opera CdA, where he serves as artistic and general director.
"Just One Night: An Intimate Evening of Songs with Baritone Aaron St. Clair Nicholson" is a solo show featuring Maurice Ravel's classical song cycle inspired by the character of Don Quixote, contemporary American songs from Aaron Copland and Randy Newman and some opera hits.
"It's a good set-up," Nicholson said. "It'll be fun. It's very intimate."
The recital runs more than an hour and includes a special guest performance by Spokane soprano Dawn Wolski. Pianist Mary Trotter and bassist Angus Nunes will provide accompaniment.
Concertgoers can also expect audience engagement, including some storytelling.
"It's a light mood. It won't be a somber event," Nicholson said, noting that he approaches his art form with integrity. "But I don't take myself too seriously."
Nicholson, 40, took the helm as artistic and general director at Opera CdA in fall 2012, moving to Coeur d'Alene last May in time for the start of the 2013 season.
He had worked with Opera CdA during the 2011 and 2012 seasons, serving as an artistic consultant both years and performing the role of Escamillo, the bullfighter, in the 2012 production of "Carmen." He directed "Faust" in 2011 as well as "Rigoletto" last September.
"The opportunities just unfolded here," said Nicholson, who spent five years in the San Francisco Bay Area before coming to Coeur d'Alene. "The dominoes just fell in the direction of coming here."
Originally from Abbotsford, B.C., Nicholson graduated from Western Washington University in Bellingham in 1995 with a degree in music. In 1998, he received his master's of music in opera performance from Binghamton University in upstate New York, which served as his home base for 13 years.
From 1998 to 2008, he served as the artistic director of the Binghamton Summer Youth Music Theater Workshop, which he co-founded.
He was also on the road, performing with – among others – Opera Saskatchewan, Vancouver Opera, Pacific Opera Victoria and New York's Metropolitan Opera, where he portrayed Schaunard in "La Bohème," Clyde Griffiths in "An American Tragedy" and Chou En-Lai in "Nixon in China."
He's also portrayed Figaro in "The Barber of Seville," which he performed with the Florida Grand Opera, Glimmerglass Opera, L'Opéra de Montréal, Calgary Opera and Opera Lyra Ontario. And, he's sung the title role in "Don Giovanni" with L'Opéra de Montréal, Opera Lyra Ottawa and New York City Opera, which is where he met his wife in 2007 when both were part of the production.
A professional ballerina for a dozen years, Brooke Nicholson, 32, danced with Boston Ballet, San Francisco Ballet and Smuin Ballet before retiring in mid-2010.
The couple married six months later. Their daughter, Kensly, turned 1 in December.
Aaron Nicholson, who became an American citizen last year, also has two children, ages 9 and 13, from a previous marriage.
While he's finalizing plans for Opera CdA's upcoming season, his wife has been settling in at Ballet Coeur d'Alene, the 25-year-old ballet school she bought last summer. She teaches at and runs the school, and also works as the assistant and administrative director at Opera CdA.
Saturday's recital benefits both the opera and JACC, a nonprofit dedicated to developing local artists as well as providing a variety of artistic and cultural experiences for the community.
Nicholson will continue to travel throughout North America for roles. He already has performances scheduled this year in Tampa, Fla.; Eugene; and Buffalo, N.Y.
Meantime, he's hoping to expand Opera CdA's offerings. A production of "Hansel and Gretel," inspired by the folklore of the native peoples of the Pacific Northwest, is in the works through its Opera-tunities outreach program. Nicholson is also considering works by Mozart and Puccini for the upcoming season.
He said both he and his wife are excited to continue to get to know the community.
"We really fell in love with the town," Nicholson said. "It's incredible here. We have an incredible arts scene here. You're not going to find regional opera better than what we do here."
Local journalism is essential.
Give directly to The Spokesman-Review's Northwest Passages community forums series -- which helps to offset the costs of several reporter and editor positions at the newspaper -- by using the easy options below. Gifts processed in this system are not tax deductible, but are predominately used to help meet the local financial requirements needed to receive national matching-grant funds.
Subscribe to the Spokane7 email newsletter
Get the day's top entertainment headlines delivered to your inbox every morning.
---