Sports
Perfect blend
GU makes pieces fit, drubs Pacific for WCC lead
Sun., Jan. 5, 2014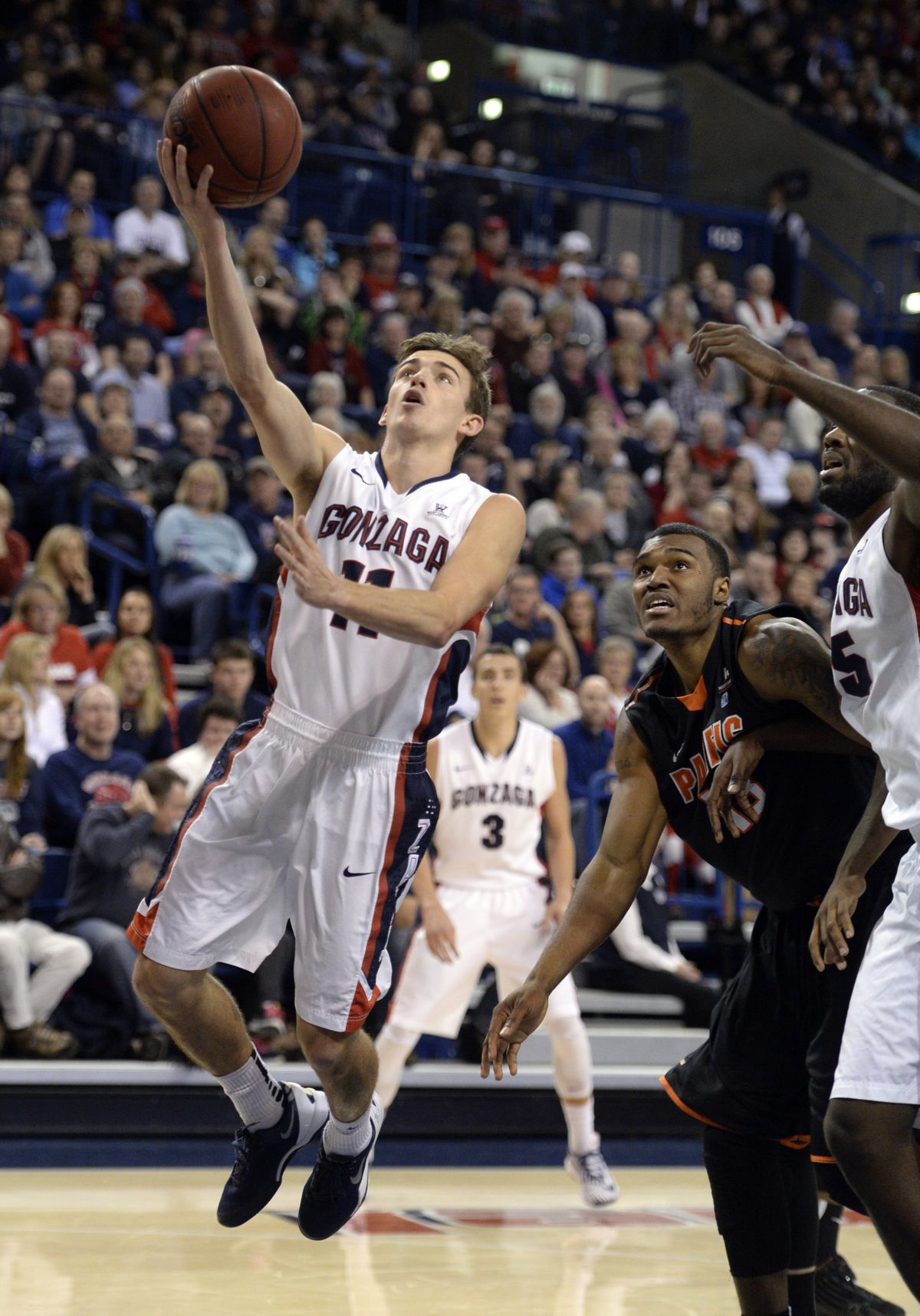 Gonzaga guard David Stockton scores two of his 15 points. He didn't miss a shot all game. (Colin Mulvany)Buy a print of this photo
Injuries, sickness, even food poisoning and four games in eight days. That's not a favorable combination for a college basketball team's win-loss record.
Gonzaga managed just fine, relying on depth, reserves turned starters and clamp-down defense to stitch together four wins, the latest an 86-64 victory over WCC newcomer Pacific in front of 6,000 Saturday at the McCarthey Athletic Center.
The 24th-ranked Bulldogs (14-2, 4-0) are alone on top of the WCC standings after Pepperdine's loss to San Francisco. Pacific dropped to 9-5, 0-3.
"This has been a really, really hard week," coach Mark Few said. "They really responded, with significant injuries, significant guys out, guys sick and guys injured playing a lot of minutes. I couldn't be prouder of a group."
In the injured guys playing a lot of minutes department, Kevin Pangos (turf toe) finished with 16 points and five rebounds. Sam Dower Jr., despite a bout with food poisoning, saw extended playing time for the first time since injuring his lower back against Kansas State on Dec. 21. He had 13 points and seven rebounds.
Drew Barham, stepping in for Dower in the starting lineup, made three 3s and scored 12 points in the first four minutes as GU bolted to a 19-5 lead. Kyle Dranginis, replacing Gary Bell Jr. (broken hand) in the first unit, added eight points, seven rebounds and seven assists – the latter two setting or tying his career highs.
"When I catch it and I'm open I'm going to shoot it," said Barham, who is 17 of 30 on 3-pointers over the last five games. "I started hitting early on and just kept it up."
Gonzaga led by 24 after a pair of Dower free throws with 6:37 left in the first half. The Tigers heated up early in the second half and Gonzaga had a turnover-filled stretch, allowing Pacific to cut the deficit to 58-50 with 12:25 remaining. The Zags broke it open with an 11-2 spurt.
"I think we relaxed a little on the energy and they started making shots," Barham said. "When we amped it back up, we got back in our groove."
The Bulldogs made 69.2 percent of their shots, fifth best in school history. They were 13 of 17 from the field in the second half, a 76.5-percent clip. They drained 10 of 13 3-pointers, but struggled at the free-throw line, going 22 of 39.
Gonzaga, which held San Francisco to 25.5-percent shooting and Saint Mary's to 31.9, limited Pacific to 31.7. Andrew Bock and David Taylor each had 10 points for the Tigers, who have dropped four of five.
"No question they did a good job making 3s, but we knew Barham could shoot it," Tigers coach Ron Verlin said. "Coming into the game, 60 of his 70 shots were 3s and we weren't challenging him as hard as we could. I was very disappointed in our defense, pretty much all night."
David Stockton, still battling a flu bug, didn't miss a shot – 5 of 5 field goals, 4 of 4 free throws – en route to 15 points and five assists. Przemek Karnowski had nine points, eight boards and two blocked shots. Angel Nunez and Gerard Coleman combined for nine points and five rebounds.
"It was interesting," Stockton said of the last eight days. "You see the camaraderie. With the games coming so quick people are here getting treatment. We never leave. I basically hung out with the guys the whole time."
Dower endured a couple of falls on his tender back.
"I had some nice padding that really helped, I'm wearing a pad," said Dower, who started the second half. "It didn't really hurt that bad. I'm feeling it now, but I can deal with that."
Local journalism is essential.
Give directly to The Spokesman-Review's Northwest Passages community forums series -- which helps to offset the costs of several reporter and editor positions at the newspaper -- by using the easy options below. Gifts processed in this system are not tax deductible, but are predominately used to help meet the local financial requirements needed to receive national matching-grant funds.
Subscribe to the sports newsletter
Get the day's top sports headlines and breaking news delivered to your inbox by subscribing here.
---