Sports > Whitworth
Shadle Park's Alan Stanfield takes offensive coordinator job at Whitworth
Tue., Jan. 7, 2014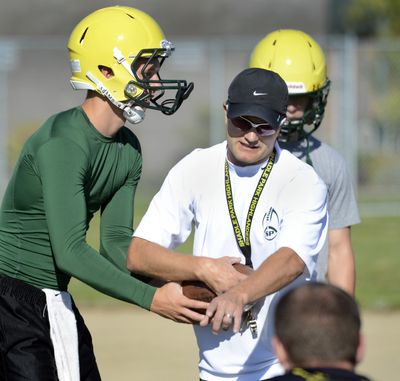 Rod Sandberg is a defensive coach. He admitted that when he was hired as the head football coach at Whitworth University. His first order of business was to find an offensive coordinator.
On Monday he took care of that, hiring Shadle Park High School coach Alan Stanfield.
Stanfield is Sandberg's first official hire as he fills out his staff for the 2014 football season.
"Alan brings a creative and brilliant offensive mind and his offensive success this past year at Shadle Park was staggering," Sandberg said.
"But what excites me most about his addition to our staff is his fit for the vision we have for this football program and his fit for the mission of Whitworth University."
Stanfield led the Highlanders to a Greater Spokane League championship and the 3A state semifinals this past season. Shadle Park finished 11-2 overall and 8-1 in the GSL.
"It was a very, very tough decision and not one that was made lightly," Stanfield said. "It was a family decision. We prayed a lot about it."
Stanfield, who resides in the Whitworth neighborhood, will finish out his teaching responsibilities at Shadle Park through the end of the semester and begin his full-time coaching position at Whitworth on Feb. 1.
The announcement marks a homecoming for Stanfield, who earned his undergraduate degree from Whitworth in 1997 and an administration credential in 2006.
"Rod really sold me on his vision for Whitworth football, emphasizing faith, future, family, and fun," Stanfield said. "Our staff at Shadle Park was successful in creating a similar culture of strong relationships, hard work and we had lots of fun in building up that program."
Stanfield spent four years rebuilding the Highlanders. After taking over a program that had struggled through seven straight losing seasons, Stanfield led Shadle Park to a state playoff appearance in only his third year. He developed Brett Rypien into a record-setting quarterback and Shadle set multiple GSL passing and receiving records in 2012 and 2013.
Stanfield's football coaching resume extends back several years. He was the head coach at Timberline High School in Boise in 2008 and 2009, leading the Wolves to their first playoff appearance in five seasons in 2008.
Stanfield was the head coach at The Pingry School in Martinsville, N.J., in 2006 and 2007 while his wife Brenna was attending Princeton Theological Seminary.
He was an assistant coach at Whitworth in 2004 and 2005, directing the defensive backs. Prior to his previous stint at Whitworth, Stanfield was the head coach at Powder Valley High School in Oregon, leading the Badgers to a state title and 12-0 record in 2003 and a state runner-up finish in 2000.
Stanfield's won-loss record as a head coach is 59-54. He has guided his teams to five state semifinal appearances, one state championship and one runner-up finish.
Stanfield feels ready to make the jump to full-time collegiate coaching.
"The biggest adjustment for me will be having so much more focused time on one specific thing, and that is building the most dynamic offense in the Northwest Conference," he said.
"The job of a high school head coach is so tough because you have so many different areas of concern to worry about, so I feel really blessed by the opportunity."
Local journalism is essential.
Give directly to The Spokesman-Review's Northwest Passages community forums series -- which helps to offset the costs of several reporter and editor positions at the newspaper -- by using the easy options below. Gifts processed in this system are not tax deductible, but are predominately used to help meet the local financial requirements needed to receive national matching-grant funds.
Subscribe to the sports newsletter
Get the day's top sports headlines and breaking news delivered to your inbox by subscribing here.
---