Sports
Cougs end streak
WSU women beat Washington after 36 consecutive losses
Wed., Jan. 8, 2014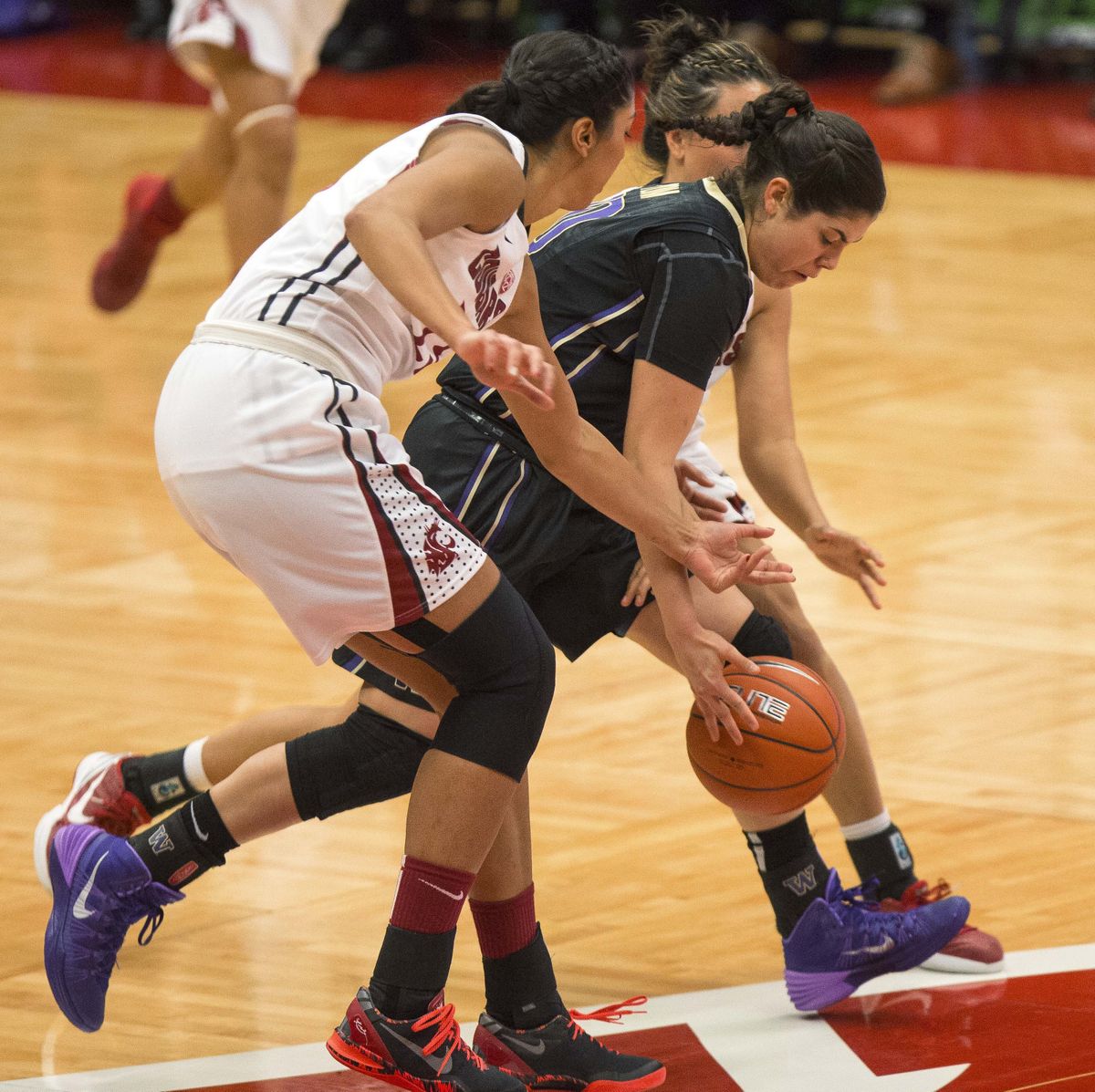 UW's Kelsey Plum, right, vies with WSU's Shalie Dheensaw. (Associated Press)
PULLMAN – "The streak is over, it's time for a new streak."
After beating Washington, 82-80, on Tuesday, Washington State coach June Daugherty grabbed a microphone to give the eulogy for a 36-game winning streak that she helped build.
She'd prefer if those were her last words on a subject she's been asked about since 1996.
"It's two different teams every time playing and all, so now it's done so now we can talk about something else. Please, oh please," Daugherty pleaded.
She spent 11 years as the head coach at UW and never lost to the Cougars. For the first time in her seven years as the WSU coach, she finally beat the Huskies.
"It's in her ear all the time. It's probably hard for her and that probably gets annoying," Tia Presley said.
WSU' players said after the game that while they were aware of the streak, it was not something that occupied their minds. The cheers and claps echoing throughout the hallways by their locker room after the game said differently.
It was WSU's annual Cougs Have Heart game in support of sudden cardiac arrest awareness.
With the victory over the Huskies, WSU (9-6, 3-0 Pac-12) ended nearly two decades of dominance. It also overcame multiple second-half surges by UW (8-6, 1-2) that threatened to keep the streak alive.
Lia Galdeira dominated for the Cougars in the first half, scoring 17 of her 27 points and shooting 60 percent. Her buzzer-beater off an isolation drive gave WSU a 42-32 halftime lead. She hit a 3-pointer to open the second half as well, but then Jazmine Davis and the Huskies responded.
Tia Presley was called for a foul early in the second half and then she was issued a technical for protesting it. It was the fourth foul for Presley, who entered the game scoring 19.7 points per game, fourth in the Pac-12.
"All I know is that the ref took something she had her own opinion on what happened during the play and she made a call based off that," Presley said. "… All I know is I'm a competitor and I show a lot of emotion. And it sucks that's sometimes taken the wrong way because it's never personal or anything like that."
With Presley out, Davis alternated between hitting 3-pointers – she was 5 of 10 – and driving to the basket to cut WSU's lead to 50-39 and the teams were tied at 51 in less than two minutes.
The Huskies took the lead, twice, and with Davis scoring seemingly at will the game could have easily ended up as just another quirky game in a streak that was full of them. But center Shalie Dheensaw kept the UW at bay, twice putting back Cougars shots that didn't hit the rim.
"Shalie had her best game as a Coug," Daugherty said. "Lia played too many minutes with Tia in the situation she was in with the technical and her fourth foul and all, and she got a little leg weary. Shalie was right there … I thought she had two great halves, the best that she's played.
Dheensaw finished with 14 rebounds and 11 points, 10 of which came in the second half. Her first bucket of the game tied the score at 59. Her second gave WSU the lead.
"When we're going through adversity we need people to step up, we need people to score, the little things and that's exactly what Shalie did," Presley said. "The weak side boards that she got over and over, over their guards and posts, that's what won the game."
Daugherty and the Cougars will have their chance to start a streak of their own against the Huskies soon. Washington is the next opponent for the Cougars, on Saturday in Seattle.
Local journalism is essential.
Give directly to The Spokesman-Review's Northwest Passages community forums series -- which helps to offset the costs of several reporter and editor positions at the newspaper -- by using the easy options below. Gifts processed in this system are not tax deductible, but are predominately used to help meet the local financial requirements needed to receive national matching-grant funds.
Subscribe to the sports newsletter
Get the day's top sports headlines and breaking news delivered to your inbox by subscribing here.
---