Sports
GSL boys: Bears win battle of unbeatens
Wed., Jan. 8, 2014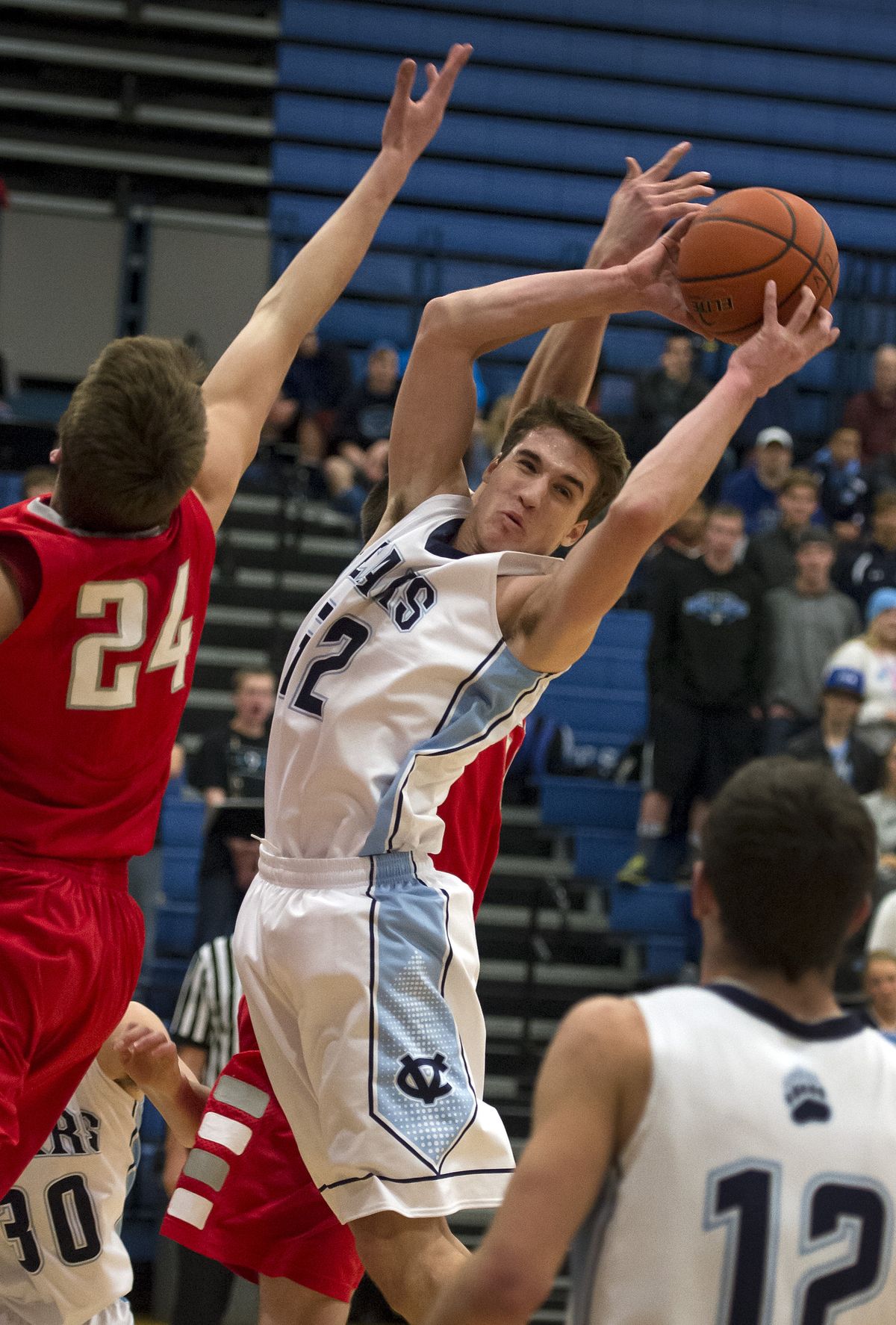 Central Valley's Cameron Tucker grabs a rebound over Ferris' Devin Arguinchona, left, on Tuesday night. (Colin Mulvany)
With both teams scrapping for every pass, shot and possession, the Central Valley Bears won a huge Greater Spokane League game 57-49 Tuesday against the visiting and previously undefeated Ferris Saxons.
Despite the smothering defense, CV senior guard Adam Chamberlain scored a season-high 25 points to keep his team undefeated in the GSL.
"It was a big win," Chamberlain said. "It's good to come back after our loss to Richland."
After the 66-57 setback to Richland on Dec. 28, the (7-1, 7-0) Bears beat Lewis and Clark last Friday to set up the game of unbeaten league foes against Ferris, which came in to the game 8-0 and 6-0 in the GSL.
"That was a big-time game and a good opponent," CV coach Rick Sloan said. "I think both teams hang their hats on their defensive games. We shot a little better. That was the difference in the game."
Even though he only scored two points, Sloan praised the work of A.J. Knudsen whose job was to try to keep Ferris' Cody Benzel from taking over the game. It worked, as Benzel scored a team-high 13 for Ferris (8-1, 6-1).
"That guy is one of the top scorers in the league," Sloan said. "It was good to be home, with our crowd and our band."
The teams played an even first quarter with Ferris pulling ahead 14-13 after a Benzel 3-pointer.
But behind Chamberlain and Cameron Tucker, who finished with nine points and six rebounds, the Bears pulled ahead to lead 31-24 at the half.
The teams continued to play close in the third quarter. Chamberlain then hit a 3 early in the fourth quarter to put CV up 44-35 and the Bears never looked back.
"It was two evenly matched teams. I thought it could go either way," Sloan said. "But we made a little run … got the lead and we were able to sustain it."
North Central 49, Lewis and Clark 47 (OT): The Indians (1-8, 1-6) snapped a 36-game losing streak dating back to the 2011-12 season by knocking off the visiting Tigers (2-7, 1-6). Marcus Saugen and Noah Higley led NC with 12 points apiece and Shane Pethers added 11. LC missed a 3-point shot at the buzzer.
Rogers 68, Shadle Park 56: The Pirates (1-8, 1-6) chalked up their first win, stopping the visiting Highlanders (3-5, 3-4). Five Pirates finished in double-figure scoring. Leading the way was Robert Rucker with 16 points and Dominic Sanders with 14. Skyler Kelley led Shadle with 15.
Gonzaga Prep 59, Mt. Spokane 46: The visiting Bullpups (6-3, 5-2) opened a 33-22 lead by halftime and that margin never shrunk in the final two quarters. Reed Hopkins led G-Prep with 13 points, Jamil Foster had 11 and Brendan McClary had 10. Jacob Krantz led the Wildcats (5-4, 3-4) with 11.
Mead 66, University 51: The visiting Panthers (6-3, 5-2) got rolling in the second half to pull away from the Titans (5-4, 3-4). Thomas Kautzman led Mead with 19 points and 13 rebounds, Max Hess had 13 points, Will McPhee had 12 and Brandon Pettersen added 10. Michael Isotalo led U-Hi with 19.
Local journalism is essential.
Give directly to The Spokesman-Review's Northwest Passages community forums series -- which helps to offset the costs of several reporter and editor positions at the newspaper -- by using the easy options below. Gifts processed in this system are not tax deductible, but are predominately used to help meet the local financial requirements needed to receive national matching-grant funds.
Subscribe to the sports newsletter
Get the day's top sports headlines and breaking news delivered to your inbox by subscribing here.
---