Sports
Toreros not quite ready for prime-time Bulldogs
Sun., Jan. 12, 2014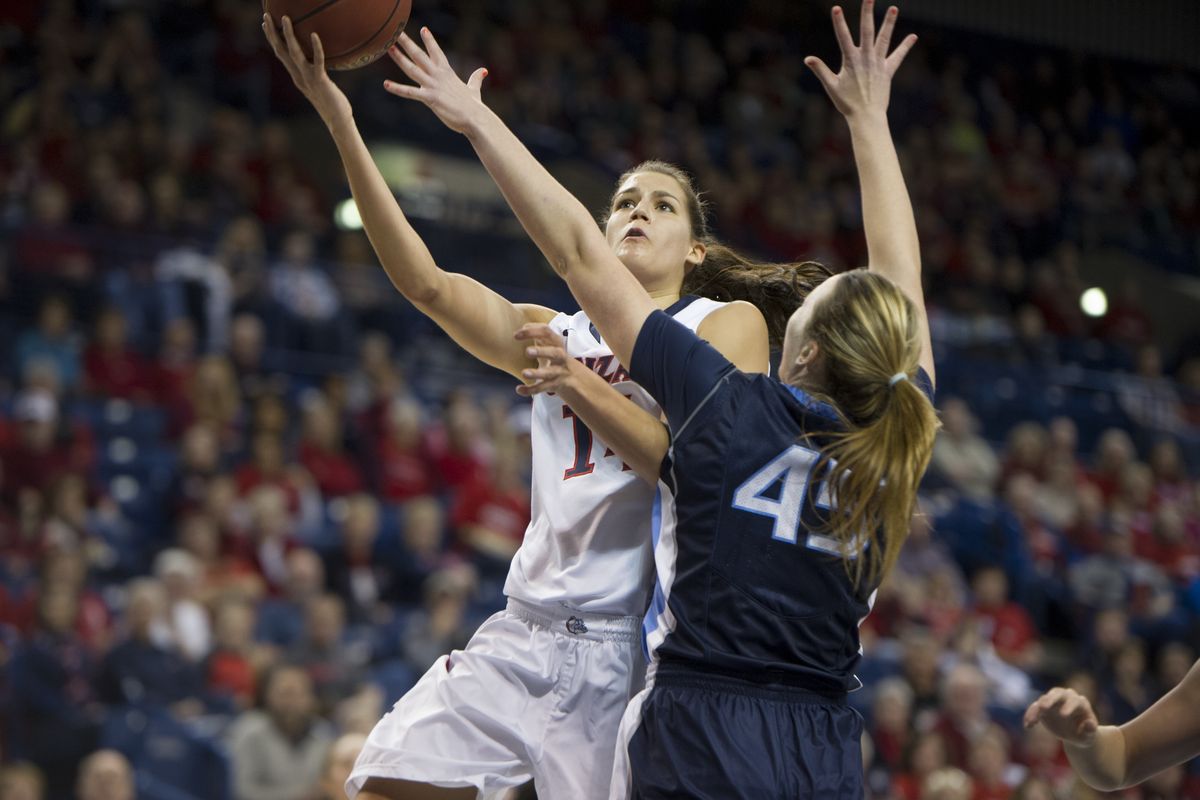 GU's Sunny Greinacher scores over San Diego's Kameron Knutson. (Tyler Tjomsland)
In one of those "statement" games, No. 24 San Diego came into The Kennel atop the West Coast Conference Standings and left humbled by a 79-50 drubbing by the Gonzaga women's basketball team.
Following a dominating 68-42 shellacking of BYU Thursday night, the Bulldogs (14-3, 4-1) attacked the Toreros (15-2, 4-2) early and never allowed them to so much as threaten.
"I told the team at halftime, that may be the best half ever played by a Zag team in this building," Coach Kelly Graves said of the 50-27 score at the break. "We just took it to them. I was so proud of this team. That first half? Incredible."
Senior guard Haiden Palmer came out shooting as she hit the game's opening basket and scored eight of Gonzaga's first 12 points in a game that San Diego never led.
Graves dialed up pressure from multiple defenses that kept the ball headed the wrong way all night for the Toreros, who earlier in the week earned the program's first Top 25 ranking.
"One of the things that make us difficult is that we keep teams off balance. We can run two or three or four defenses and run them well," he said. "If we play like that, we will be difficult to beat for anybody."
Even though San Diego lost for the first time this year Wednesday in a 72-51 loss to Portland, the Toreros came into Spokane leading the league.
The Zags dropped their league opener on Dec. 28 in an overtime game at Saint Mary's.
"We are the only team with one loss after three weeks," Graves said. "I think it's a testament about how good the Zags are. There has been a lot of attention given to other teams in the conference.
"But in my opinion, I still think the conference championship goes through Spokane."
Palmer, sporting a nasty bruise on her right biceps, attacked the San Diego defense and hung 17 points on them in the first half. She finished with a team-high 19. She also grabbed six rebounds and had four steals.
Her biggest play came right before the half as Palmer held and fired just as the shot clock and game clock expired. She hit the shot, giving her team a 23-point lead at the break.
"This year, our league has been really tough," she said. "But these were a couple statement games for us – the big wins over BYU and San Diego."
With junior forward Sunny Greinacher and 6-2 sophomore forward Kiara Kudron slashing into the paint, the Toreros couldn't find an answer early.
"Kiara had a great game," Graves said of the forward from New Boston, Mich., who had nine points in the first half and 10 for the game. "It's nice to see that kind of production from your third or fourth or fifth option (in the post)".
Greinacher had another stellar performance following her 20-point night on Thursday against Brigham Young. Against San Diego, the 6-4 forward from Essen, Germany, scored 14 points and grabbed five rebounds.
San Diego was led by Malina Hood's 13 points.
Leading scorer Amy Kame was held to three points on 1-of-9 shooting from the floor in the first half. But she got hot later in the game and finished with 11 points, four below her season average.
Gonzaga junior guard Keani Albanez, who scored eight points and had four steals, credited her coaches for the scouting reports that allowed the team to prepare for San Diego. The team next travels to play Friday at San Franciso.
"The coaches had us so well prepared. We just kind of listened," she said.
"It's just being aggressive. The coaches told us to pursue the ball no matter what … and we came out on top."
Local journalism is essential.
Give directly to The Spokesman-Review's Northwest Passages community forums series -- which helps to offset the costs of several reporter and editor positions at the newspaper -- by using the easy options below. Gifts processed in this system are not tax deductible, but are predominately used to help meet the local financial requirements needed to receive national matching-grant funds.
Subscribe to the sports newsletter
Get the day's top sports headlines and breaking news delivered to your inbox by subscribing here.
---