News > Spokane
Man arrested in South Hill fatal shooting
Wed., Jan. 15, 2014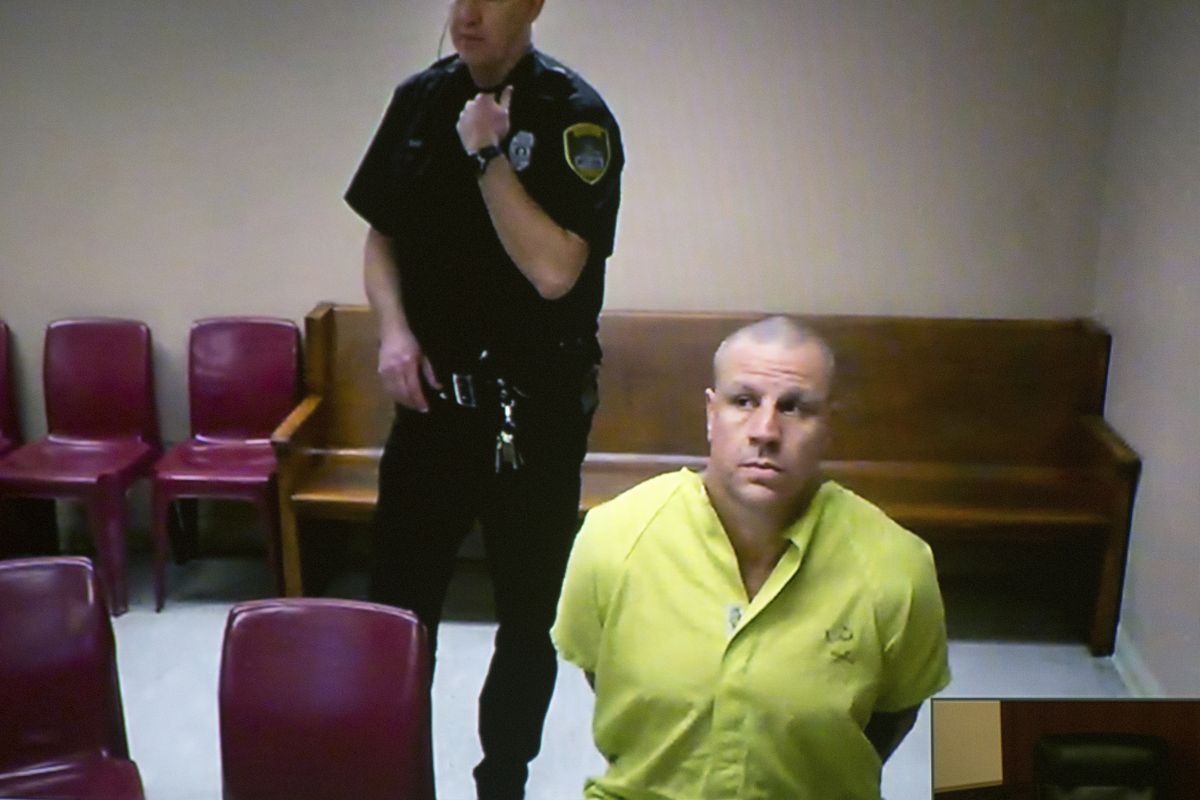 Timothy E. Suckow makes his first appearance before Superior Court Judge Gregory Sypolt via video link from the jail Tuesday. (Dan Pelle)
The lawlessness, big money and complex business dealings of the North Dakota oil fields likely prompted the shooting death of a South Hill man in his home last month, according to investigators.
Spokane police detectives stitched together an intricate web of speculative business deals by Doug Carlile, who solicited hundreds of thousands of dollars each from several investors to get in on the ground floor of a piece of Indian reservation land with the potential to produce billions of dollars worth of crude, according to one speculator.
Carlile was found dead of a gunshot wound in his home at 2505 S. Garfield Road the evening of Dec. 15.
Police used DNA evidence from a leather glove left at the scene to arrest Timothy Suckow, 50, on a first-degree murder charge early Tuesday.
"There's a measure of comfort from knowing that justice is going to be done," said Carlile's wife, Elberta, outside a Spokane courtroom Tuesday afternoon. A judge set Suckow's bail at $2 million.
Evidence disclosed in court documents suggests the alleged gunman may have been hired by a business partner of Carlile's who was angry over $1.88 million in unpaid debts.
Within three hours of Carlile's shooting death, detectives called James Henrikson, a 34-year-old oil speculator based in Watford City, N.D., with a lengthy arrest record for rape, sex abuse, assault, burglary, theft, fraud, evidence tampering, eluding police, coercion and menacing. Henrikson denied being involved in Carlile's killing.
Henrikson and Carlile met two years ago through Tim Scott, a longtime employee of Carlile's. Henrikson and Carlile became business partners along with John Wark and Bill Curtiss in two companies, according to court documents. Bridgewater Energy was a trucking company that hauled water and oil from well sites.
The second was Kingdom Dynamics Enterprises, an energy development venture that lured more investors to buy mineral rights on 640 acres on the reservation of the Mandan, Hidatsa and Arikara affiliated tribes in western North Dakota.
Carlile had become wary of Henrikson in the weeks before his death. According to court records, his son Skyler Carlile told police his father warned him shortly before his death, "If I disappear or wake up with bullets in my back, promise me you will let everyone know that James Henrikson did it."
Another son, Seth Carlile, loaned his father a gun to protect himself.
Investigators in Spokane collected evidence at the shooting scene, including a leather glove found in the backyard of the three-story South Hill home. The FBI ran a DNA test on biological material found with the glove, and it turned up a database match with Suckow, a Spokane Valley construction worker with a criminal history.
On Tuesday, Spokane police Chief Frank Straub commended officers for their quick apprehension of a suspect in a complicated case. While Suckow is the only suspect in custody, the investigation is continuing.
Police arrested Suckow early Tuesday at a Spokane Valley duplex where he has lived since the mid-2000s.
Suckow had two burglary convictions in the early 1980s that touched off a series of prison terms and stays in mental institutions in Minnesota, California and New Mexico. Criminal psychologists diagnosed Suckow with bipolar disorder, depression and substance abuse.
Suckow attempted suicide at least twice while incarcerated and complained of demonic possession, according to court records. In 1995, he appealed his convictions, saying he hadn't received proper counsel and that he had recently gained competency to defend himself in court.
Suckow married in Spokane in 2006 and has been living at the Spokane Valley address for at least seven years, according to neighbors. They described him as a typical neighbor who could often be seen working on cars in his yard and driving to or from his work at IRS Environmental in one of the company's white vans.
"I never saw anything suspicious," said Debbie Veter, Suckow's next-door neighbor.
Investigators do not yet know whether an extended-cab van belonging to the Spokane Valley business was used in the shooting, though surveillance cameras at nearby Hutton Elementary School captured a van leaving the scene that appeared similar to those driven by Suckow as part of his work, according to court documents.
Police searched Suckow's 1997 Chevy Tahoe and discovered what they called a murder checklist. The note listed several items and actions – a glove, badge, trench coat, boots, radios, wheel man, wipe tools down, practice with pistol – that were consistent with elements of the crime suspected by police.
In Suckow's phone, they found a contact labeled "James ND" that included the phone number police had on file for Henrikson.
Detectives also found evidence that Henrikson has a past of strong-arming and skirting the law.
Police learned from a former employee that Henrikson may have employed two friends with criminal histories in Spokane to beat people up and intimidate rival businesses and investors.
Henrikson also is a suspect in the 2012 disappearance of Kristopher "KC" Clarke, who had worked as an operations manager for one of Henrikson's companies, according to court records.
And federal investigators are investigating Henrikson for bilking an energy company run by the Native American tribes for millions of dollars, according to police.
Carlile's son Shane said at Suckow's court hearing Tuesday that the family is pleased with the work of detectives and is trying to stay out of their way as they continue their investigation.
Elberta Carlile said that while the criminal case will answer many questions, it can't bring back the "wonderful, loving, God-fearing man" she was married to for more than four decades.
"He's a hero," Elberta Carlile said of her late husband. "I miss him with every breath."
Local journalism is essential.
Give directly to The Spokesman-Review's Northwest Passages community forums series -- which helps to offset the costs of several reporter and editor positions at the newspaper -- by using the easy options below. Gifts processed in this system are not tax deductible, but are predominately used to help meet the local financial requirements needed to receive national matching-grant funds.
Subscribe now to get breaking news alerts in your email inbox
Get breaking news delivered to your inbox as it happens.
---