Sports
Stanford puts hurt on Cougars
Thu., Jan. 16, 2014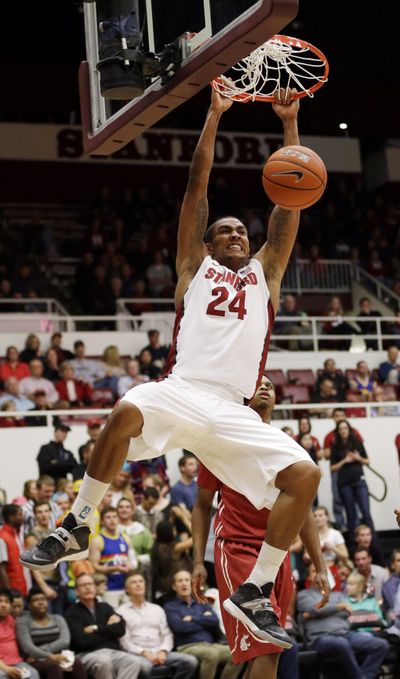 PALO ALTO, Calif. – For more than 10 minutes Wednesday, the Washington State men's basketball team showed it is ready to play and compete with a good basketball team on the road.
For the rest of the game, Stanford proved just how far the Cougars have to go in an 80-48 shellacking.
An early barrage of points from guards Que Johnson and Royce Woolridge staked the Cougars to a 24-20 lead with 7:11 left in the first half. From that point forward the home team was in control, carrying a 40-29 lead into halftime and not letting up.
"I think we played pretty well on both ends of the floor early on, the first 15, 16 minutes," WSU coach Ken Bone said. "Unfortunately, Que was our main scorer at that time and he got two quick fouls, and then I took him out to save him from not getting his third. From that point on, Stanford really took over."
Johnson and Woolridge scored a variety of ways in the first half, and provided the offense that WSU has been lacking. Johnson finished the half with 15 points, and Woolridge 11, but they ended the game with 21 and 13, respectively.
"There weren't really any adjustments," Johnson said. "It was just me not making shots."
That was because of a dominant defensive effort by Stanford over the game's final 24 minutes, in which it outscored WSU 53-21. With nothing working on offense, the Cougars wilted on defense and on the boards.
"It was demoralizing," Bone said. "My body language was probably not the best either. If they did miss shots, it came back just in time for a guy to reach up and dunk it."
The second half was a tip-dunk drill for the Cardinal. Stanford finished with nine offensive rebounds, which it converted into 12 second-chance points. Even when Junior Longrus blocked Robbie Lemons' shot off the glass, Dwight Powell was there to slam it home.
"I think our guys were working on the glass, but Stanford is very tall, very athletic, they had a great game. Stanford played a great game," Bone said.
Compounding matters was the atypically excellent play of Stanford's bench. Robbie Lemons' sweet shooting was sour for WSU all night. The guard entered Wednesday's game having made 2 of 17 attempts on 3-pointers. Against the Cougars he was 3 of 5 from behind the arc.
Although Stanford has just two nonstarters who average 11 or more minutes per game, the Cardinal bench outscored their WSU counterparts 28-9, and 14-0 in the first half. Stanford played 12 players and 10 of them scored.
"Their bench played really well," Woolridge said. "I think a lot of players on their bench scored points. Lemons hit a lot of 3-pointers. They just played a great game and hit a lot of shots."
The game was a step back for a WSU team that had been showing signs of progress. Both of last week's games were competitive as the Cougars – picked to finish last in the Pac-12 preseason media poll – took a ranked Colorado team to overtime before beating Utah.
While WSU's offense still sputtered without leading scorer DaVonte Lacy – out for at least a month with a "rib injury" – the team's defense was impressive, so much so it appeared they could be competitive against most teams.
"This game is definitely a step back – we gave up 80 points – but they played a great game so we've just got to soak this in and get ready for our next game," Woolridge said.
Local journalism is essential.
Give directly to The Spokesman-Review's Northwest Passages community forums series -- which helps to offset the costs of several reporter and editor positions at the newspaper -- by using the easy options below. Gifts processed in this system are not tax deductible, but are predominately used to help meet the local financial requirements needed to receive national matching-grant funds.
Subscribe to the sports newsletter
Get the day's top sports headlines and breaking news delivered to your inbox by subscribing here.
---