News > Washington Voices
CV's Shepard prepares self, teammates for wrestling challenges
Sat., Jan. 18, 2014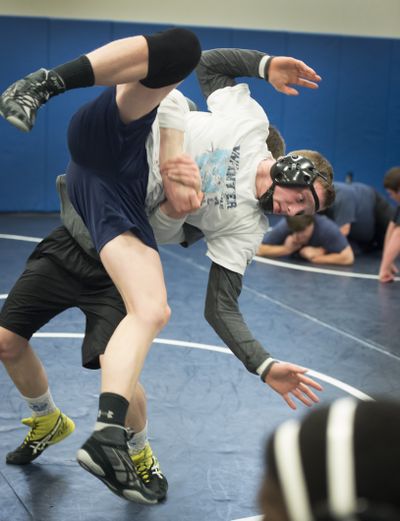 The setting for Mat Classic, the Washington state wrestling tournament, is a unique tableau.
The Tacoma Dome, large enough to accommodate two full-sized basketball courts or a football field with some room to spare, is fitted with a checkerboard of multicolored wrestling mats laid side-by-side.
Once the opening whistle sounds, it's wall-to-wall wrestling. One match ends, the next gets ushered out and begins.
It's a lot to take in for spectators. Those watching for a specific match can easily be distracted.
So can competitors.
David Shepard is the first to admit that his first trip to the state tournament was overwhelming.
"I'd been thinking about it all year long and I think I was just trying too hard," the Central Valley senior said of his state experience a year ago. "It is so overwhelming and I think I let the anxiety of it all get to me. I was cutting a lot of weight and I got dehydrated, but I don't want to use that as an excuse. I should have wrestled better."
Shepard was shutout by Jeremiah Reynolds of Union in his first match and pinned in his second at state last year.
"David should have placed last year – he was a regional champion coming in," coach John Owen said. "Between all the adrenaline and the anxiety from that atmosphere got to him.
"I think we're doing a better job of preparing him in a way that allows him to do what he has to do on the mat. He's a very good, fundamental wrestler and we're letting him be that."
Shepard and his CV teammates are wrestling today at the Rocky Mountain Classic at Sentinel High School in Missoula – one of several large, prestigious tournaments the Bears enter each year.
"Wrestling at Tri-State and at the Rocky Mountain Classic and some of the other big tournaments we go to do a great job of preparing you for the competition you face," Shepard said.
But they don't prepare you for the spectacle that is Mat Classic.
Shepard now is honing himself for redemption.
He's moved up in weight, competing at 160 pounds, eight pounds heavier than his 152-pound entry a year ago.
"I'm not having to cut as much to make weight this year and I think that helps a lot," he said. "I'm not as dehydrated after weigh-in as I was. I think that makes a big difference."
The Bears have two state champions in their wrestling room in Colton Orrino and Blake Beard. But in many ways, Owen said, it's Shepard who steps up to be a team leader.
"He's the one reminding guys to be on time, to make weight, to run harder in practice," he said. "He's a big reason why this team is in such good condition right now. He won't let teammates let up."
"As a senior you have to step up," Shepard said. "I had some good wrestlers pushing me hard coming up and they made me a better wrestler. I haven't seen a team that's in as good of shape as we are yet, and that's an important advantage we have. It's important that we keep pushing each other every day."
Shepard said he's doing what he can to help prepare teammates for the challenges ahead.
Coming off a strong performance in a win at Mt. Spokane on Wednesday, both Owen and Shepard are heading into the annual Battle of the Bone match at University on Thursday with a lot at stake.
"We're going into the Battle of the Bone with the Greater Spokane League title on the line," Owen said. "You're not going to be able to squeeze one more body into that gym for that match.
"I was reading Tony Dungy's book and he was talking about how he would look up into the corners of the stadium to see what kind of event it's going to be. If the corners are full, it's going to be a big event. Well, this match is going to be a big event."
Local journalism is essential.
Give directly to The Spokesman-Review's Northwest Passages community forums series -- which helps to offset the costs of several reporter and editor positions at the newspaper -- by using the easy options below. Gifts processed in this system are not tax deductible, but are predominately used to help meet the local financial requirements needed to receive national matching-grant funds.
Subscribe to the Coronavirus newsletter
Get the day's latest Coronavirus news delivered to your inbox by subscribing to our newsletter.
---
Subscribe and log in to the Spokesman-Review to read and comment on this story