News > Spokane
Still reaching, more than 1,000 join in Spokane's MLK Jr. Day march
Tue., Jan. 21, 2014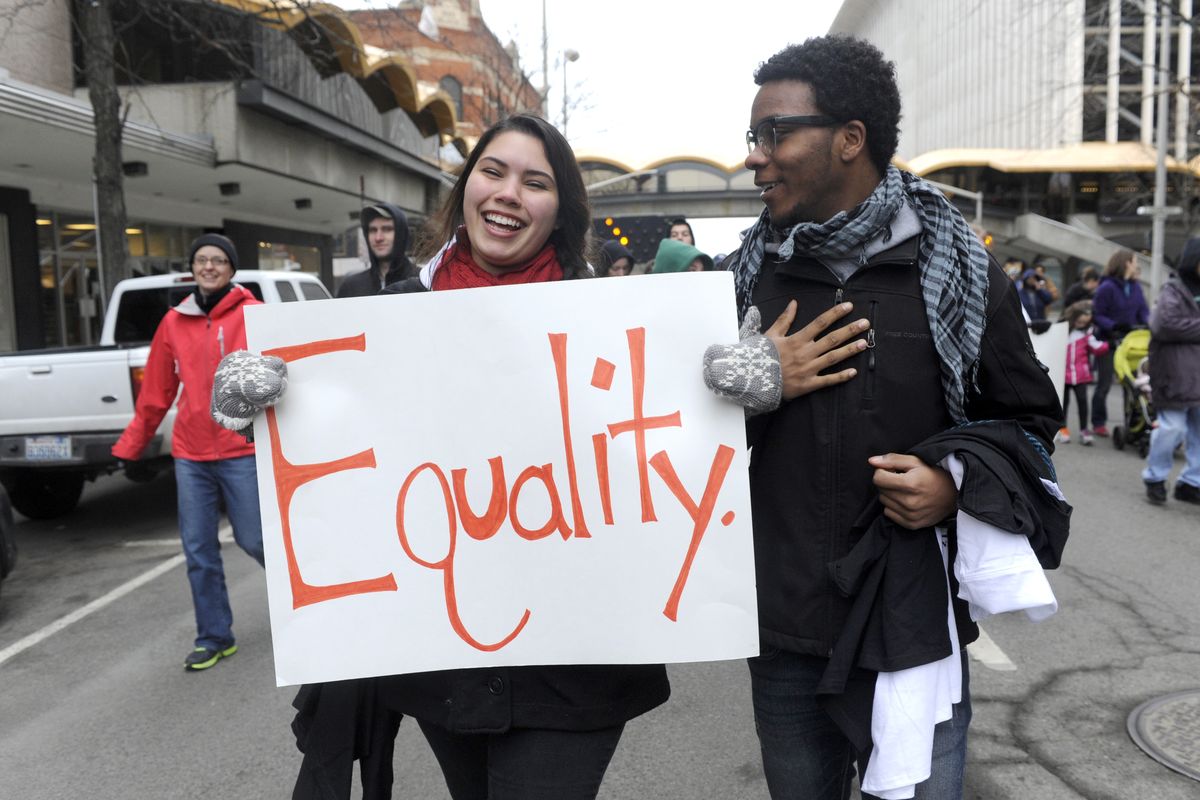 Jasmyne Bivens, left, and Javontae McCain, both 17 and classmates at On Track Academy, walk in the annual Martin Luther King Jr. Day march as it moves west from the Spokane Convention Center toward River Park Square. (Jesse Tinsley)
Like a spirited Southern preacher, the Rev. Carolyn Gordon needed 15 minutes of powerful, persuasive language to convert her audience of more than 1,000 into an army of believers in social change.
A Baptist minister and associate professor of communication at Fuller Theological Seminary in Pasadena, Calif., Gordon spent her first trip to Spokane celebrating the Martin Luther King Jr. holiday.
Though she's made numerous public addresses in recent years, Gordon said she had never been asked to be a keynote speaker on the federal holiday.
Based on what happened in Spokane during her visit, it won't be her last time: Her address set the tone for Monday's downtown King events, held inside the Spokane Convention Center.
After her speech and a performance by vocalist Olynda Stone, the group started the community's unity march across downtown, with many going inside River Park Square for music and dance performances.
Gordon urged her listeners to overcome barriers, move beyond their limitations and grab hold of the future.
"I'm here to give you a reason why we're going to go walk," she started off, her voice rolling smoothly from a gentle softness to a rocking crescendo.
"If you have a broken heart, walk it off," she said. "If you've been told you're not going to amount to anything, don't let that stop you. You walk it off," she said.
Building her sermon, she kept up the same rhythm.
"Whatever is keeping you from your dream, name it and walk it off," she said.
On a day when numerous others hailed King's "I Have a Dream" speech, Gordon ended with a concluding plea on the same theme.
"By the time you get to the end of this parade, as you have walked off all that stuff, I want you to be set on your dream. Then, walk on with that dream."
Monday's Spokane celebration also marked two firsts.
It was the first time in more than 20 years that Ivan Bush and the Rev. Happy Watkins didn't organize the celebration.
In a search for new blood, the two men handed the organization reins to Freda Gandy and Sharon Cowan. Gandy is executive director of Spokane's Martin Luther King Jr. Family Outreach Center. Cowan is equity and community outreach services director at Community Colleges of Spokane.
It was also the first time in more than 25 years that Spokane rally attendees did not hear the Rev. Happy Watkins recite a seven-minute shortened version of "I Have a Dream."
Instead, on two large screens inside the Convention Center the group watched the full 21-minute "Dream" speech by King himself, recorded at the Lincoln Memorial in August 1963.
"We figured there are enough people (in Spokane) who have never heard the actual speech that we wanted to do that and show the original speech," Gandy said.
"I thought people considered that very moving," Gandy added.
Watkins, who is pastor of New Hope Baptist Church in Spokane, continued his tradition by presenting "I Have a Dream" Monday at Providence Holy Family Hospital and Providence Sacred Heart Medical Center.
Local journalism is essential.
Give directly to The Spokesman-Review's Northwest Passages community forums series -- which helps to offset the costs of several reporter and editor positions at the newspaper -- by using the easy options below. Gifts processed in this system are not tax deductible, but are predominately used to help meet the local financial requirements needed to receive national matching-grant funds.
Subscribe now to get breaking news alerts in your email inbox
Get breaking news delivered to your inbox as it happens.
---