Sports
GSL boys: Bullpups turn tables on Mead
Wed., Jan. 29, 2014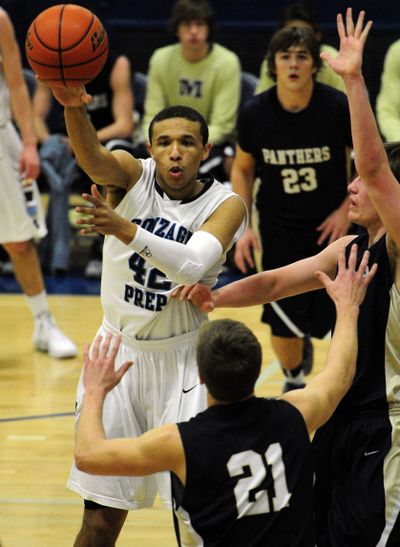 Gonzaga Prep had a point to prove and the Bullpups made it emphatically.
Still smarting from a disappointing loss to Mead in the first matchup, the Bullpups rolled to a 65-49 win in a Greater Spokane League boys basketball Tuesday night at Prep.
"I was excited to get revenge," said Prep senior Brendan McClary, who scored 17 points on 7-of-8 shooting, including three 3-pointers. "We played with a chip on our shoulders. We think we're way better than we were in that devastating loss."
The Bullpups (12-3 overall, 11-2 GSL) let Mead (9-6, 8-5) score the last nine points to steal a 57-53 win in December.
"Ball handling," McClary explained. "The first time we had crucial turnovers. They have a good press. This time we handled it much better."
The credit for that goes to Sam Dowd, the cat-quick senior point guard who missed the first matchup. With him breaking down the defense, Prep had no trouble getting into its offense and finding open shots.
There was a 9-0 run in the first quarter and an 8-0 run in the second that produced a 24-12 lead. The lead reached 17 in the third quarter before the Panthers had a little flurry to get within nine midway through the fourth. That's when McCleary hit his third 3.
"They played the best defense by far we've seen so far this time around," Panthers coach Glenn Williams said. "They forced us into just milling around on offense."
Mead was just 16 of 42 from the field, making 4 of 13 3s. Josh Richter led the Panthers with 12 points.
Meanwhile, Prep hit 23 of 38 shots, including 7 of 10 behind the arc. Dowd and Frankie Hoerner added 14 points each.
"The short answer is we're playing at lot better, at both ends of the floor," Prep coach Matty McIntyre said. "The first time … we let it slip. Tonight we talked about finishing, playing a complete game, and we did."
The Bullpups stayed a game behind Central Valley, tied for second with Ferris. They beat both teams earlier this month.
"I feel like we're getting a lot better," McClary said. "I feel good about the way we're playing."
University 45, Mt. Spokane 29: The Titans (9-6, 7-6) clamped down on the short-handed visitors (5-10, 3-10), who suffered a seventh straight loss. Robert Little and Dray White led the Titans with 16 and 10 points, respectively.
Central Valley 58, Rogers 28: The Bears (12-2, 12-1) held the Pirates (4-11, 4-9) scoreless in the third quarter while scoring 15 points. A.J. Knudsen led the Bears with 17 points and Beau Byus added 10 points and nine rebounds.
Ferris 72, Lewis and Clark 44: The Saxons (13-2, 11-2) opened a 31-13 lead in the first half and never were threatened by the Tigers (3-12, 2-11) at the Arena. A basket by 6-foot-9 post Jensen Rye on a putback gave Ferris a 50-25 lead with 2:10 remaining in the third quarter and that advantage grew to 30 points by quarter's end. Cody Benzel led Ferris with 22 points and Jared Christy added 11 to go with four assists and four rebounds. Isaiah Hernandez led LC with 10 points.
Local journalism is essential.
Give directly to The Spokesman-Review's Northwest Passages community forums series -- which helps to offset the costs of several reporter and editor positions at the newspaper -- by using the easy options below. Gifts processed in this system are not tax deductible, but are predominately used to help meet the local financial requirements needed to receive national matching-grant funds.
Subscribe to the sports newsletter
Get the day's top sports headlines and breaking news delivered to your inbox by subscribing here.
---