News > Washington Voices
Peters Hardware celebrates 80 years of putting customers first
Thu., Jan. 30, 2014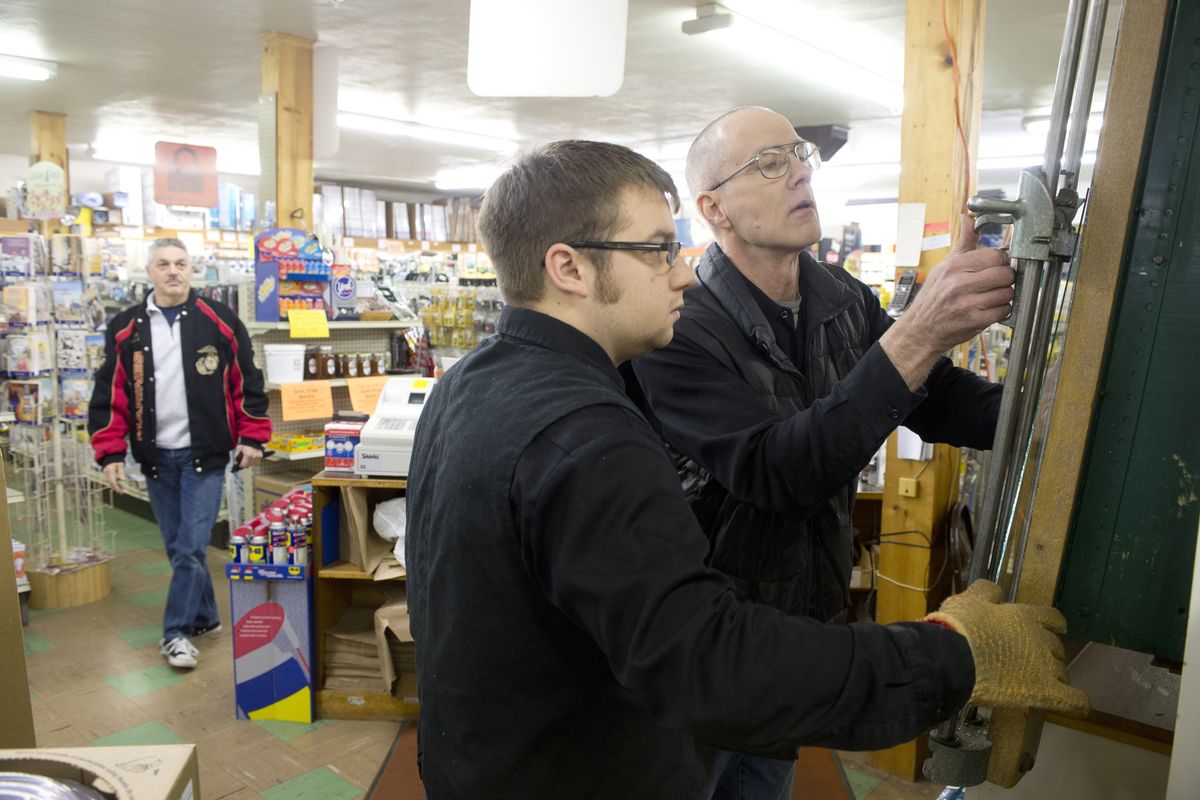 Gary Peters, right, of Peters Hardware in Spokane Valley, with store manager Thomas Hammer, center, cuts a sheet of glass for customer Gregg Werner, left, on Tuesday. (Jesse Tinsley)
In 1934, America was deep into the Great Depression with unprecedented unemployment rates.
It wasn't a great time to start a new business, but Bill Peters borrowed $300 from his life insurance and opened a hardware store in the back corner of a plumbing business, that is now Dave's Bar and Grill in Spokane Valley. He had been working for a hardware distributer in downtown Spokane when the farmers of Spokane Valley asked him to open a shop closer to them. He used that $300 for his inventory.
"To start a business was kind of crazy," said Bill's grandson, Gary Peters, who is celebrating the shop's 80th anniversary next week. Peters Hardware opened Feb. 4, 1934, and Bill sold $2 worth of goods that first day.
During World War II, Bill Peters moved his store to its present location, 12118 E. Sprague Ave. In 1954, it expanded to its present 4,000 square feet.
When the store first opened, Bill's son, Wilbur, was 16 and attending North Central High School. Bill Peters took the train to his business in Spokane Valley while his son drove the family car to school. After classes, he drove to his job at Jensen-Byrd Distributors. After his shift, he took the car now filled with merchandise out to the shop.
Now 96, Wilbur Peters is still involved in the day-to-day operations of the store.
"He comes in every day," Gary Peters said. Gary took over the business in 1981.
Just about every member of the Peters family has worked at the store over the years. Three of Gary Peters' sisters work there now. A fourth doesn't live in the area anymore but worked there before she moved. Gary Peters remembers helping customers when he was 8 years old.
"It's very much a family business still," he said.
Keeping a family business going in this age of big box stores requires having the right inventory in stock and being knowledgeable of the products they sell.
"Some people don't like the big box-store feel," Peters said. "We have a very loyal clientele."
Some of those customers have been coming to the store just like their parents and grandparents did.
Gregg Werner has been a customer for about 30 years. He came in earlier this week to get a custom-cut triangle of plate glass for his flag display box.
He said he comes to Peters because he feels like the staff members are friends, not just employees doing a job.
"They care very deeply about everything they do," he said.
Among the store's inventory, you can find galvanized washtubs, hurricane lanterns and wicks, chimney cleaning brushes, garden tools, plumbing supplies and all thread rods, among the light bulbs, paints, pet-friendly de-icers and water heaters.
While Peters isn't ready to retire yet, the shop's aptly named manager, Thomas Hammer, plans to buy the business when the time comes. (And no, he's not related to the coffee roaster.)
"We're not here to make money," Hammer said. "We're here to make a difference."
Hammer, 25, said his dream is for the business to become a chain of small mom-and-pop hardware stores around the country.
This summer, he had the business's sign restored. It was once a neon sign from the 1940s that Wilbur Peters bought. Hammer had it repainted, the rust removed and the holes patched. It's now on the business's roof.
For the Peters family and their employees, staying in business for 80 years means following a basic philosophy.
"You need to have what they want," Gary Peters said.
Local journalism is essential.
Give directly to The Spokesman-Review's Northwest Passages community forums series -- which helps to offset the costs of several reporter and editor positions at the newspaper -- by using the easy options below. Gifts processed in this system are not tax deductible, but are predominately used to help meet the local financial requirements needed to receive national matching-grant funds.
Subscribe now to get breaking news alerts in your email inbox
Get breaking news delivered to your inbox as it happens.
---