News > Idaho
Boy accused in CdA killings sent back to adult jail
Thu., July 3, 2014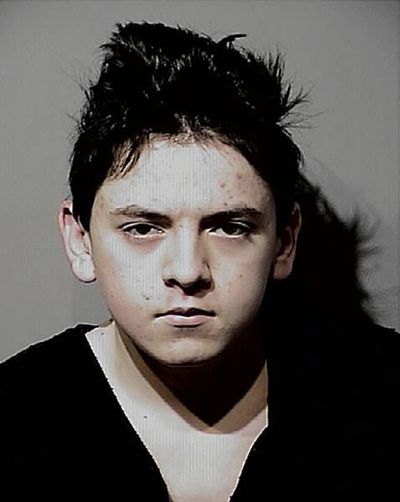 Where do you put a 14-year-old boy accused of murdering his father and younger brother?
Not among other juvenile offenders, a Kootenai County judge said Wednesday.
First District Judge Benjamin Simpson said he can't in good conscience keep Eldon Gale Samuel III in the county's juvenile detention center, where the boy has spent the past six weeks and is in the company of other boys for part of each day.
Simpson ordered that Samuel be moved back to the adult jail, where the young defendant – charged as an adult – spent the first two months following his March 24 arrest. There, he must be isolated from other adult inmates – a necessity that has proved a logistical nuisance for the jail staff.
In a hearing Wednesday morning, Samuel's public defender, John Adams, asked the judge to keep the boy in juvenile detention.
"It's humane, it's reasonable," Adams said.
Jail and juvenile detention officials said they would prefer Samuel stay there as well, and a deputy prosecutor said he didn't object to keeping Samuel in the juvenile facility.
Robert Romero, a court-appointed guardian representing the boy's interests, called the makeshift cell where Samuel was secluded at the adult jail "atrocious."
"It's a step less than we're affording prisoners at Gitmo," the Guantanamo Bay detention camp where the U.S. holds terror suspects, Romero told the judge.
But Simpson said he also must think of the safety of other adolescents Samuel is around at the juvenile center.
"I think there is a very small risk but a very grave danger" of keeping Samuel with other boys, he said.
Samuel spent time around about 30 other teen boys while in juvenile detention before he was moved back to the jail Wednesday.
The judge said he's open to other ideas for housing Samuel, and he suggested the sheriff consider an unused detention facility.
"I just can't in good conscience order him to continue to be held in the Juvenile Detention Center," Simpson said.
Samuel is accused of shooting his father, Eldon Samuel Jr., 46, and shooting and stabbing his brother, Jonathan Samuel, 13, inside an emergency housing unit in Coeur d'Alene owned by St. Vincent de Paul. His pants soaked in blood, he then called police.
The slender, dark-haired boy sat quietly next to Adams for Wednesday's hearing in a jailhouse courtroom. He wore green, jail-issued clothes and remained cuffed throughout the hourlong proceeding.
When he first was moved to the juvenile center, Samuel went by "Sam" in an effort to keep other boys from learning his real identity and alleged crimes. But that didn't last, said Linda Hoss, the juvenile detention operations manager.
"The majority of kids know who he is," Hoss said on the stand.
Samuel himself was overheard by a staff member discussing why he is incarcerated – a violation of the rules, she said. The boy also broke a "quiet time" rule, but "most of the time he follows the rules," Hoss said.
Some details of how Samuel spent his days came out in court Wednesday.
He had his own room with a bed, toilet and sink. He arose at 6 a.m. and was let out to eat breakfast alone in a visitation room at 7 a.m. All his meals were segregated from the other juveniles – a consequence of him talking to others about why he's in jail, officials said.
But Samuel was around other boys during class and physical education time – federal law requires that their public education continues while in custody – and during brief, supervised recreation times.
After schoolwork concluded at 2:30 p.m., Samuel spent the rest of his day alone in his room, except for breaks for physical activity.
By contrast, his movement is more restricted at the jail.
When Samuel was there before, he was kept in a 10-foot-by-12-foot medical holding cell with a metal bench, toilet and sink, and with windows that faced the booking area, which is busy around the clock.
"It's just a small room" where Samuel spent most of the day, testified Sgt. Thomas Stangeland, a watch commander at the jail.
To keep the boy out of sight of adult inmates, the jail staff at first covered his room's windows with butcher paper, then later with curtains. When Samuel was moved, such as for frequent visits with his public defender, officers would clear the corridors of all other inmates to keep them from coming in contact with the boy. That brought to a halt other inmate movements, Stangeland said.
"So all of those things just kind of come to a crawl when he's out," he said.
During a state corrections tour of the jail, inspectors evaluated the setup for Samuel and recommended he instead be kept at the juvenile detention center.
Stangeland told the court he believes the juvenile detention staff is better able to handle Samuel's needs, adding that he is comfortable with the ability of the juvenile center to ensure the safety of other teens in Samuel's presence.
Deputy Prosecuting Attorney Art Verharen asked if the juvenile center could isolate Samuel completely from other boys there.
It's possible, Hoss said, but that would reduce staff supervision of the larger group of offenders in order to regularly check in on Samuel, reducing overall safety. In addition, Samuel would not have access to education in the summer, she said.
Keeping Samuel in isolation also could be detrimental to the boy, Hoss said. Juveniles who are not actively engaged with others can become a danger to themselves, she said.
The county's juvenile center currently has 43 inmates, with about 70 percent of them male. The bulk of them are 15 to 17 years old, but they can be as young as 10.
Local journalism is essential.
Give directly to The Spokesman-Review's Northwest Passages community forums series -- which helps to offset the costs of several reporter and editor positions at the newspaper -- by using the easy options below. Gifts processed in this system are not tax deductible, but are predominately used to help meet the local financial requirements needed to receive national matching-grant funds.
Subscribe now to get breaking news alerts in your email inbox
Get breaking news delivered to your inbox as it happens.
---