News > Features
Summer Games gives adults a chance to play like children
Tue., July 8, 2014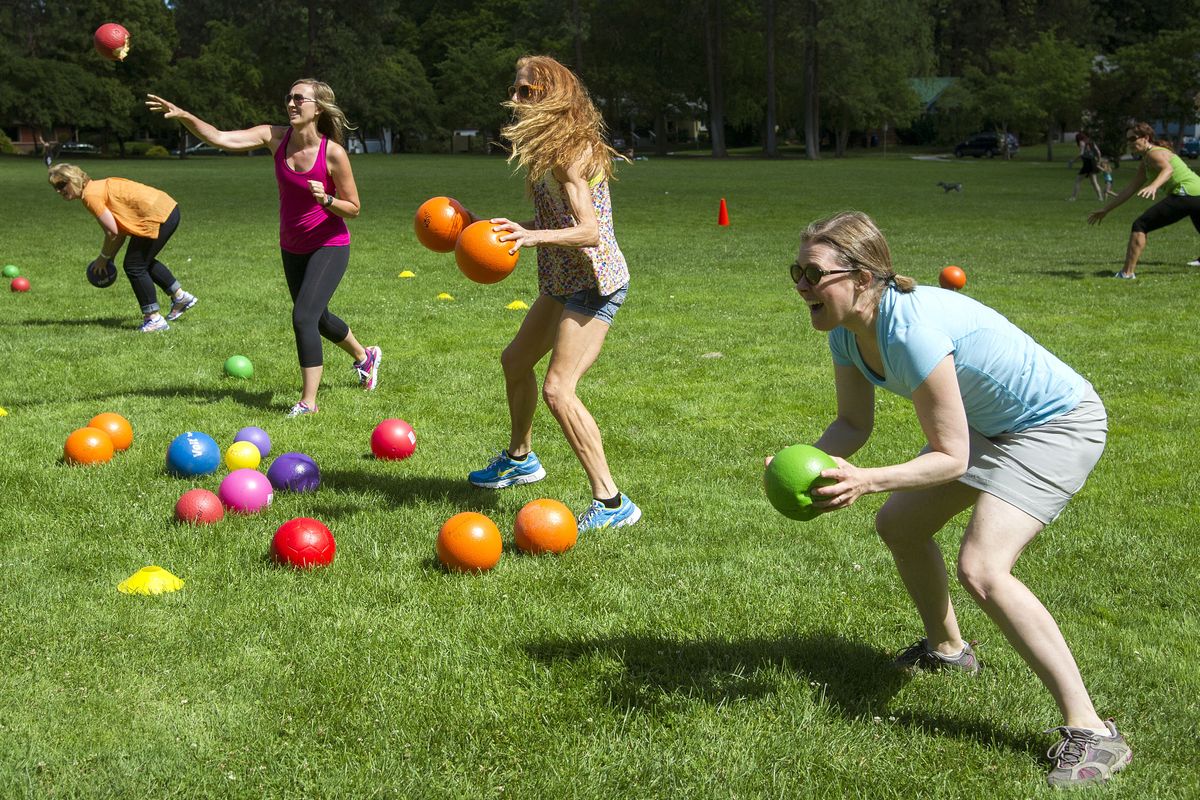 Summer Games participants, from left, Terry Perry, Jessica Kenlein, Linnea Carlson, and Laurie Feola play a game of island ball – similar to dodgeball – last week at upper Manito Park. (photos by COLIN MULVANY)
Before explaining the rules of noodle tag last week on a grassy play field at upper Manito Park, fitness trainer Nicole Kuhn led a group of women through stretches and a principle behind Summer Games, her recess-for-grownups series:
Players of noodle tag, or island ball or trash can kickball or any other playground game in their future, should play at their own pace. Can't run another step? Slow down. Some parts of the field too aggressive? Hang out in another part.
When the 10 or so women took the field, though – some in workout clothes, one in a maxi skirt – they started laughing and running hard, two women armed with long foam "noodles" in pursuit of the others.
Officially starting its fourth season today – last week's games were a special arrangement – Summer Games offers exercise without the dread, designed to infuse kid-style fun into adults' exercise lives. The games run twice a week at Manito.
"Well, let's see," said participant Becky Hubble, 41, during a water break. "You could play this, or you could go jog for a mile. This is a lot more fun."
A girls- and women-only offshoot of Kuhn's personal training business, Summer Games also draws on the renewed interest among adults in recent years in old-school playground games. Fitness centers, especially in bigger cities, started offering "urban recess" and "adult P.E." classes. Parks and recreation departments launched dodgeball leagues.
"You actually have grass stains on you again, and you're sweating," Kuhn said. "You don't realize you just ran for an hour, hustling around trying to catch people."
Playing like a kid is good exercise, agreed Amy Mapes, 44, who's played in past Summer Games seasons.
"At the end, you're sweaty, and you're like, 'Whoa, how'd that happen?' " Mapes said. "And then the next day you wake up and you realize you've used muscles you haven't used in probably 20 years – that just your regular treadmill and elliptical machine don't do."
Island ball is similar to dodgeball. If you get tagged, you have to go to the opposing island, designated by a hula-hoop, and stay until you catch a ball thrown by a team member. Trash can kickball puts three balls into play at the same time. Sometimes Kuhn throws in an obstacle course.
The games provide a mix of strength-building and cardiovascular exercise, Kuhn said.
"Some of them are really arm intensive. Some of them are really running intensive," Kuhn said. "It's a whole hour of really good activity."
Karin Schmidt was among the first to launch a playground-oriented fitness program for adults. She moved her business Urban Recess to Portland from San Francisco in 2007 after starting it in 2002. Her clients play in a rented elementary-school gym in northwest Portland, "which lends to the flavor of the class." (And the smell, although she said a kindly janitor turns on a fan before her classes show up.)
Schmidt said a key to the success of programs like hers is to draw the links for clients between the fun and the workout, explaining which muscles they'll use as they play. Otherwise participants don't take the games seriously as workouts.
Steal the bacon, for example, gets women running fast in short spurts, mimicking interval training and helping to build long, lean muscle.
Like Summer Games, Urban Recess is for women only. Schmidt cut men from the classes early on, she said, after some behaved too aggressively during games.
Having a play space of their own turns women who weren't sporty kids into athletes as adults, Schmidt said. They stop wearing makeup and start giving one another nicknames.
"That's the thing that I always think is really interesting – they were too afraid to play, and now that they try it they find out they're really good at catching balls or throwing balls or running," she said. "All of a sudden they go, 'God, I wish I would have done it when I was younger.' … It's a second chance to be good at something."
Kuhn said she once considered buying a gym. But she was tired of bored people "droning away" on exercise machines, she said.
She tries to teach her clients there's fun to be had in exercise.
Appropriate for people at a range of fitness levels, Kuhn said, the games are a good fit people who enjoy the social aspects of games – even if they're more accustomed to card games."Why can't we play anymore? Why do we stop playing?" Kuhn said. "That's what I don't understand. It's fun. We're supposed to laugh and run around."
Local journalism is essential.
Give directly to The Spokesman-Review's Northwest Passages community forums series -- which helps to offset the costs of several reporter and editor positions at the newspaper -- by using the easy options below. Gifts processed in this system are not tax deductible, but are predominately used to help meet the local financial requirements needed to receive national matching-grant funds.
Subscribe now to get breaking news alerts in your email inbox
Get breaking news delivered to your inbox as it happens.
---