News > Marijuana
Spokane's first pot buyer says he's getting fired
Wed., July 9, 2014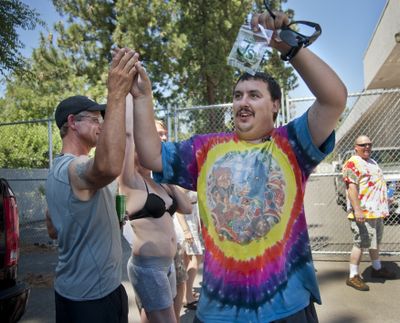 The first person to legally buy recreational pot in Spokane says the fame has cost him his job. Mike Boyer, whose enthusiastic purchase Tuesday was broadcast by TV stations and photographed by newspapers, said Wednesday that two of his three part-time employers have since ordered him to report for drug tests that he's certain he'll fail. He posted his resume on the Internet bulletin board Craigslist on Wednesday, saying that Kodiak Security had fired him and that he was now "jobless," though a Kodiak official said Wednesday afternoon that he still had a job there. Boyer speculated the company was waiting to see if he showed up for the drug test before making it official. "I was really unaware that this might be a big deal," he said Wednesday, adding that another one of his part-time jobs was in jeopardy as well. On Tuesday, Boyer had waited for hours outside of Spokane Green Leaf – the first state-licensed retail marijuana store to open in Spokane – and became the first person in the Lilac City to legally purchase recreational pot. He emerged from the store and shouted "Go Washington" to the cheering crowd before driving home and smoking his new purchase with friends. Boyer said he has a medical marijuana card and takes drug-infused medications, and that might allow him to get around the urine test at Kodiak. But he wasn't optimistic. Boyer also said he did not expect the publicity to cost him his employment. But employers are allowed to continue testing their workers pursuant to their internal employment policies, according to the Washington Liquor Control Board, which is handling the implementation of marijuana rules. This includes screening applicants for jobs. Kym Ramey, human resources manager for Kodiak, said that Boyer, who has worked there for several weeks, is still employed by the firm. She also said employees are tested per company policy. "We're a security firm," Ramey said. "Our employees can't be under the influence on the job." Regardless of what happens, capturing the title of first buyer of legal pot in Spokane was worth the employment woes to Boyer. "I regret nothing," he said.
Local journalism is essential.
Give directly to The Spokesman-Review's Northwest Passages community forums series -- which helps to offset the costs of several reporter and editor positions at the newspaper -- by using the easy options below. Gifts processed in this system are not tax deductible, but are predominately used to help meet the local financial requirements needed to receive national matching-grant funds.
Subscribe now to get breaking news alerts in your email inbox
Get breaking news delivered to your inbox as it happens.
---