Sports
In Brief: Cavaliers make trades in push for LeBron James
Thu., July 10, 2014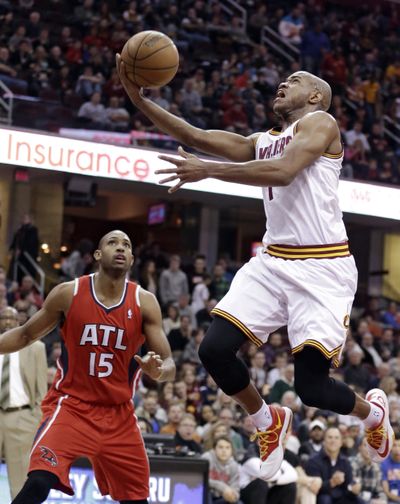 NBA: The Cavaliers made moves to clear a path for LeBron James to return.
The team created salary-cap space on Wednesday with a three-way trade, ensuring they have enough to offer the superstar free agent a maximum contract.
A person familiar with the deals says the Cavs have agreed to trade guard Jarrett Jack, swingman Sergey Karasev and center Tyler Zeller in a three-team deal. The moves are designed to open room under the salary cap so they can land James, the four-time league MVP and most sought after player on the market.
The Cavs have agreements with Brooklyn and Boston, the person told The Associated Press. The person spoke on condition of anonymity because teams are not permitted to discuss trades until the league's moratorium ends Thursday.
The person said Cleveland will receive guard Marcus Thornton from the Nets and send him, Zeller and a future first-round pick to the Celtics. Also, the Cavs are trading Jack and Karasev to the Nets.
Jack was scheduled to make $6.3 million, Zeller will make $1.6 million and Karasev $1.4 million
In trading those salaries, the Cavs have enough to give James a maximum, $20.7 million contract – if he decides to sign with Cleveland..
The Cavs, meanwhile, gave James more to consider about Cleveland with their trades.
And, the Cavs may not be done. Cleveland has other assets, including future first-round picks it could package together to make a run at other All-Star players whether James signs or not.
• Riley, James meet in Vegas: Pat Riley made his pitch. And now, LeBron James wants time to think.
The Miami Heat president met with the four-time NBA MVP in Las Vegas. James, his agent Rich Paul, Riley and Heat executive Andy Elisburg were at the meeting.
James has not made a decision nor made any announcements adding, "He wants to meet with his family." As he weighs his options, he will not meet with any other teams.
So now, Miami waits. So does Cleveland. So, too, does just about the entire NBA – because once James picks the Heat or the Cavaliers, the teams believed to be serious suitors for his services, the domino effect of other free agent moves will surely follow.
• Mavs, Parsons reach agreement: Restricted free agent Chandler Parsons has agreed to an offer sheet with the Dallas Mavericks. The Houston Rockets will have to decide if they will match it.
ESPN, citing sources close to the process, reported that it was a three-year offer worth more than $45 million.
The 25-year-old Parsons averaged 16.6 points, 5.5 rebounds and 4.0 assists last season for the Rockets..
• Hornets make splash for Hayward: A person close to the situation says restricted free agent Gordon Hayward has agreed to a maximum offer sheet with the Charlotte Hornets that would pay the small forward $63 million over the next four years.
The Utah Jazz would have three days to match the deal once Hayward officially signs the offer sheet.
Hayward, who visited with the Hornets this week, averaged 16.2 points, 5.1 rebounds and 5.2 assists per game last season.
• Popovich gets extension: Gregg Popovich has agreed to a multi-year extension with the San Antonio Spurs.
He is 1,116-533 in his career, including the playoffs, and won his third coach of the year trophy this season after leading the Spurs to an NBA-best 62 wins in the regular season.
• NBA salary cap set to new high: The NBA has set the 2014-15 salary cap at $63.1 million, an all-time high, paving the way for contracts to be signed.
The cap is a 7.5 percent increase from last season's $58.7 million. The league also said that the tax level jumped 7.1 percent to $76.8 million. Teams exceeding that will have to pay a luxury tax.
Blackhawks lock down Toews, Kane
NHL: The Blackhawks have agreed to eight-year contract extensions with captain Jonathan Toews and star forward Patrick Kane.
General manager Stan Bowman said all along that the extensions were his biggest offseason priority. The Blackhawks did not release the value of the deals that keep the two stars in Chicago through the 2022-23 season.
Chicago selected Toews with the No. 3 pick in the 2006 draft, and grabbed Kane with the No. 1 overall selection the following year. They combined to lead the Blackhawks to Stanley Cup titles in 2010 and 2013.
Kane had 29 goals and 40 assists and Toews finished with 28 goals and 40 assists this season.
• Devils give Schneider extension: The New Jersey Devils have signed goaltender Cory Schneider to a seven year, $42 million contract extension.
He had a 16-15-12 record in 45 games with New Jersey last season and posted a 1.97 goals-against average, third best in the NHL.
• Ducks sign Heatley for one year: The Anaheim Ducks have signed left wing Dany Heatley to a one-year deal.
The 33-year-old Heatley is a four-time All Star and a two-time 50-goal scorer. Heatley ranks second among NHL players with 143 power-play goals.
• Predators, Ekholm reach deal: The Nashville Predators have signed restricted free-agent defenseman Mattias Ekholm to a two-year, $2.075 million contract.
Ekholm, 24, had one goal and eight assists in 62 games as a rookie last season. He was one of only six NHL defensemen to play at least 50 games and to be assessed 10 or fewer penalty minutes.
Emmert supports 'scholarships for life'
MISCELLANY: NCAA President Mark Emmert says college athletes should receive "scholarships for life."
Emmert also told a Senate panel that scholarships should also cover full cost of attending college, not just the basics.
Emmert listed seven changes he favors in testimony before the Senate Commerce Committee. He said he hopes some will come about if Division I schools decide to remake their decision-making structure in the coming weeks.
Emmert said he feels college sports "works extremely well for the vast majority" and the overall current model of amateurism should be preserved.
• Referee-punching man charged with murder: A Detroit-area soccer player accused of killing a referee with a punch to his neck was charged with second-degree murder.
The charge against Baseel Abdul-Amir Saad was announced eight days after John Bieniewicz died from his injuries.
Bieniewicz, 44, of Westland, was working as a referee at a men's soccer game in Livonia on June 29 when Saad, faced with ejection, struck him with a punch, Wayne County prosecutor Kym Worthy said.
Local journalism is essential.
Give directly to The Spokesman-Review's Northwest Passages community forums series -- which helps to offset the costs of several reporter and editor positions at the newspaper -- by using the easy options below. Gifts processed in this system are not tax deductible, but are predominately used to help meet the local financial requirements needed to receive national matching-grant funds.
Subscribe to the sports newsletter
Get the day's top sports headlines and breaking news delivered to your inbox by subscribing here.
---
Subscribe and log in to the Spokesman-Review to read and comment on this story