News > Spokane
Increased criminal use of airsoft guns worries police
Sun., July 13, 2014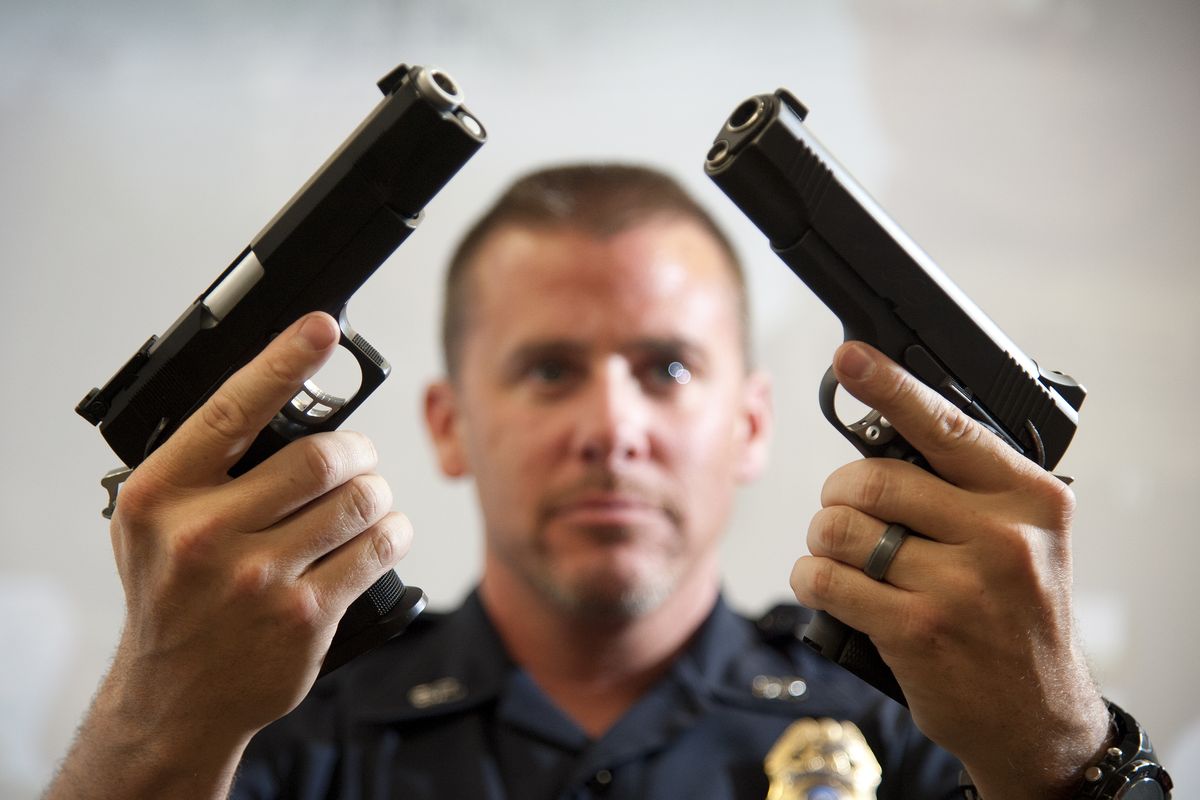 Spokane police Range Master Sgt. Chris Crane holds similar-looking handguns. A SOCOM Black Ops Airsoft Gun is at left and a Kimber .45 ACP pistol at right. The proliferation of weapons that appear genuine is a major worry for local law enforcement. (Dan Pelle)
The gun in Stephen Corkery's hand when he allegedly robbed several Spokane businesses and walked into a fatal standoff on West Grace Avenue in March was fake, investigators say.
The alleged crimes, and the consequences, were very real.
Local law enforcement have responded to at least a dozen calls since the start of the year involving people armed with a gun that officers and bystanders believed was authentic, but turned out to be a realistic-looking replica. Two of those encounters, including Corkery's, have ended with fatalities.
"What do you do?" Spokane police Chief Frank Straub said. "You can't call a timeout and say, 'Excuse me, is that real?' "
Many more incidents, including an hourslong standoff with a suicidal man downtown last month, ended peacefully, and police identified the guns involved as replicas. But Straub and others worry the rising number of would-be criminals threatening civilians with fake firearms could lead to an even greater number of tragedies.
"My fear is, sooner or later someone's going to walk into a store to do a robbery, only to be confronted by a store owner, or a property owner, who has a real gun," Straub said.
While policy changes at the local and state level to restrict access to – or more clearly identify – facsimile firearms remain in the planning stage, communities across the country have realized the growing threat posed by products marketed and regulated as toys that are then brandished as deadly weapons. Enthusiasts worry that the behavior of some people, who for various reasons are unable to buy real guns, could lead to regulation of airsoft guns, replica guns that shoot pellets.
But the proliferation of weapons that appear genuine, and the pressure officers and the public are under to determine a gun's authenticity, demands change, Straub said.
"I don't think they should be on the street to begin with," he said.
'He created the contact'
The gun in Jeremy Arnold's hand caught the sunlight and glinted moments before Spokane police officers opened fire in April, killing him as he returned to the scene of the homicide he was suspected of committing.
The standoff, captured by a KXLY cameraman, showed the tell-tale signs of the so-called "suicide by cop" trend, said retired Los Angeles Police Department Capt. Rick Wall.
"He didn't have to go back there," Wall said of Arnold. "He created the contact."
Initiating contact with police is one of five factors that indicate a desire for suicide by cop, said Wall, who has spent more than a decade researching and developing strategies to identify and deal with mental health issues. The other factors have been present in multiple situations when seemingly armed people confronted Spokane law enforcement.
In May, a man walked onto an STA bus holding what witnesses said appeared to be a gun. When police arrived, he began pointing it at officers in what was described as a "threatening" manner by police. Wall said those who want suicide by cop will place officers in a situation that demands a use-of-force response but don't desire to harm anyone else.
"I've actually spoken to people that survived," Wall said. "They said they don't want to hurt the officer."
The STA rider turned out to be holding a cellphone charger. Officers were able to identify that it wasn't a lethal weapon, according to reports, and were able to use nonlethal tactics to subdue him.
A suicidal suspect downtown in June eventually stood up and began walking away, according to investigators, when bean bag rounds were used to disarm him. He displayed a lack of planning an escape, another factor that indicates a desire to be killed by law enforcement, said Wall, who has reviewed some of the cases in Spokane and presented some of his work at a conference for the Washington Association of Sheriffs and Police Chiefs.
Recent research into officer-involved shootings indicates a majority of those who engage police unarmed and show the warning signs of suicide by cop are holding replica weapons. In a survey of 291 suicide-by-cop situations nationwide published in 2009, Kris Mohandie, a researcher for the Society for Police and Criminal Psychology, found 48 of those standoffs were with a person who was unarmed. Twenty-six of those standoffs, or 54 percent, involved people who held replica firearms.
Bringing a facsimile weapon to a standoff indicates a person's willful desire to die, Wall said.
"These things aren't planned in a moment's notice," he said.
All the fear, without the penalty
Hours after losing money on the Super Bowl on Feb. 2, 24-year-old Eric Bordner walked into a drugstore off Division Street armed with a BB gun and looking for pills, he later told police.
A pharmacist said she raised her hands immediately when she saw what appeared to be semi-automatic pistol in Bordner's waistband. Bordner fled after a time-delay on the safe containing painkillers thwarted his robbery attempt, and he later called police saying he'd made a mistake. The fake gun was found under a couch at his father's house, according to a police report.
Bordner, like other suspects who flash replica weapons, was charged with armed robbery just as if the gun were real. Under Washington state law, crimes involving the threat of violence need only be carried out with "what appears to be a firearm" in order for prosecutors to seek a violent crime charge. But when crimes are committed with pellet guns, state laws do not provide prosecutors the opportunity to seek lengthier prison terms under the state's firearm enhancement provisions, which can act as a major deterrent, said Spokane County Deputy Prosecutor Larry Haskell, who is running for county prosecutor.
"They're using it for the effect on victims, without the penalty," Haskell said.
A firearm enhancement on a class A felony, such as armed robbery, can mean an extra five years in prison after a conviction. But the enhancement only applies when the weapon fires due to an explosion, according to Washington state law. Most airsoft guns use compressed air as a propellant, exempting criminals who use them from the sentencing enhancement.
Airsoft guns also are not included in the state's firearm aiming law, which slaps offenders with a gross misdemeanor if they point a gun at another even without firing or causing injury. However, the airsoft gun owner may face other charges for pointing a fake gun at another, including harassment.
Sales of airsoft guns are prohibited to anyone younger than 18 years old, but it is not illegal for a younger person to possess them. Stores are not required to run background checks on people buying airsoft guns, allowing felons to obtain them without a legal issue.
But Straub said the larger problem is the behavior associated with the replica weapons, not the guns themselves.
"This is not a Second Amendment issue," the chief said.
Colors, licenses and bans
The issue has been hotly debated in other parts of the country, including Santa Rosa, California, after a sheriff's deputy shot and killed 13-year-old Andy Lopez last fall.
The deputy, a self-described "gun expert," mistook a replica AK-47 hanging off the back of Lopez's bike as the real thing.
Many pointed fingers at the National Rifle Association for blocking state legislation two years before the shooting that would have required all replica firearms sold in California to be brightly colored. Others blamed the mostly overseas manufacturers of airsoft weapons for designing replicas that too closely resemble their authentic counterparts.
Airsoft weapons seized by Spokane police feature brand names and logos of popular firearms, including "Glock" and "Beretta," on the stocks and barrels. Manufacturers are allowed under federal law, if they've obtained a license, to include these marks on their replicas.
Legislators in California are trying again to pass the colored weapons law in the wake of Lopez's death.
New Jersey, which requires all firearm owners to obtain a license, also requires airsoft purchasers to obtain a license. Several cities have followed suit, adopting their own ordinances that require replica guns to be brightly colored and holders to be licensed.
Straub said he'd like to see a city ordinance that would require airsoft weapons to be more clearly marked, but there is no current proposal before the City Council. Councilman Jon Snyder, head of the Public Safety Committee, said he shares Straub's concern and would consider a proposed ordinance offered by Straub.
Joe Waldron, legislative chairman of the Washington State Rifle and Pistol Association, said his organization would not oppose measures to more clearly mark toy guns, but would draw a line at banning replica firearms.
"We don't have any legislative interest in toys," Waldron said.
At the very least, Straub said, he'd like to see a concerted effort to keep realistic-looking guns off the street.
"Don't take them out of your house," he said. "Don't take them out of your car. Don't point them at anyone."
But any regulations could infringe upon lawful use of airsoft guns, a burgeoning activity that has many enthusiasts in the area.
Local group strict on safety
Wade Stolz, a 14-year Army veteran, has spent the past several years adopting a lengthy list of regulations for recreational players with the Eastern Washington Airsoft group.
"We lay down every rule we can think of," Stolz said. Pre-match briefings can take up to 45 minutes before play begins, he added.
The Center for Airsoft Statistics and Player Relations, a Texas-based organization that polls players and tracks industry trends, estimates billions are spent every year across the globe on the sport. Most players are in their 20s, more than half belong to the NRA and each player owns, on average, seven replica weapons. They often play war-style games in which they fire pellets at each other with their guns.
The sport is largest in North America, where more than a third of international airsoft players reside. The Eastern Washington group formed four years ago, Stolz said, and the club includes members in their teens (whose parents must sign waivers) as well as retirees.
While the group has strict rules about keeping their weapons stored until they reach a controlled environment for play, Stolz said he worried about the actions of some reckless individuals ruining the experience.
"I know that we have banned people from playing with us ever again, for doing stupid things in day-to-day life," Stolz said.
All players are instructed if law enforcement arrives at a match to yell "cease-fire," drop their guns and step back, Stolz said. Rules also require players to wear safety equipment, and real firearms are banned from the play area.
Stolz said he'd like to see a greater partnership between his group, other area airsoft organizations and law enforcement to educate the public about safety.
"We do our best to provide a safe environment, a fun environment," he said.
No easy answers
The deaths of Corkery and Arnold, and other incidents where fake guns are portrayed as real weapons, point to a larger behavioral problem that needs to be addressed in addition to the safety regulations, Straub and Wall said.
"It's not the thing itself, whether it's a fake gun or a real gun," Straub said. "It's an inanimate object. It's the behavior of people."
Often, that behavior is shaped by mental health issues, said Wall, the retired LAPD captain. The way to effectively combat the problem of people approaching officers with fake weapons, showing intent to be shot, is to bridge communication between law enforcement, mental health professionals and family members, Wall said.
"Whether it's Los Angeles, Spokane, Seattle, Oklahoma, if someone's in a mental health crisis at 6 o'clock on a Saturday morning, you dial 911 and get a police officer," Wall said.
Crisis training, like that mandated for Spokane police officers, and firearm recognition instruction can only go so far, he said.
"The fact that you're now going to interject a police officer who has taken a 40-hour course and expect to never have a use-of-force situation is unrealistic," Wall added.
While the potential fixes are many, there is no clear indication of what will be successful. Following the most recent deadly incidents, the time is now to start discussing the options, Straub said.
"We need to have a thoughtful conversation about this," the chief said. "These are not something to be used to intimidate people."
Local journalism is essential.
Give directly to The Spokesman-Review's Northwest Passages community forums series -- which helps to offset the costs of several reporter and editor positions at the newspaper -- by using the easy options below. Gifts processed in this system are not tax deductible, but are predominately used to help meet the local financial requirements needed to receive national matching-grant funds.
Subscribe now to get breaking news alerts in your email inbox
Get breaking news delivered to your inbox as it happens.
---