News > Idaho
Racist graffiti found on Desmet Mission marker
Mon., July 14, 2014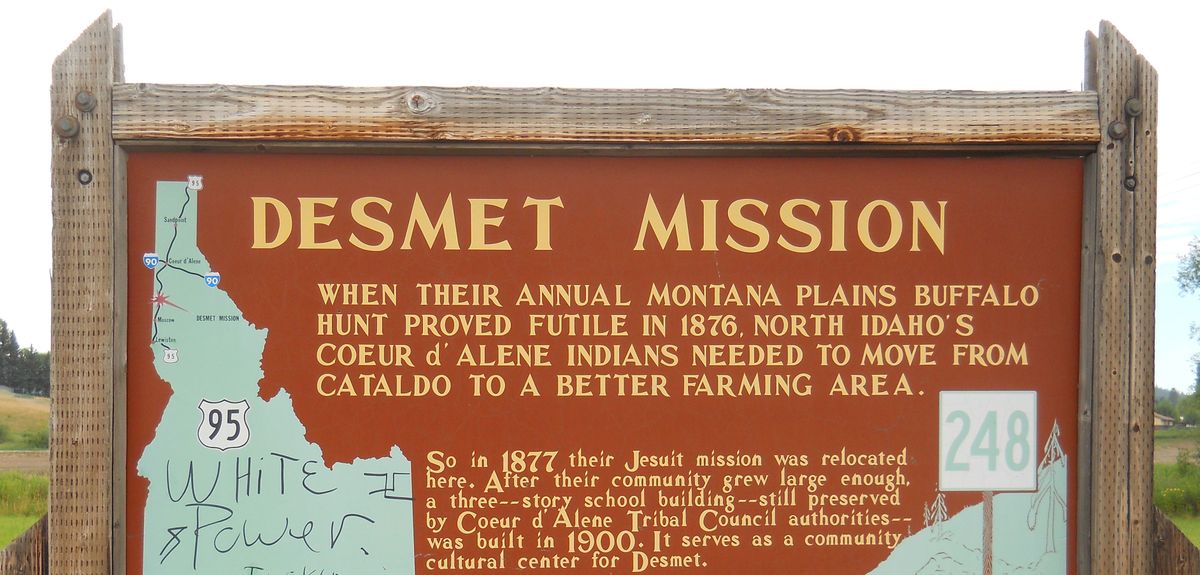 A sign on U.S. Highway 95 on the Coeur d'Alene Reservation in Benewah County was vandalized with a racist message over the weekend. (Coeur d'Alene Tribe courtesy)
A historical marker on the Coeur d'Alene Tribe's reservation was defaced over the weekend with a racist message, the tribe said this morning. Someone wrote "White power" and "Die (expletive) Indians" on the sign about the Desmet Mission at U.S. Highway 95 and DeSmet Road in Benewah County. It appears the vandal also tried to draw a swastika but didn't get it quite right. The expletive also was misspelled. "While it's been a while since we've seen such hurtful words like this graffitied on the reservation, unfortunately these kinds of sentiments can often be expressed in other ways and we do see and hear of things like this still happening from time to time," said Heather Keen, public relations director for the Coeur d'Alene Tribe, in a news release. "Organizations like the Kootenai Task Force on Human Relations and the Human Rights Education Institute have done a lot of work in our region to try and eradicate intolerance, racism, and hatred in North Idaho but when things like this occur it shows we still have a ways to go," Keen said. "It will always be up to the community and those who live here to continue to stand up against hateful actions such as this." The tribe contacted the Idaho Department of Transportation to have the graffiti removed. Anyone with information about the incident is asked to call the Idaho State Police or Crime Stoppers at (800) 222-8477.
Local journalism is essential.
Give directly to The Spokesman-Review's Northwest Passages community forums series -- which helps to offset the costs of several reporter and editor positions at the newspaper -- by using the easy options below. Gifts processed in this system are not tax deductible, but are predominately used to help meet the local financial requirements needed to receive national matching-grant funds.
Subscribe now to get breaking news alerts in your email inbox
Get breaking news delivered to your inbox as it happens.
---