Sports > Spokane Shock
Close victories rare feat for Shock
Wed., July 16, 2014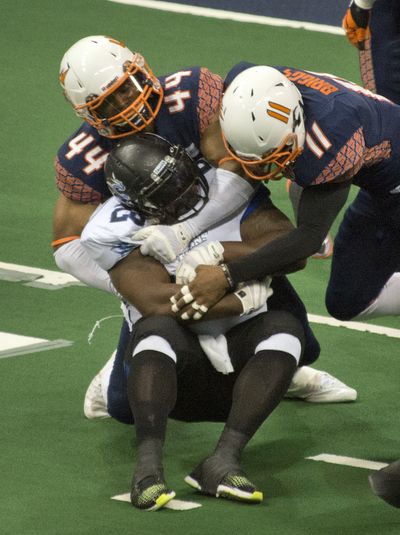 Spokane has won 24 Arena Football League games the last two seasons and 23 had something in common: Double-digit margins.
That streak ended when the Shock pulled out a wild 73-66 win over rival Arizona on Saturday. Prior to Saturday, the closest of the previous 23 wins was a 58-48 victory over Portland with Brian Zbydniewski at quarterback.
Erik Meyer directed the other 23 victories by an average margin (excluding Saturday's game) of 24.1 points, 26.7 in seven wins this season and 22.9 in 15 wins last season.
"It did a lot for the confidence of the team, most importantly for Erik," coach Andy Olson said. "For him to start off the way he did not playing his best football to really pulling us through in the second half and being lights-out in the fourth quarter does wonders for everybody's confidence.
"We've never come back from a deficit like that against a team of Arizona's caliber. Everybody believed from start to finish we could win that game and it shows some of the maturity we've gone through the last year."
Meyer had four touchdown passes in the fourth quarter, including a 27-yard strike to Rashaad Carter with 10 seconds remaining that snapped a four-game losing skid to the two-time defending champion Rattlers.
That mirrored Spokane's earlier game against Cleveland, when Meyer hit Hank Edwards for a 9-yard touchdown pass with 10 seconds left to put Spokane in front 50-46, but the Gladiators scored on a Hail Mary play as time expired.
"I'm happy we did it before the playoffs," offensive lineman Patrick Afif said. "They're not a goliath, they're not unbeatable. The way to beat Arizona is to not have any mess-ups and it seems like every time we play them we have our most mess-ups. It was really good to get us going into playoff mode."
Close games have been rare and not always friendly for the Shock. Of their seven losses this season, two have been by single digits. Four of Spokane's five losses last season were by single digits, including a 65-57 decision to Arizona in the National Conference championship game.
Saturday's game had a little of everything, including nine turnovers and a combined five interceptions by Meyer and Arizona's Nick Davila, the AFL's top two quarterbacks.
"Very up and down, a rollercoaster, from a missed PAT that changed the game to an onside kick, a bar ball," Olson said. "It was exciting to watch. Obviously I enjoyed it because we won. I'm just happy the guys stuck together from start to finish."
Ruffin it
Spokane wouldn't have won Saturday without the contributions of the defense, led by another big game from James Ruffin. The defensive lineman had two sacks, one pass breakup, a forced fumble and a fumble recovery. Ruffin was named the AFL defensive player of the week.
One of the biggest plays of the game was Ruffin sacking Davila in the end zone for a safety early in the fourth quarter.
"Even in his first year we always said he was a 10-plus sack guy," defensive coordinator Travis Crusenberry said. "He took a different approach as far as his offseason workouts. His endurance is really good, he can go a hundred miles an hour the whole game. He dropped some weight. It's made a huge difference."
Ruffin has had at least one sack in five straight games. He leads the league with 14 1/2 sacks and he's just 1 1/2 sacks from the single-season record set by San Jose's Joe Sykes in 2012. Ruffin also has seven QB hurries.
"He's a guy that can bring the speed and the power," Afif said. "We're always bouncing stuff off each other and he's always trying to figure stuff out. He's not doing the same rush all the time. He's taking what the opponent is giving him."
Local journalism is essential.
Give directly to The Spokesman-Review's Northwest Passages community forums series -- which helps to offset the costs of several reporter and editor positions at the newspaper -- by using the easy options below. Gifts processed in this system are not tax deductible, but are predominately used to help meet the local financial requirements needed to receive national matching-grant funds.
Subscribe to the sports newsletter
Get the day's top sports headlines and breaking news delivered to your inbox by subscribing here.
---
Subscribe and log in to the Spokesman-Review to read and comment on this story