Sports
LeBron's homecoming a reminder of Wilt's Philly return
Thu., July 17, 2014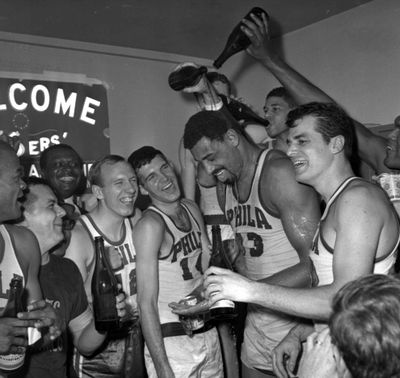 An under-30 basketball superstar returned to his hometown team with an avowed goal of giving the city the NBA championship it so narrowly missed in his first go-round there.
That's not just the story of LeBron James and Cleveland. It's also the plot for one of the most fascinating episodes in the legend of Wilt Chamberlain, who was no less controversial – and arguably more talented – than the King.
A look at the January 1965 return of Philadelphia's greatest athlete points out not just the remarkable similarities between Chamberlain and James, but also the enormous differences in how basketball and its stars were covered then and now.
While the media treated James' Cavaliers homecoming like the Second Coming that, technically, it was, Chamberlain's merited only modest headlines. It wasn't a much-anticipated offseason transaction. Instead, it came as an All-Star break surprise.
On entering the NBA in 1959, Chamberlain had been a Philadelphia Warrior. In three spectacular seasons, he set never-equaled statistical milestones. In 1961-62, for example, he averaged 50 points and 26 rebounds a game.
But as great as Chamberlain was, his path to an NBA title was perpetually blocked by Bill Russell's Boston Celtics. Eventually, Philadelphians grew jaded by his numbers and weary of his team's annual postseason disappointment.
After that 1961-62 season, owner Eddie Gottlieb sold the Warriors, who were moved to San Francisco. Chamberlain adored that cosmopolitan city, but apparently the feeling wasn't mutual.
"Chamberlain is not an easy man to love (and) the fans in San Francisco never learned to love him," Warriors owner Franklin Mieuli would say. "Wilt is easy to hate. … People came to see him lose."
But in 1963, Philadelphia's brief NBA exile ended. The Syracuse Nationals moved to the city and were renamed the 76ers.
Ike Richman, co-owner of the 76ers, was Chamberlain's lawyer and close friend and he threw a full-court press at the superstar.
"Going back home was nice, but I had fallen in love with San Francisco," Chamberlain would say. "But Ike … talked me into returning, saying, 'This is where you belong.' "
The Warriors were 11-33, and struggling on and off the court. On Jan. 15, 1965, two days after he'd collected 20 points and 16 rebounds in the All-Star Game at St. Louis, they sent Chamberlain back home. In return, San Francisco got $150,000 in cash and three journeymen.
There was none of the breathless hoopla that followed James' Friday decision. Philadelphia's newspapers made note of the deal in non-banner headlines. Local newscasts mentioned it only during their brief sports roundups.
In 1965-66, the improving Sixers won the East (55-25) before their inevitable playoff loss to Boston.
The following season provided a welcome respite for everyone. Alex Hannum replaced Dolph Schayes as coach and the 1966-67 Sixers put together one of the greatest seasons in NBA history. They went a then-record 68-13, at last beat Boston in five conference-finals games and cruised to the league title, ironically topping San Francisco in the finals.
The dreams born on Chamberlain's homecoming had been realized. Philadelphia had both won a championship and, in doing so, vanquished the hated Celtics.
The success couldn't be sustained. A year later the 76ers went 62-20 but this time were beaten in seven games by the Celtics in another conference showdown.
In July 1968, after difficult contract negotiations, new GM/coach Jack Ramsay traded his star center.
"He said, 'If you don't trade me, I'll go the ABA,' " Ramsay later recalled.
And Wilt Chamberlain took his talents to Los Angeles.
Local journalism is essential.
Give directly to The Spokesman-Review's Northwest Passages community forums series -- which helps to offset the costs of several reporter and editor positions at the newspaper -- by using the easy options below. Gifts processed in this system are not tax deductible, but are predominately used to help meet the local financial requirements needed to receive national matching-grant funds.
Subscribe to the sports newsletter
Get the day's top sports headlines and breaking news delivered to your inbox by subscribing here.
---
Subscribe and log in to the Spokesman-Review to read and comment on this story