A&E > Entertainment
Chardonnay still state's favorite wine
Fri., July 18, 2014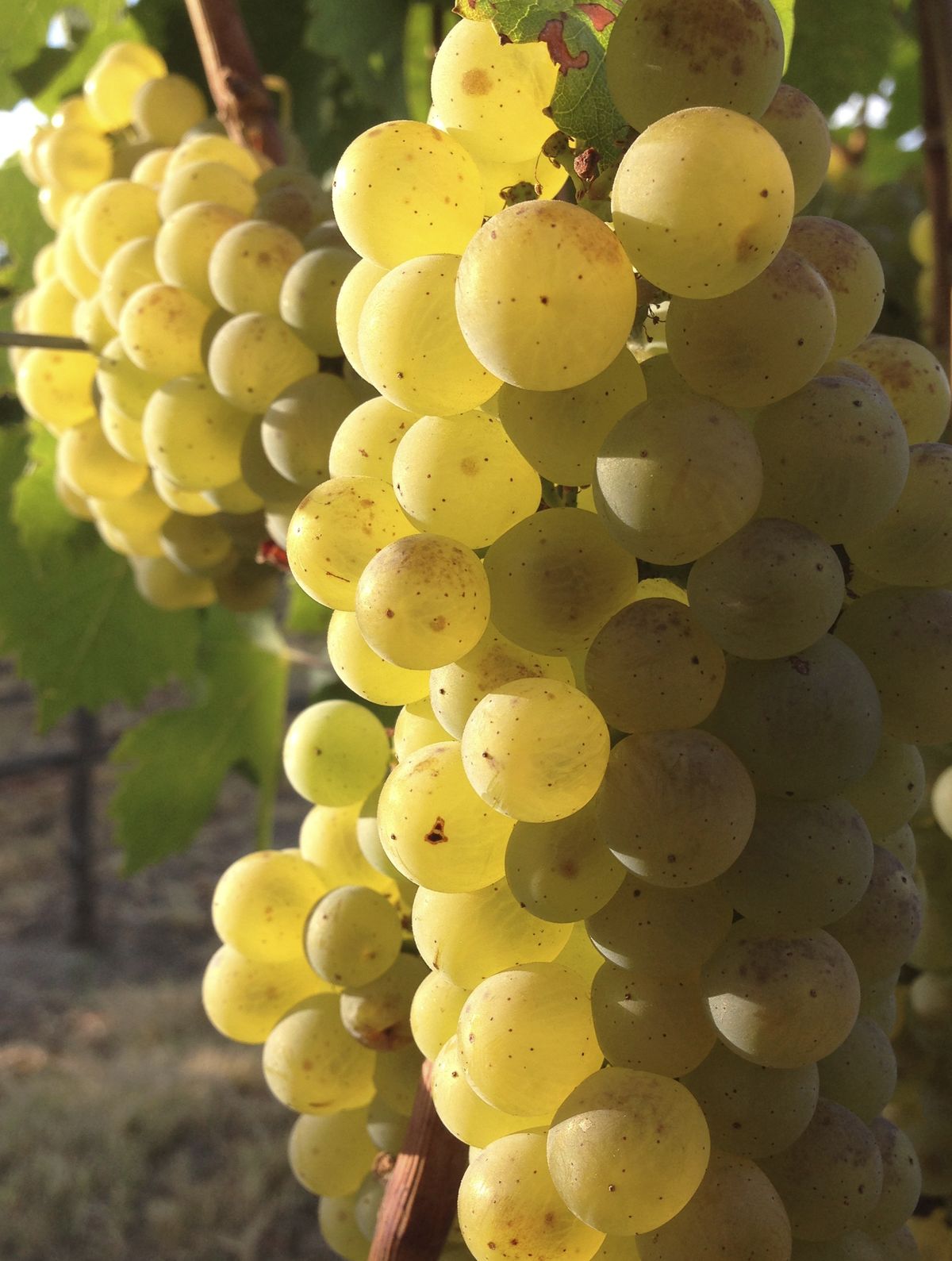 Chardonnay grapes turn golden as they ripen in a Yakima Valley vineyard.
It often seems that every grape variety except chardonnay gets headlines – even though it remains America's favorite wine.
In Washington, chardonnay was surpassed last fall by cabernet sauvignon as the top grape in the state, though not by much. In fact, at 40,200 tons harvested, that's enough for 2.5 million cases of chardonnay just in Washington.
This year marks the 50th anniversary of chardonnay being planted in Washington, with some of the earliest grapes going into the ground on Snipes Mountain near the Yakima Valley town of Sunnyside. While those vines are no longer around, interest in chardonnay spurred large plantings in the 1980s, and since 1993, chardonnay has been Washington's No. 1 or No. 2 wine grape.
As recently as a decade ago, most chardonnays were oaky, buttery wines, made in the "California style." But today, chardonnay is made in a multitude of styles.
If you want a bright, crisp chardonnay, look for words such as "unoaked" or "naked" on the label. Want something bigger? Look for "sur lie aged" or "barrel fermented." If none of those words is on the label, see if the back label will give you a clue by looking for words such as "crisp" or "buttery."
Here are a few Washington chardonnays we've tasted in recent weeks that should provide delicious contrasts in style.
• Wild Meadows Winery 2012 Chardonnay, Columbia Valley, $11: Aromas of Golden Delicious apple, Asian pear, lemon-lime and jicama give way to flavors of fresh-sliced pear and Gala apple, which splash around amid a slightly creamy mouth feel prior to the finish of limelike acidity and dusty minerality. (11.9 percent alcohol)
• Three Rivers Winery 2013 Steel Chardonnay, Columbia Valley, $14: This chardonnay from a top Walla Walla winery spent no time in wood and didn't undergo malolactic fermentation, which explains the bright nose of cotton candy, Meyer lemon, pear butter, applesauce and melon. Asian pear and Golden Delicious apple flavors blend in juicy acidity, with some minerality and pear skin bite in the finish. (13.5 percent alcohol)
• Buty Winery 2012 Conner Lee Vineyard Chardonnay, Columbia Valley, $40: Hints of apple butter, ripe pear, Lemonhead candy, vanilla bean and toasted coconut lead into a remarkable greeting of Golden Delicious apple and Bosc pear. Melted butter adds another dimension through the midpalate to its lush and balanced finish of baked apple. (13.4 percent alcohol)
• Chateau Ste. Michelle 2012 Ethos Reserve Chardonnay, Columbia Valley, $36: There's a fair bit of oak in the aromas, along with baked bread, lemon, green banana and clove. It's rich and round on the palate with up-front butterscotch and orchard fruit flavors, lemony acidity and virtually no bitterness. Those who enjoy reserve-style chardonnay with balance will appreciate this. (14.5 percent alcohol)
• Woodward Canyon Winery 2013 Chardonnay, Washington, $44: Butter and vanilla notes mingle with aromas of dried pineapple and mango. The entry is plush with sweet pear and apple flavors on the midpalate, and ample acidity makes for a delicious farewell. (14.1 percent alcohol)
• Jones of Washington 2013 Chardonnay, Wahluke Slope, $15: There's no hint of wood in any corner of this wine, which opens with bright aromas of pineapple, mango, coconut, green apple candy, apple blossoms and minerality. The drink is akin to flavors of fresh-cut Granny Smith apple and Bosc pear, bringing persistent acidity and a finish of jicama. (13.5 percent alcohol)
• Mercer Estates 2012 Zephyr Ridge Vineyard Reserve Chardonnay, Horse Heaven Hills, $30: Aromas of apple, pear, honeydew melon and pineapple lead to delicious flavors of lemon, followed by pear butter and more pineapple. It's a delicious and complex drink that's capped by a touch of citrus pith bitterness and some butterscotch. (14.1 percent alcohol)
Eric Degerman and Andy Perdue run Great Northwest Wine, a news and information company. Learn more at www.greatnorthwest wine.com.
Local journalism is essential.
Give directly to The Spokesman-Review's Northwest Passages community forums series -- which helps to offset the costs of several reporter and editor positions at the newspaper -- by using the easy options below. Gifts processed in this system are not tax deductible, but are predominately used to help meet the local financial requirements needed to receive national matching-grant funds.
Subscribe to the Spokane7 email newsletter
Get the day's top entertainment headlines delivered to your inbox every morning.
---