News > Features
Photo exhibit represents 'beauty in a dark time'
Fri., July 25, 2014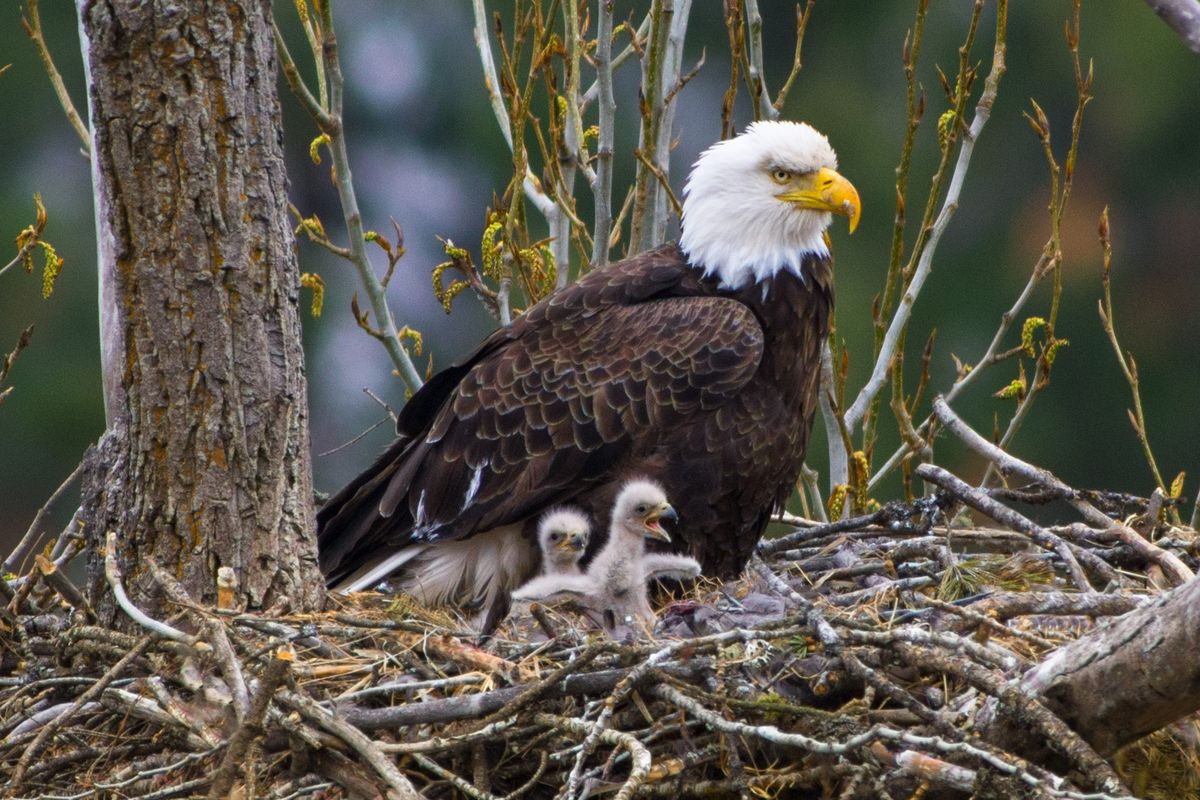 These eaglets are two days old and still have their "egg tooth" at the end of their beak, used to break out of the shell.
After learning last fall he had non-Hodgkin lymphoma, the Rev. Craig Goodwin underwent five months of chemotherapy, 45 days in Sacred Heart's inpatient cancer unit and a month of radiation. His spleen was removed in June.
Throughout his treatment, he kept photographing Spokane and the wild scenes and life that surround it.
Goodwin, pastor at Millwood Community Presbyterian Church, will share photos he made during cancer treatment and some stories that accompany them in a two-day show next week at Providence Sacred Heart Medical Center.
Goodwin, also a writer who chronicled his family's commitment to eating locally grown food in his book and blog "Year of Plenty," addressed the intersections between art and illness in an email interview.
Q. What's your background as a photographer?
A. Through the years it has mostly been a fun way to explore the natural world in our region. I started on a quest to photograph wildflowers, then it was butterflies, then birds, and more recently I got hooked on night skies. Before I knew it I had three cameras, a dozen lenses and 62,000 photos in my image library. I used to call it cheap therapy, but it's gotten kind of expensive.
Q. Cancer treatment makes people sick and tired. Assuming this was the case for you, why did you continue making photos during treatment?
A. Chemotherapy has a way of sapping the joy out of life. Food tasted bad, I looked and felt terrible, and the specter of death was a constant companion. Photo outings became a small refuge of joy and beauty in a dark time. While I was out taking pictures, absorbed in the creative process, it was one of the few times I felt normal.
Q. How did cancer affect what you chose to photograph or the images that resulted?
A. The treatment kept me close to home, so it forced me to explore our city and region with new eyes. As I frequented familiar places, fresh compositions revealed themselves, leading to more unique and compelling images. Some people have said to me, "You make Spokane look better than it is." My response is, "You're not paying close enough attention." Cancer had a way of slowing me down and helping me appreciate the scenes of everyday life all around me.
Q. What's your favorite photo in this show, and why?
A. The image of Palouse Falls under the Milky Way arch is a favorite. That was the first time after chemo that I felt good enough to spend a whole night under the stars taking pictures. When I processed that image, which is a combination of a 10-minute exposure for the land and eight 30-second exposures for the stars, I was shocked that the arch is perfectly centered over the falls. The stars were literally aligned and it felt like, for the first time in a long time, things were going to be OK.
Q. Why show your work at a hospital? What do you hope people see in it?
A. In the middle of five months of chemotherapy last winter I set a goal of doing some art shows this summer as something to look forward to. I never imagined one of the shows would be at Providence Sacred Heart Medical Center, where I spent 45 days getting treatment, but I'm excited for the opportunity. Hopefully I can be an encouragement to those with cancer and others who are involved in caring for people with cancer. For me personally, this show is a reminder that there is not only life after cancer, but there is a full and creative life to be lived during cancer treatment as well.
Goodwin's photos can be seen at www.craiggoodwinphoto.com.
Local journalism is essential.
Give directly to The Spokesman-Review's Northwest Passages community forums series -- which helps to offset the costs of several reporter and editor positions at the newspaper -- by using the easy options below. Gifts processed in this system are not tax deductible, but are predominately used to help meet the local financial requirements needed to receive national matching-grant funds.
Subscribe now to get breaking news alerts in your email inbox
Get breaking news delivered to your inbox as it happens.
---