News > Marijuana
Club offers social pot spot
Members-only vapor lounge in Valley sells medical marijuana
Sat., July 26, 2014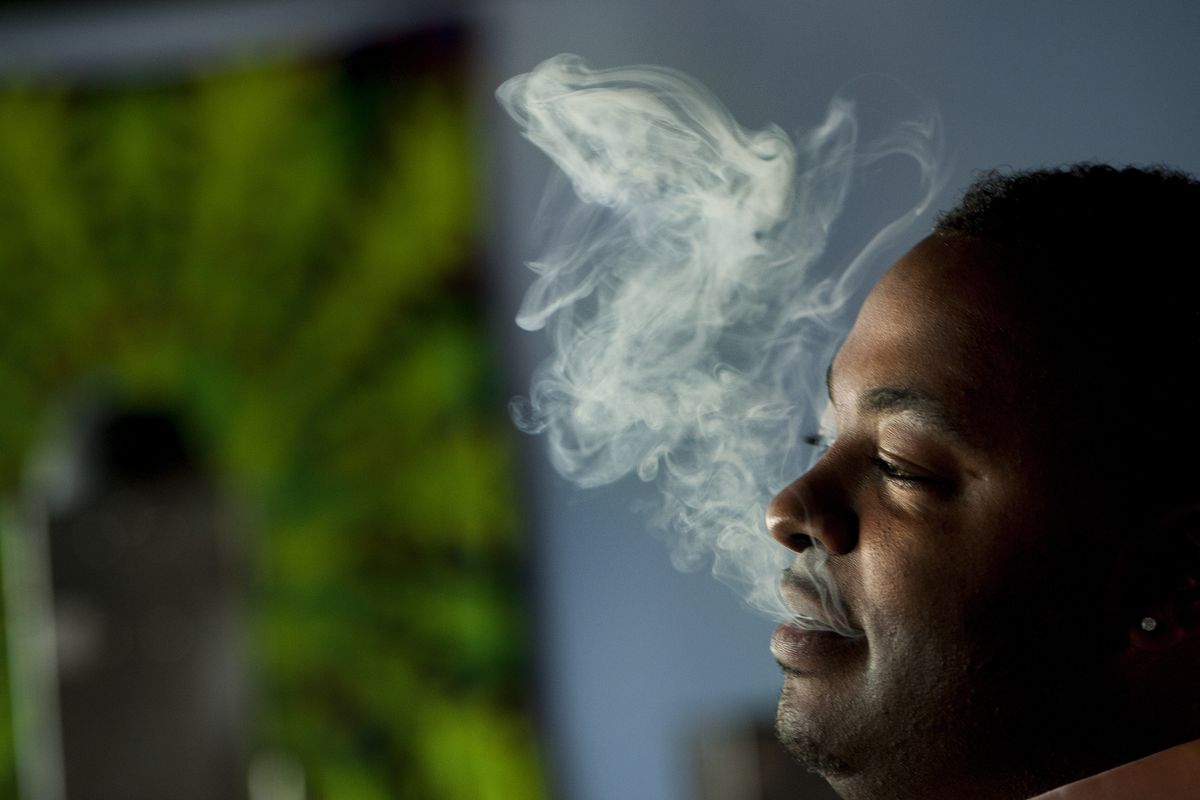 Eric Buchanan uses a "vape pen," which emits a smokeless vapor, on Friday at The Lounge in Spokane Valley. (Tyler Tjomsland)
Eric Buchanan envisions a day when marijuana will be as common as vodka tonics or microbrews at lounges and nightclubs across Washington.
Until then, he and his business partners are weaving their way through largely untested and often ambiguous state laws in an effort to hurry things along. Their new Spokane Valley nightclub, The Lounge, is part medical marijuana dispensary and part members-only social club where patrons can smoke pot and mingle.
It's a carefully selected mix of business models they hope will keep them on the right side of various drug and other laws without triggering the licensing and other state restrictions under the voter-approved recreational market.
But they know it's a gamble.
"We are in a gray area," Buchanan acknowledged Friday. "There's so much confusion around medical and recreational (marijuana) that we're just trying to provide a safe, educational and legal environment where people can gather and enjoy themselves."
The large establishment, located in the former Ringo's casino at 11420 E. Sprague Ave., features a medical marijuana dispensary on one side where only those with approved prescriptions are able to enter and make purchases. The dispensary is expected to open next week.
The other side is a private, 21-and-over club, designed to get around the state's ban on marijuana use in "public places." Monthly membership rates range from about $15 to $30, with shorter-term memberships available as well, primarily for out-of-town visitors. Because of the state's workplace smoking ban, the club actually operates as a vapor lounge, where members bring their own marijuana that can be converted on-site to liquid form for use in smokeless vapor pipes.
"It's a bring-your-own cannabis club," said Buchanan, adding that those with a medical marijuana card will be able to purchase from the on-site dispensary but all others will have to purchase from state-licensed retailers.
The Lounge has received Spokane Valley business licenses for its operations, which also include an on-site restaurant and an event center that groups can reserve for marijuana-friendly gatherings. Had the establishment sought to secure a retail license under the state's recreational marijuana laws, the location would have been deemed off limits because it's too close to the planned Appleway Trail and City Hall.
With similar vapor lounges also operating in Seattle and Tacoma, authorities are waiting for greater legal clarity.
"Since the passage of Initiative 502, we've been working with all of our local, state and federal partners to try to figure out how to enforce the law as it should be without infringing on individuals and businesses who are trying to operate within those laws," said Deputy Mark Gregory, a spokesman for the Spokane County Sheriff's Office, which provides law enforcement services in the Valley. "If a business is run responsibly and within the parameters of the law, no one has problems with that."
But he said neither the Sheriff's Office nor the Valley police will tolerate impaired driving, whether it's because of drugs or alcohol.
Last weekend, Valley police stopped an impaired 18-year-old motorist who told officers he and his two 17-year-old passengers had been at the Lounge that night and suggested he was simply suffering from a "contact high" because they were surrounded by people smoking pot. They said no one checked their identification, nor did anyone make them buy memberships.
Buchanan disputes the teens' story.
"We weren't even open that night," he said. "I know that we're going to be a target until people see that we're a legitimate business."
Nonetheless, additional signs advising that no one under 21 is allowed in the club have been posted throughout the building, and Buchanan said they're adding two more security guards whose duties will include patrolling the parking lot to advise any underage motorists that they'll need to leave.
"We're selling about three to five memberships a day, right now," said Buchanan, noting that the big push will coincide with the Lounge's grand opening celebration in early August. "The demographic is trending older than what I would have expected – a lot of people in their 40s and 50s. I thought it would be a bunch of kids in their 20s, but we're getting this really big range in terms of ages."
Tourism companies that specialize in marijuana-friendly travel destinations also are taking notice.
"I know this is new and confusing to a lot of people," Buchanan said. "What I hope is that people will give us a chance and see that we're just trying to run a legitimate business."
Local journalism is essential.
Give directly to The Spokesman-Review's Northwest Passages community forums series -- which helps to offset the costs of several reporter and editor positions at the newspaper -- by using the easy options below. Gifts processed in this system are not tax deductible, but are predominately used to help meet the local financial requirements needed to receive national matching-grant funds.
Subscribe now to get breaking news alerts in your email inbox
Get breaking news delivered to your inbox as it happens.
---