News > Washington Voices
Underhill Park basketball camp is full-court effort
Thu., July 31, 2014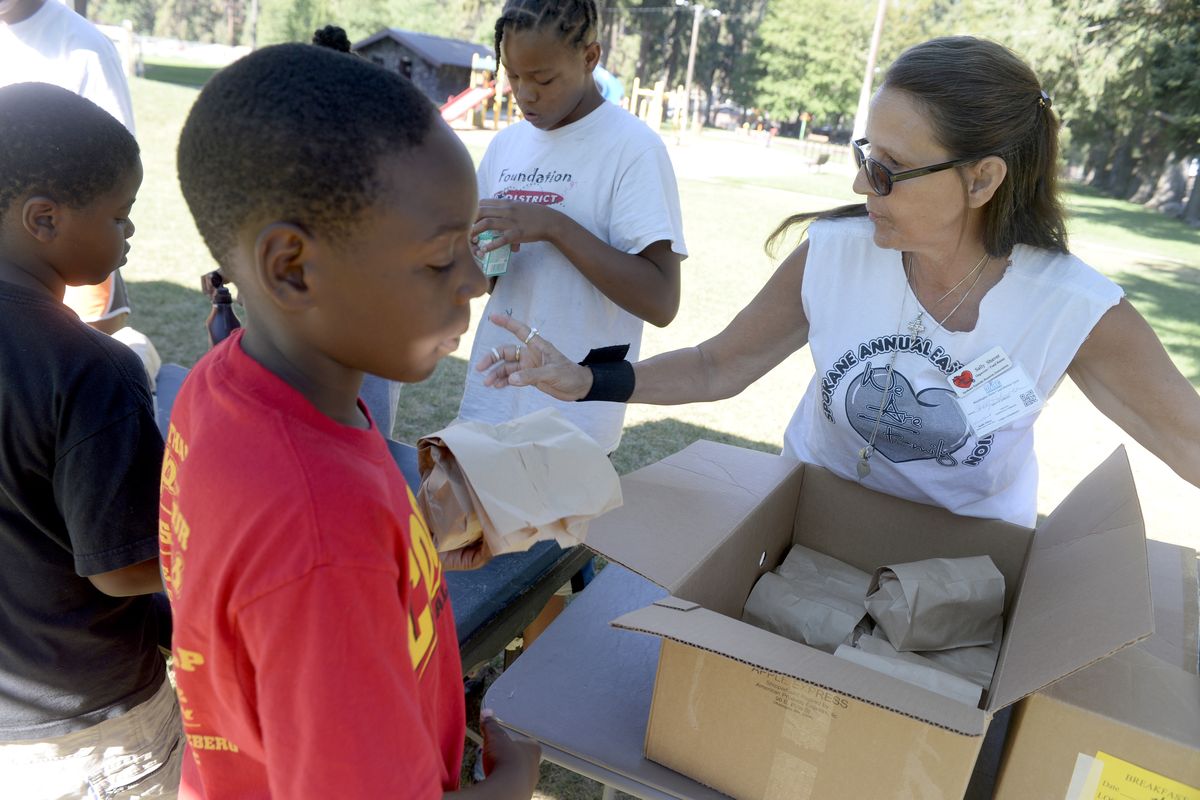 Sally Shaver, right, passes out breakfast at the Spokane Eastside Reunion Basketball Camp on Tuesday. Shaver is a volunteer and distributes food from the Rogers High School summer meals program and puts on arts and crafts classes for kids not playing basketball at the camp. (Jesse Tinsley)
It's early Monday morning in Underhill Park and it's already past 70 degrees. Construction equipment rumbles at the south end of the park where a big stormwater project is under way. At the north end, Sally Shaver is setting up for another morning of basketball camp.
She refers to herself as the lunch lady, but organizing lunch is just a small part of her day.
"The biggest part of my job is just loving them," Shaver said, as the children begin to show up.
A girl runs over to get a hug from "Miss Sally."
Spokane Eastside Reunion Basketball Camp is in its third season and has 52 children ages 6 to 18 signed up for the current two-week session. Only three were able to pay the full $100 camp fee – everyone else is here on a scholarship.
"We don't turn anyone away. Period," Shaver said.
She said local businesses and individuals sponsor the children who can't pay and any money left over is spent on buying one child shoes and another child a shirt so they can play basketball.
"Some of our kids just don't have a lot," Shaver said.
As the coaches get the courts set up and balls rolled out, Shaver's attention turns toward breakfast.
A van pulls up a little before 9 a.m. and unloads this morning's menu of chocolate milk, a breakfast bar and applesauce.
"The meals are part of the summer lunch program and they come to us from the kitchen at Rogers High School," said Shaver, while handing out food as a volunteer checks off campers on a list. "It's the first year we've had breakfast and lunch delivered."
Previous years, Shaver and the coaches all chipped in and she'd go bargain hunting at the grocery store for kid-friendly snacks.
The arrival of breakfast is like a dinner bell: soon campers scramble in from all directions
They eat quickly and trickle on to the courts, dribbling basketballs.
Camp founder Michael Brown resides on the sideline taking care of camp paperwork, in between helping out the coaches.
"These are underprivileged kids," Brown said, not mincing words. "We need camps like this all over the city to help them out."
Coach Dennis Evans is a big man with a booming voice and campers respond quickly when he blows the whistle to have them line up. Everyone holds hands during a brief prayer before basketball drills begin.
"Yes coach!" they yell when asked if they are ready.
Together with Coach Bobby Jack Sumler, Evans works the campers through stretches, skips and jumping jacks, followed by a few quick sprints.
It is 80 degrees – on its way to a 95-degree day – when the young players get their first break in the shade.
Some campers are so little they need help opening their Gatorade bottles.
Shaver stays off the court. She laughs at the suggestion she should go in there and slam-dunk a few.
"I had some medical problems and was bedridden for almost 10 years," she said. "I love doing this but I'm not playing." Instead she whips out her clipboard and a cellphone and begins to call vendors who want to participate in the Spokane Eastside Reunion Festival on Aug. 9. The festival is another means of fundraising for the camp and it's also where the children who complete camp get a trophy.
"That is a very important part of camp," Brown said. "We are trying to teach them that if they begin something, they should finish it. That's what the trophy is for. Finishing."
A few children stop by just to get breakfast.
When there's food leftover, Shaver makes sure to offer seconds or she lets campers take a snack home.
"We don't waste anything," she said, looking at her list.
A little after 10 a.m. Shaver starts another part of her job: the craft of the day.
Four girls gather under the canopy expectantly eyeing the boxes and bags Shaver brought with her.
Today's craft is decorating a clean, empty prescription bottle and turning it into a little jewelry box.
Basketballs drum on the courts as the girls glue craft foam and brightly colored sticks in patterns on their bottles.
"You have to work for what you want in life," Evans bellows from the court, over the drumming balls. "I can tell some of you are practicing – you've all gotten really good at dribbling."
It's the second year Shaver is involved in camp.
While supervising the craft project, Shaver finds time to put a bandage on a mostly invisible forehead scratch, hand out extra snacks and drinks, encourage tired kids and keep an eye out for younger siblings who are there watching the camp. She tries to rope them all into crafting at her table.
"Sometimes you have to go get them," she said, while packing away her supplies.
It's now close to 90 degrees and somehow it's gotten to be lunch time.
The white van pulls up with its load of corndogs, fruit and milk.
Everyone gathers on the hot court for a word of encouragement and a prayer.
While the coaches pack up, exhausted campers come off the court to wipe their hands with sanitizer and grab the brown bag lunch.
And just like that, camp is over for the day.
Shaver waves goodbye to children and parents.
"We will be back tomorrow," she said, "see you then."
Local journalism is essential.
Give directly to The Spokesman-Review's Northwest Passages community forums series -- which helps to offset the costs of several reporter and editor positions at the newspaper -- by using the easy options below. Gifts processed in this system are not tax deductible, but are predominately used to help meet the local financial requirements needed to receive national matching-grant funds.
Subscribe now to get breaking news alerts in your email inbox
Get breaking news delivered to your inbox as it happens.
---