Sports
John Blanchette: Cougars' grand unveiling
Wed., June 4, 2014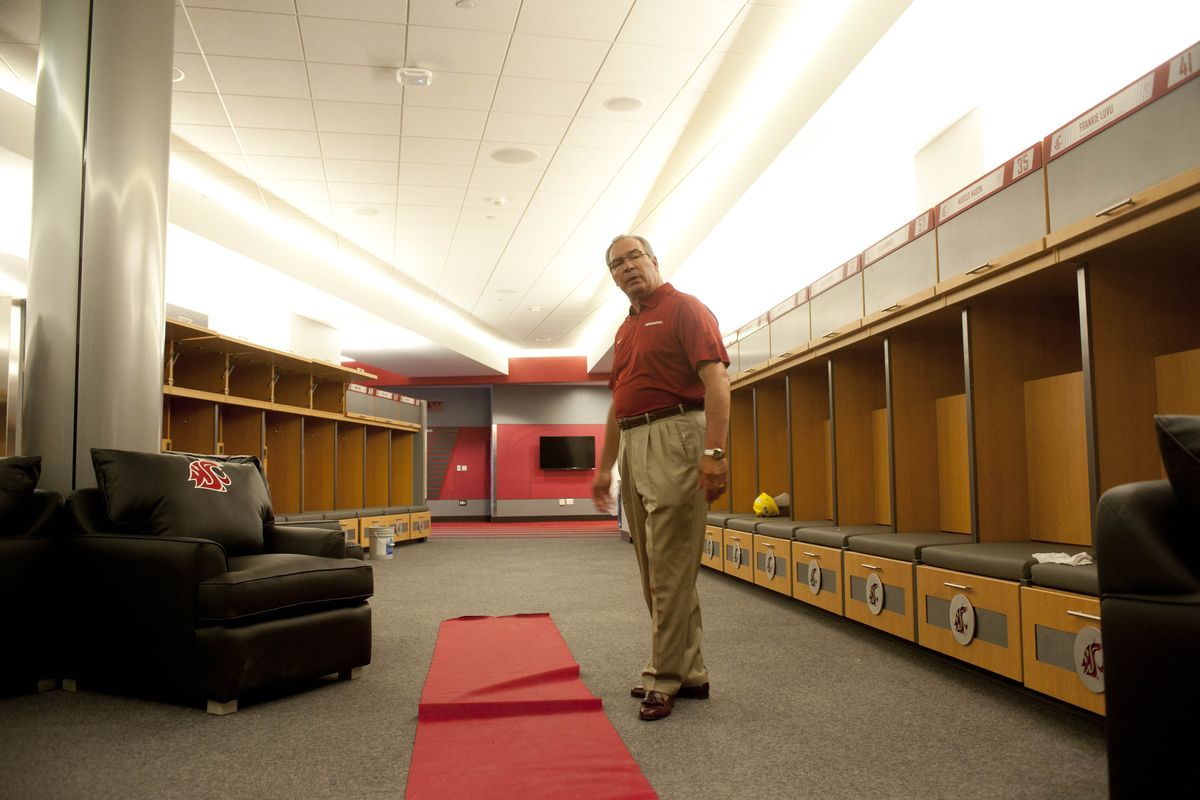 WSU Athletic Director Bill Moos unveils one of the crowning jewels of WSU's new football operations building -- the locker room -- during a media tour on Tuesday. (Tyler Tjomsland)Buy a print of this photo
PULLMAN – Darryl Monroe is one of the players who have been allowed to kick the tires on Washington State's new Cougar Football Complex, and here's what he likes best:
"When you come in here, you just want to win," the junior linebacker said. "You smell victory."
And you thought it was napalm in the morning that smelled like victory.
The parallel was completely innocent – he wasn't going all Lt. Col. Kilgore on us – but Monroe's vest-pocket allegory does open the door to all sorts of related conversations. Like college football's all-consuming arms race, the question of whether $60-million clubhouses are a sign of an apocalypse now – and, yes, the price of winning.
For you bottom-line junkies, Cougar quarterback Connor Halliday put the finest point on it, insisting the new palace is so good that if he and his teammates don't flourish, "It's your own fault.
"We're now given every possible tool we'll ever need," he said. "Now it's our job to use all of them. There's no reason for you not to be successful in this building."
Because the Cougs have finally anted up.
Well, not so much the Cougs as the Pac-12, and the $20-million-a-year the school gets from the conference TV deal and the agreement that everyone share equally in the take. But it was WSU's Board of Regents that had to sign off on the $125 million in bonding that made the five stories of football wonderment in the west end zone and the wall of suites on the south rim of Martin Stadium a reality. That's $7 million of debt service a year, on top of the $2 million plus of debt service on the coach.
By contemporary standards, the joint is not Oregon overboard – no ruby-encrusted shower nozzles – and the adjacent vistas from the weight room and mess hall are the soon-to-be new turfs of Martin and the Rogers practice field, not sailboats bobbing in Lake Washington.
In that respect, you have to think it will inspire hard work toward a vision, and not just cool selfies for the next tweet or Instagram installment.
And if the kids don't get caught up in the décor that honors the best the Cougs have produced over 120 years of football, older visitors will get a little misty – and maybe remember that a few Cougar teams went to Rose Bowls with little more than a place to grab a hot shower and a nail on which to hang their street clothes.
The various amenities – hydrotherapy tubs, the ping pong table, the air-flow lockers and the European chef – may or may not be necessary ingredients to Saturday victories. But the players – especially the ones still weighing their college options – increasingly see them as such.
"This is a different generation from you and me," said WSU athletic director Bill Moos. "This is the SportsCenter generation. And they're saying, 'This is a nice place, a nice school, I like your coach – but what have you got that's going to develop me for the next level?'
"Whether that's the good old college spirit or not, it's what it is."
Monroe was typically frank.
"Eye candy plays a part," he said. "What players will see here is a commitment. They'll think, 'These guys mean business.' "
And the fact is, everyone wants to live in a nicer house. Why else is "Love It or List It" even on TV?
Speaking of which, Monroe had another funny line.
"I can't wait to move in," he said, "and maybe stay here. Cancel my apartment contract."
Funny, but not far off. This self-contained starship has everything the player needs save for the athletic study center, a minute's walk away. It brought to mind the old NCAA enforcement mantra – that athletes were not to be accorded benefits not available to the typical student – and how far the new order is straying from that concept (and how soon the NCAA will probably implode).
If anything, major college athletic departments are inventing new ways to segregate their charges from the civilians.
Thank heavens for frat parties and, you know, classes.
If critics want to argue over misplaced priorities, well, they're absolutely correct – and there's absolutely nothing stopping them from raising $60 million for a chemistry citadel. They might start by passing the hat at the next Saturday tailgate.
But if this is the House that TV Money Built, at least consider that the players are the ones viewers are tuning in to see. If universities can't own up to paying the workforce the same market rate they insist on lavishing on coaches, at least they can build them a nice place to dress, lift and eat.
And succeed. It's your ball now, Cougs.
Local journalism is essential.
Give directly to The Spokesman-Review's Northwest Passages community forums series -- which helps to offset the costs of several reporter and editor positions at the newspaper -- by using the easy options below. Gifts processed in this system are not tax deductible, but are predominately used to help meet the local financial requirements needed to receive national matching-grant funds.
Subscribe to the sports newsletter
Get the day's top sports headlines and breaking news delivered to your inbox by subscribing here.
---