Sports
In brief: LeBron James opts out to test free agency
Wed., June 25, 2014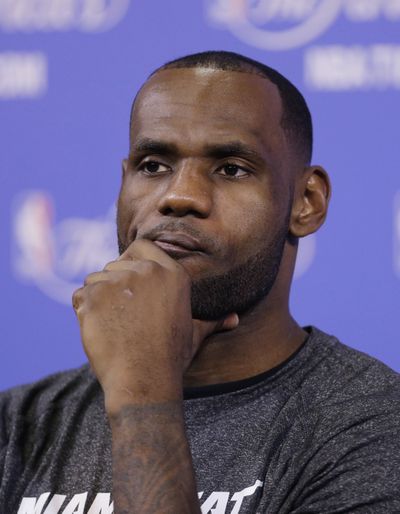 NBA: LeBron James delivered his message loud and clear, without actually saying a word.
He's willing to leave Miami, if that's what it will take to win more championships. And what happens next will likely be up to not just the Heat, but Dwyane Wade and Chris Bosh as well.
Through his agent, James informed the Heat on Tuesday that he has decided to opt out of the final two years of his contract, a move that means he becomes a free agent on July 1. He will be able to sign with any team, including Miami, and Heat president Pat Riley said he "fully expected" James to take advantage of his early termination option.
"We look forward to sitting down with LeBron and his representatives and talking about our future together," Riley said.
The Heat have been preparing for this for some time. James, Wade and Bosh all got six-year contracts when they teamed up in Miami in July 2010, the last time free agency was accompanied by the sort of frenzy that will envelop the league over the next few weeks. But each of those deals came with options to leave either this summer or in 2015, in part to allow both the players and the team to have financial flexibility.
James – who averaged 27.1 points this past season – was owed $42.7 million for the next two seasons, though that seems irrelevant in the sense that he'll be getting plenty of money from the Heat or someone else for years to come. If he stays with Miami, he could sign a deal that would give the team room to maneuver within the structures of the salary cap and luxury-tax threshold.
Nadal rallies to reach second round
Tennis: Chasing a shot to his right, Rafael Nadal slipped and tumbled to the Centre Court turf. He popped up, raced across the baseline to get back into the point, and later capped the 14-stroke exchange with a backhand passing winner.
The reason for the two-time Wimbledon champion's recent inability to play well on grass remains something of a mystery. As far as Nadal was concerned, all that mattered was that he dusted himself off and eventually ended a three-match – and seven-set – losing streak on the slick surface.
Overcoming a deficit against a flat-hitting opponent who kept finding lines early, Nadal beat 51st-ranked Martin Klizan of Slovakia 4-6, 6-3, 6-3, 6-3 to reach the second round. Nadal's reaction afterward – pumping fists, raising arms aloft, tossing souvenirs to the crowd – was rather over-the-top for a guy who owns 14 Grand Slam titles.
Other past champions in action on Day 2 advanced, too, including Roger Federer, Serena Williams and Maria Sharapova, all in straight sets.
Williams needed to cast aside four break points during a 10-minute first game, but after getting that out of the way, breezed to a 6-1, 6-2 win against Anna Tatishvili.
Pens' Crosby wins second Hart Trophy
NHL: Pittsburgh Penguins captain Sidney Crosby won his second Hart Trophy as the NHL's most valuable player at the league's postseason awards ceremony in Las Vegas.
Crosby also collected the Art Ross Trophy as the league scoring champion and the Ted Lindsay Award as the players' choice for the NHL's most outstanding player.
Boston goalie Tuukka Rask won the Vezina Trophy, and Bruins teammate Patrice Bergeron won his second Selke Trophy as the NHL's best defensive forward. Chicago's Duncan Keith won his second Norris Trophy as the league's top defenseman.
Colorado coach Patrick Roy won the Adams Award, while Avalanche forward Nathan MacKinnon became the youngest player to win the Calder Trophy as the NHL's top rookie. MacKinnon received 130 of the 137 first-place votes. The No. 1 overall pick doesn't turn 19 until Sept. 1.
Ondrej Palat and former Spokane Chief Tyler Johnson of Tampa Bay finished second and third, respectively.
Hernandez trial set for May 2015
NFL: A judge scheduled a tentative May trial date for former New England Patriots player Aaron Hernandez in the 2012 drive-by shootings of two men, and his lawyers asked a judge to issue a gag order because of intense media coverage of the murder case.
Hernandez has pleaded not guilty to killing Daniel de Abreu and Safiro Furtado after a random nightclub encounter.
During a hearing in Suffolk Superior Court, Hernandez's lawyers asked Judge Jeffrey Locke to issue a gag order prohibiting anyone involved in the case from commenting outside court.
Attorney James Sultan said the defense is concerned that Hernandez can't get a fair trial because of extensive media coverage of his indictment in the double slayings and another murder case against Hernandez in the 2013 death of semi-professional football player Odin Lloyd.
Locke made it clear that the May 28 trial date is only tentative. Hernandez's trial in Lloyd's killing is scheduled for October.
Local journalism is essential.
Give directly to The Spokesman-Review's Northwest Passages community forums series -- which helps to offset the costs of several reporter and editor positions at the newspaper -- by using the easy options below. Gifts processed in this system are not tax deductible, but are predominately used to help meet the local financial requirements needed to receive national matching-grant funds.
Subscribe to the sports newsletter
Get the day's top sports headlines and breaking news delivered to your inbox by subscribing here.
---
Subscribe and log in to the Spokesman-Review to read and comment on this story