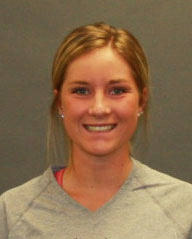 Paige Gallaway's first soccer season at Eastern Washington University turned out to be a bigger challenge than expected.
After a high school career that saw her win four letters for soccer at Central Valley, helping to build the foundation for last year's state championship season, Gallaway was signed to a national letter of intent to play at EWU and picked to come in and challenge for both playing time and a starting job with the Eagles right away.
And then she broke a bone in her foot before the start of practice in Cheney.
"I went up for a header and I just came down wrong," Gallaway said. "I didn't even realize I'd done anything at first. I stayed in and finished the game.
"My mom has always been tough. She's always telling me to just walk it off, that I was fine. This time I had to tell her 'No, mom, I think this time it's serious.' We went to the hospital and, sure enough, it was broken and I needed surgery to fix it. Mom felt bad about that."
Gallaway spent most of the season on the sideline.
"I did come back and play a little in the last couple of games," she said. "Now, looking back, I kind of wish I hadn't so that I could have that year of eligibility back. Playing just a few minutes a couple of times wasn't worth it."
That should change this season. Gallaway was starting by the end of the spring and will likely remain a starter as fall camp opens in two weeks.
There's a definite buzz around the program going into the 2014-15 season, she said.
After last year's disappointing 3-15-0 season, coach George Hageage stepped down after 14 seasons. Chuck Bodnar, who turned Walla Walla Community College into a powerhouse that went 205-15-11 in his 10 seasons, was brought in as the third head coach in the program's history.
Bodnar's teams are known for playing an attacking style that produces goals, but it's the emphasis on playing a disciplined defense that has Gallaway excited about the new regime.
"I think everyone is excited about the new coaching staff and the system they're bringing in," Gallaway said. "We're going to play a more structured defense instead of just running at people. It's a style that I'm a lot more comfortable playing in and I think it will produce better results."
Being healthy for the off season should pay dividends for Gallaway, who was able to spend time in the weight room getting herself stronger for her sophomore season.
"College soccer is bigger and faster than high school," she said. "There are women out there who have legs as big around as my waist. I have to be stronger to be able to compete. I need to be stronger in my upper body to be able to deal with stronger players, and I need to strengthen my lower body so I can still use my speed."
Right now, however, the injury is stuck in the back of her mind.
"I'm a little scared right now about getting back out there," she said. "I injured my shoulder and had to sit out my sophomore season at CV. I had the same feelings coming back from that injury and it took me a while to get past it.
"I'm sure I'll get past this. And I'm sure this will make me that much tougher as a player."
The Greater Spokane League's offensive MVP in 2011, Gallaway should provide the Eagles with strong playmaking skills out of the midfield, with familiar faces playing both behind and in front of her.
"I'm so happy to have (two-time GSL defensive MVP) Laci Rennaker here, too," she said. "Laci and I have played together for a long time. The fact that there are a number of local players here is a good thing. We've either played together or played against each other so much that we know what we're going to do and how we're going to react together on the field."
Adding to the familiar mix is former CV teammate Savannah Hoekstra, the 2013 Washington State Class 4A Player of the Year, one of nine in-coming freshmen this season.
"Savannah being the 4A State MVP and a state champion says a lot about her ability," Bodnar said in announcing her signing. "She comes from a quality club and high school program and is the type of player we want to bring into EWU on a consistent basis. She's incredibly athletic and I think she'll stretch teams with her pace up top and her athletic ability going to goal."
"I think everyone had high expectations for last season," Gallaway said. "We lost a lot more games than we thought we should, and it was really tough to have to stand on the sidelines and watch it happen.
"I was able to watch and learn last year. I'm excited to get out and play."
Subscribe to the Coronavirus newsletter
Get the day's latest Coronavirus news delivered to your inbox by subscribing to our newsletter.
---
Subscribe and login to the Spokesman-Review to read and comment on this story