Sports
Team of mostly ex-NAU players tops one with ex-Zags at Hoopfest
Mon., June 30, 2014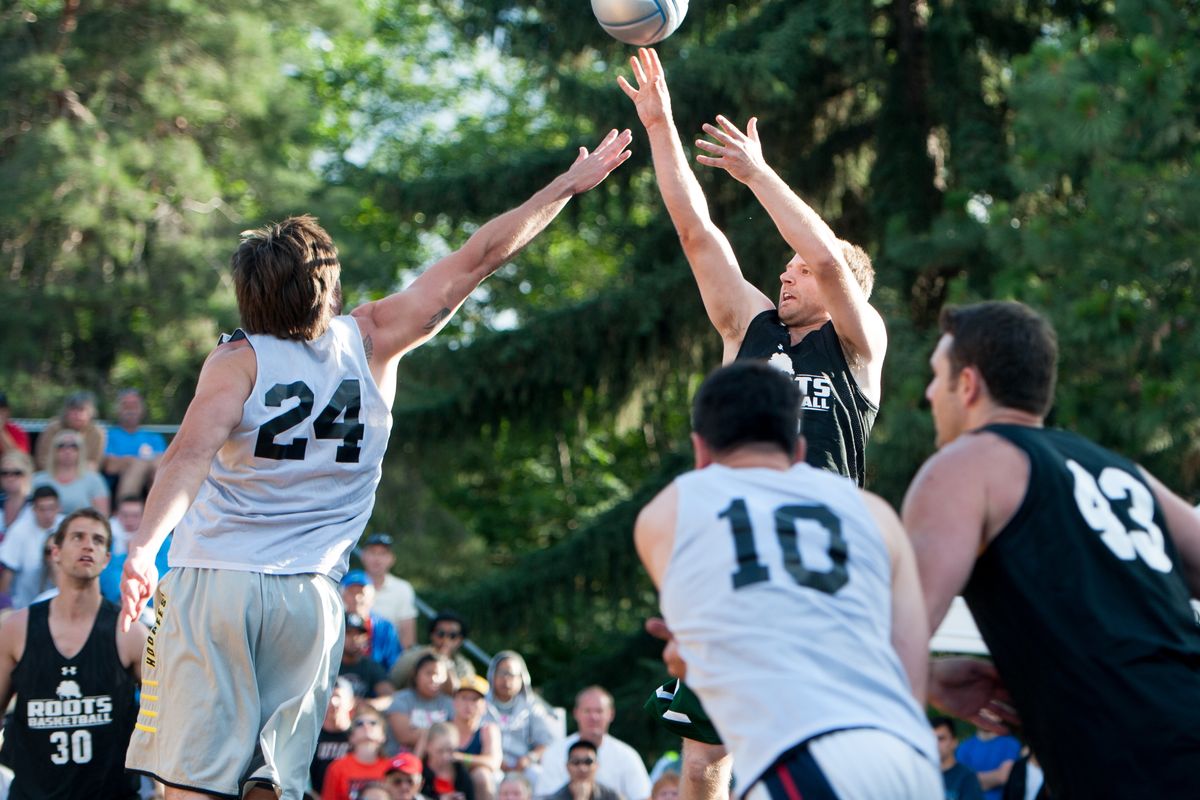 Roots Basketball's Josh Wilson shoots against Spokane Club Elite in the men's elite championship game won by Roots. (Tyler Tjomsland)
The magic of McCarthey Athletic Center got lost on the way to Riverfront Park as a team of mostly former Northern Arizona players beat two former Gonzaga players for the Hoopfest men's elite championship on Sunday.
Hot early shooting gave Roots Basketball an early lead. But Spokane Club Elite, featuring former Zags Cory Violette and Blake Stepp, made a run to get close.
But Roots' Josh Wilson hit a 2-point jumper to win it 20-14 for the finale of the 25th anniversary of the world's largest 3-on-3 basketball tournament.
"I don't know how anybody was going to beat them with them shooting like that," said Stepp, 32, who missed several shots from long range. "We're beat up. They are about as old as we are. But my hat's off to them. They earned it."
The Roots team included Kelly Golob, of Olympia, who earned the tournament MVP award; Ryan McDade, of Renton, Washington; Wilson, of Longview, Washington; and Dustin Williams of Los Angeles. Golob, McDade and Wilson all played for the Northern Arizona Lumberjacks.
"We knew we were going to have to move and shoot well to beat them," said Golob, who was competing in his sixth Hoopfest. "That was cool. We always looked at Gonzaga as a program we admired."
McDade hit a long jumper for a 2-point basket. A few moments later he snagged a rebound from one of his teammate's misses and hit a layup to put his team up 12-6. Wilson followed with a 2-pointer and McDade hit a free throw that appeared to put the game away at 15-6.
But a run by Violette and former Montana player Matt Dlouhy narrowed the score to 18-14 before Wilson ended it with the long jumper for the game-winner.
"Kelly and Josh are such good shooters. Just give them an inch and they are lights-out," said McDade, who spent a lot of the game pounding against Violette.
"I watched Cory play a lot when he played at Gonzaga," he said. "It was fun going up against him."
Horse power
About an hour before the finale, a team featuring a local player won the 6-foot-and under elite championship. Preston Wynne, of Wellpinit, hit a jumper to win 20-17 for Desert Horse over Real Drama.
Wynne went from working construction on the Spokane Indian Reservation to starring at the Community Colleges of Spokane to earning MVP honors while helping Vanguard University, in Costa Mesa, California, win the 2014 NAIA national championship.
"I got two championships and two MVP trophies," Wynne said. "It's been a great year. I'm just blessed, I guess. You couldn't ask for anything better."
Wynne teamed up with Zachary Camel, Michael Jackson and former Montana star J.R. Camel, who helps coach basketball at the Salish Kootenay College in Pablo, Montana.
"It's probably my eighth year trying this," Camel said. "I just turned 40. It's on my bucket list. It's a hard tournament, but it's been a good one."
Five in row for TBA
TBA, a team of former collegiate players, made it a five-peat when they easily won the women's elite championship game 20-11 against an overmatched Every Blessed Day.
TBA doesn't practice together. They just converge on Spokane from Seattle, the Portland area and Canada and win. Sunday's championship made it five consecutive Hoopfest trophies.
"I've been playing Hoopfest for nine years," said Breanne Watson, who played for Washington. "I tried different combinations until we put this team together. We have the chemistry. We don't practice. Once a year, we come here to Hoopfest."
The team, including Lindsey Wilson (Iowa State), Amy Lefotu (Seattle Pacific) and Casey Bunn (Oregon State), was formed several years ago when Watson and Wilson met during a pickup game on Washington's campus in Seattle.
"The goal was always to win three," Watson said. "But then we got to four. You can't end on four. That's a weird number."
Local journalism is essential.
Give directly to The Spokesman-Review's Northwest Passages community forums series -- which helps to offset the costs of several reporter and editor positions at the newspaper -- by using the easy options below. Gifts processed in this system are not tax deductible, but are predominately used to help meet the local financial requirements needed to receive national matching-grant funds.
Subscribe to the sports newsletter
Get the day's top sports headlines and breaking news delivered to your inbox by subscribing here.
---