News > Obituaries
Obituary: Conwell, Rev. Joseph F.X., S.J.
Age 94
Wed., March 5, 2014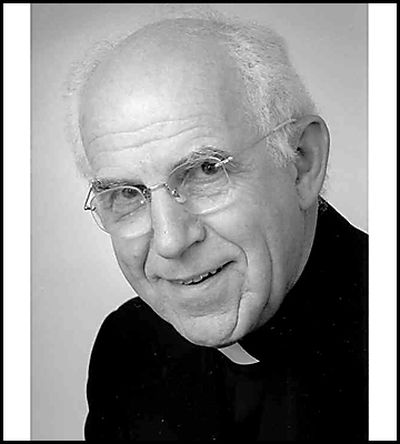 CONWELL, Rev.
Joseph F.X., S.J.
(Age 94) Fr.
Joseph Conwell, SJ died February 28, 2014, at the Jesuit Infirmary in Spokane.
Priest, professor, administrator, scholar, friend, spiritual director; Fr.
Joe wore these hats and many more in a life that reached well beyond the Pacific Northwest.
The youngest of four children, Joseph Francis Xavier Conwell was born in Spokane, WA on August 10, 1919 to James Urban and Gertrude (O'Malley) Conwell.
He graduated from Gonzaga High School in 1937 and entered the Jesuit Novitiate at Sheridan, OR, in August that same year.
He was ordained a priest on June 17, 1950, in San Francisco, CA.
Following ordination, Fr.
Joe earned a doctorate in Theology (1957) from the Gregorian University in Rome, Italy.
He returned to Spokane and undertook teaching and administrative duties at Gonzaga University until 1975.
Fr.
Joe was the first assistant director of the Gonzaga-in-Florence program and stayed in touch with many of its alumni.
From 1975 to 1986 he directed the Jesuit Tertian program in Spokane, ably assisting priests and brothers in their final stage of formation before professing final vows.
Having finished these duties Fr.
Joe immersed himself in the scholarly study of the spirituality and history of the Jesuits and the Catholic Church.
He was noted for the books, papers, talks, and insights that came from this period of his professional and spiritual life.
Fr.
Joe was a popular spiritual director and retreat leader (SEEL Program); religious and lay people alike would seek him out for counsel, direction, and friendship.
Fr.
Joe's family, former students, fellow Jesuits, and many friends and acquaintances will deeply miss his humor, scholarship, and wise counsel that deeply affected their spiritual and personal lives.
One great passion/pastime of Fr.
Joe's was to watch the Gonzaga University men's basketball either in person or on TV; in the last weeks of his life he marshaled the strength to stay up late and cheer them on.
Fr.
Joe was preceded in death by his parents James and Gertrude Conwell and his three siblings: Fr.
Jim Conwell, SJ, Sr. Joyce Conwell, FSPA, and Mrs. Gertrude Doyle (Joseph).
He is survived by two nephews and a niece: Terry Doyle (Denise), John Doyle, and Joyce Mayberry.
His grandnephews/nieces are: David Doyle, Greg Doyle, Kerry Doyle (Kamiah), Gene Doyle (Kristen), Linda Crane (Joe), Shirley Loucks, Bob Mayberry (Roxanne), Kenny Yargus, Kathy Engle (John), and Lody Stewart (Terry).
The great-grandnephews/nieces are: Kalia, Keagan, Kenzie, Kaedee, Kerry Joy, Konrad, Ryan, Joseph, Logan, Brandon, Justin, Ryan, Renee, and Joseph.
And there are six great-great-grandnephews/nieces: Tyler, Colin, Evan, Liam, Tyler, and Makenzie.
There are also cousins in Portland, OR and Ireland.
Visitation will be at the Ball & Dodd Funeral Home Wednesday, 10:00am until 4:00pm.
A Vigil Service will be held at 7:00pm, Thursday, March 6, at the Jesuit House Chapel at Gonzaga University, 1106 N. Astor.
The Funeral Mass will be 10:30am, Friday, March 7, at St. Aloysius Church, 330 E. Boone Ave.
The burial will follow at Mt.
St. Michaels Cemetery.
Contributions in honor of Fr.
Joe Conwell, SJ, may be sent to The Senior Fund, c/o The Oregon Province Society of Jesus, P.O.
Box 86010, Portland, OR 97286 and/or Hospice of Spokane, P.O.
Box 2215, Spokane, WA 99210.
Local journalism is essential.
Give directly to The Spokesman-Review's Northwest Passages community forums series -- which helps to offset the costs of several reporter and editor positions at the newspaper -- by using the easy options below. Gifts processed in this system are not tax deductible, but are predominately used to help meet the local financial requirements needed to receive national matching-grant funds.
Subscribe now to get breaking news alerts in your email inbox
Get breaking news delivered to your inbox as it happens.
---