Sports > Outdoors
Criticism of record walleye misguided
Thu., March 6, 2014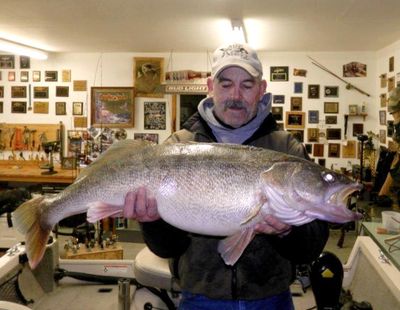 Most people who've seen the photo in Wednesday's paper of John Grubenhoff holding the Washington record 20.32-pound walleye he caught in the Columbia River are amazed and congratulatory.
But a surprisingly high percentage of readers are critical.
They're saying he should have released the egg-laden 35.5-inch female back into Lake Wallula, the reservoir behind McNary Dam where the fish was caught on Friday.
The Washington Department of Fish and Wildlife officially declared the fish a state record Wednesday – in record time. With interest in the fish spreading across the country, state officials fast-tracked a confirmation process that normally takes weeks.
Grubenhoff's lunker is the first walleye over 20 pounds caught in the United States since 1988, said Bruce Bolding, department warm water fisheries manager.
"It's a big deal," he said, noting the walleye topped the state record set in 2007 by more than a pound.
In order to be officially measured and weighed on a certified scale for record status, there's basically no option in this region for keeping a 3-foot-long fish alive.
Yet about 20 percent of the comments on The Spokesman-Review Facebook page yanked barbs in to the Pasco angler's reputation. The percentage is even higher on some fishing websites where the catch-and-release ethic has gone astray.
The outrage boils down to two contentions:
• The Columbia's walleye fishery will suffer because the female didn't get a chance to spawn her huge load of eggs.
• Luck and many years are required to grow a trophy walleye and they'll all be gone if anglers kill the few that get over 15 pounds.
The first point is bogus.
"From a biological, population dynamics and genetics perspective," Bolding explained, "releasing large, gravid females does not do much to perpetuate the population, for several reasons.
"Relatively speaking, there are so few large fish and so many more smaller fish that do most of the spawning. Female walleye in Washington become sexually mature at three years of age, when they are about 17 inches long and carry about 50,000 eggs. As they get older and larger, the number of eggs goes up sharply so it does not take many females at all to maintain a healthy population.
"Also, genetically, we know that large parents do not equate to more and larger offspring. Diversity is more important that size selection."
The second contention by the catch-and-release zealots has a bare thread of validity. Indeed, the big fish would disappear if anglers killed them all. But the problem with the argument is that they don't.
Why? First, because trophy walleye are darned difficult to hook and, second, because the most dedicated anglers like Grubenhoff – a regular on the walleye tournament circuit – rarely keep ANY walleyes.
"This is the first fish I've kept this year, other than a few small ones to eat," he said during the interview for Wednesday's story in which he detailed how he caught the record walleye.
"I felt bad about killing the fish, to tell you the truth. But when you get a fish like that, it ain't like you can have a reproduction made. I've caught a lot of fish. I knew it was special, maybe the fish of a lifetime."
Since he was fishing alone, landing the "big girl," as he calls it, required all of Grubenhoff's attention and skill to net.
"I got it up to the boat and I wasn't paying attention to how huge it was until I lifted it," he said. " 'Wow!' I thought.
"Then I set it on the bottom of the boat and said, 'Oh my Lord!' "
He lifted the walleye on a hand scale and saw the needle pop over the 20-pound mark.
"I knew it was a possible record," he said. "But I kept fishing."
He said he'd already caught and released a 14-pounder and a 6-pounder before he caught the 20-pounder – and he'd been fishing for barely an hour.
He was on a roll and the sun was going down. He said he's had his best fishing for large walleye during winter, just before dark.
"She was in the livewell, but after about 45 minutes I couldn't fish any longer," he said.
"I was so excited I couldn't concentrate."
He called his son, who contacted a fisheries biologist who met him at an Albertsons supermarket to witness the official record-breaking weigh-in.
The photo the Grubenhoffs posted of the fish went viral.
"Word gets around fast these days," he said, noting that he's seen comments from angers in many states, especially the walleye-crazy Midwest.
"Mr. Grubenhoff did far more for Washington walleye fishing by keeping this fish and getting a new state record than if he had released it," Bolding said from his office in Olympia.
"There has been a lot of excitement and notoriety, both locally and across the country because breaking the 20-pound barrier is huge.
"The last state record to break 20 pounds was in Missouri in 1988. Washington now has the fifth-largest state-record walleye and there is a good possibility we will keep moving toward the top.
"We have some of the best walleye fishing in the country and there is no reason to pretend to keep it secret."
Bolding is looking at the big picture, not just one man's fish of a lifetime.
"Washington has some of the highest densities and largest walleyes and our populations are greatly underexploited," he said. "We need anglers to harvest more fish. This is particularly true of Potholes, Moses Lake and Lake Roosevelt, along with the pools in the Columbia River.
"Some anglers don't agree with that because it is hard to grasp how enormous some of those populations are."
Contact Rich Landers at (509) 459-5508 or email richl@spokesman.com.
Local journalism is essential.
Give directly to The Spokesman-Review's Northwest Passages community forums series -- which helps to offset the costs of several reporter and editor positions at the newspaper -- by using the easy options below. Gifts processed in this system are not tax deductible, but are predominately used to help meet the local financial requirements needed to receive national matching-grant funds.
Subscribe to the sports newsletter
Get the day's top sports headlines and breaking news delivered to your inbox by subscribing here.
---