Sports
Zoe and Jenna Moser have one final sister act at State B
Thu., March 6, 2014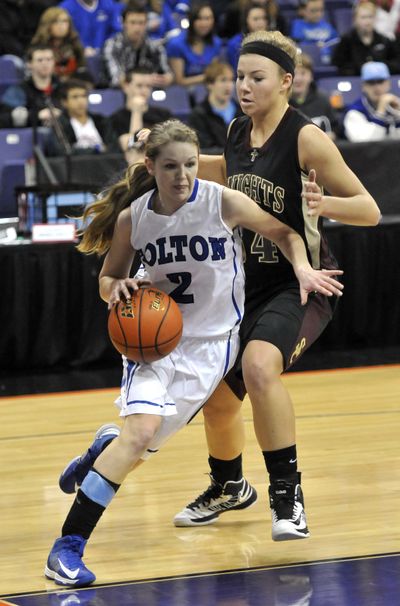 You can tell so much about Colton's starting backcourt by watching them shoot.
The way they set their feet, the way they launch themselves upward, the way they release the basketball, sending it on a high arc toward the waiting rim, snapping the net cords as it passes through.
Two players; one shot.
Identical form from the set of their feet to their follow-through; identical rhythm from coil to release; identical results amassed in 2s and 3s. Lots of 3s.
Senior Jenna Moser, last year's State 1B Player of the Year, just laughs. Her sophomore sister, Zoe, grins and nods.
"People can't tell our shots apart," Jenna said, laughing. "Our parents can't. Coaches can't. If you just watch us shoot, you can't tell us apart."
"I think a lot of it goes back to our dad," Zoe said. "He's worked hard with both of us, helping us learn to shoot. Jenna being older, her shot was a lot more advanced than mine when I was starting out. So, a lot of times, when I was struggling, he'd just tell me to look at Jenna and do what she does. It was natural to do the same thing."
The shared shot has powered Colton back to the Arena, where the Wildcats will battle for a sixth consecutive girls State 1B championship. Colton comes into the tournament as the favorite to win a sixth straight championship.
Since the 2006-07 season, when the WIAA split Class B into separate classifications, Colton has been a power in the smallest-school division.
The Wildcats were semifinalists at the 2007 tournament and finished third. A year later they lost in the final to Garfield-Palouse.
And then the run started.
Colton beat St. John-Endicott in 2009, Almira/Coulee-Hartline in both 2010 and 2011, Columbia (Hunters) in 2012 and Sunnyside Christian a year ago.
The Moser sisters have manned the backcourt for the Wildcats, driving the team to an undefeated record that boasts a 68-61 victory over 3A Shadle Park – the only game the team didn't win by a double-digit margin. Colton has outscored its opposition by more than 1,000 points this season.  The largest margin of victory was 75 points, but don't get the idea that the team likes to run up the score.
Rather, Colton plays a smothering defense and has an offense that knows how to shoot and how to score.
"We want to play hard and we want to make sure we run our offense," coach Clark Vining said. "We want to make sure we play our game and get our work done."
For Zoe Moser, it's a chance to play one final season with her sister and savor every minute together on the court.
"I was on the varsity last year and we were on the court together quite a bit," she said. "But this year, to be starting together in the same backcourt has been a unique experience and I am so glad to have had this chance."
Local journalism is essential.
Give directly to The Spokesman-Review's Northwest Passages community forums series -- which helps to offset the costs of several reporter and editor positions at the newspaper -- by using the easy options below. Gifts processed in this system are not tax deductible, but are predominately used to help meet the local financial requirements needed to receive national matching-grant funds.
Subscribe to the sports newsletter
Get the day's top sports headlines and breaking news delivered to your inbox by subscribing here.
---
Subscribe and log in to the Spokesman-Review to read and comment on this story