Sports > Spokane Shock
New Shock owner Nader Naini would like team to stay put
Sat., March 8, 2014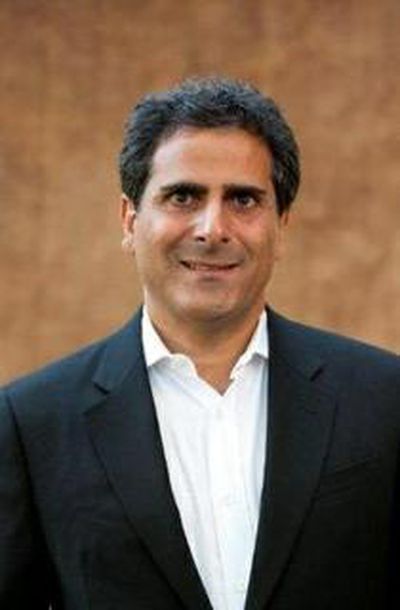 As Nader Naini sees it, the Spokane Shock is more of a civic asset than a privately held company.
If that sounds a bit self-serving – Naini is the managing partner of Arena Football Partners LLC, the team's new ownership group – he already has put his money where his mouth is.
"This is not an investment, this is a labor of love," Naini said Friday afternoon during the team's media event in Spokane Valley.
And if the Spokane-area business community loves the Shock half as much as he does, Naini said there's no reason why the team won't stay here "long after I'm gone."
On the other hand, "If at the end of the day we don't have the support of the community, this thing isn't going to work."
That said, Naini said that he and his partners are doing everything they can to make it work, even as the Shock wind up training camp ahead of the Arena Football League season opener at the Arena on March 15.
Since buying the franchise seven weeks ago, they've developed plans to beef up the front office – all with an eye toward increasing the fun factor at the Arena; in turn, they believe that will boost attendance.
"We'll start to see those fruits in three to four months," Naini said during a 15-minute interview that showcased the Seattle native as half-owner and half-fan.
Both want to win.
The son of an Iranian doctor and his wife who emigrated from Iran in 1958, Naini was born eight years later in Seattle and played football at Bellevue High School.
He earned an Ivy League education at Penn, but disappointed his parents by disdaining medical school and choosing a financial career.
After a stint at Goldman Sachs in New York, Naini made his fortune through Frazier Healthcare, a private equity firm that invests in health care companies. "My parents are more pleased with me now," joked Naini, who moved back to Bellevue in 1991.
His interest in sports ownership goes back even further, when he picked up a copy of Sports Illustrated that featured Jerry Buss, then owner of the NBA's Los Angeles Lakers.
"I thought 'Gee, that would be really cool,' " said the 48-year-old Naini, who admits that he was turned off by the increasingly business- centric focus of pro- fessional sports.
Then he attended a Shock game last year at the invitation of Ryan Nelson, brother of then-majority owner Brady Nelson.
"The passion in that building was just undeniable," Naini said. "It was just pure sports. I told my wife that it was such an enjoyable experience. And that was the end of it," Naini said.
That is until the Nelsons put out feelers. "I said, 'Count me in,' " said Naini. Ryan Nelson remains a part-owner.
There's hard work ahead. Brady Nelson admitted that shrinking margins were a factor in his decision to sell; player salaries increased after the strike-addled 2012 season while average attendance in the past two years dropped to 9,160 despite a winning product on the field.
That's 1,000 fewer than the Shock drew in 2010 and 2011 and 1,500 below the big crowds that watched them in their afl2 days that began in 2006.
"I think we can take it back up to 10,000," said Naini, a Seattle resident who also is a minority owner of the Tacoma Rainiers baseball club.
Of the four-part revenue stream that sustains the Shock, the biggest are ticket sales and corporate sponsorships; Naini is courting both.
In the meantime, there's football to be played.
Coach Andy Olson said Friday that his defensive unit may be the best he's ever had, while veteran quarterback Erik Meyer is the top performer in the AFL.
"The football operation hasn't changed at all," said Olson, whose 2013 club fell one game short of the Arena Bowl.
"He (Naini) hasn't gotten on my back at all, and I like the direction he wants this organization to go."
Which according to Naini is nowhere, at least geographically.
"I can assure you as the managing partner, my sole intent is to make the Shock a success in Spokane," said Naini, who describes the demographics in Spokane as "fantastic."
"We have a great, loyal fan base, so why would you ever want to change anything. That makes no sense."
Local journalism is essential.
Give directly to The Spokesman-Review's Northwest Passages community forums series -- which helps to offset the costs of several reporter and editor positions at the newspaper -- by using the easy options below. Gifts processed in this system are not tax deductible, but are predominately used to help meet the local financial requirements needed to receive national matching-grant funds.
Subscribe to the sports newsletter
Get the day's top sports headlines and breaking news delivered to your inbox by subscribing here.
---