News > Spokane
Spokane's Julia Sweeney talks about the places Airbnb has taken her
Mon., March 10, 2014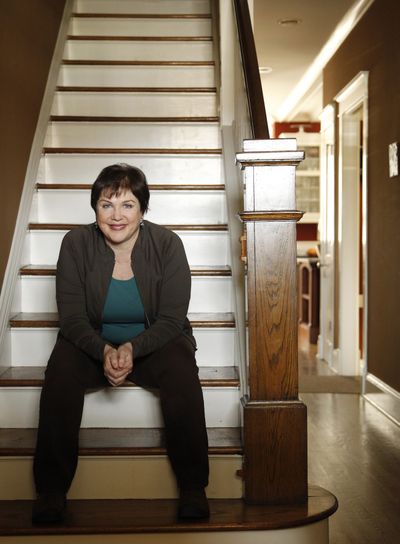 What Julia Sweeney has come to call her "Airbnb year" started Memorial Day weekend in Spokane.
It took her to a tiny apartment in London, a treehouse in Hawaii and a working-class neighborhood in Guangzhou, China, where she became convinced that no one had ever seen a white person before.
"When I found out about Airbnb, I just went nuts," said Sweeney, a Spokane native, author and former "Saturday Night Live" cast member.
In seven months, she stayed in eight places advertised on Airbnb.com. And now, as the city of Spokane contemplates rewriting its laws to allow the kind of short-term renting options advertised on vacation rental websites, Sweeney has a lot to say about the positives and negatives of Airbnb.
Sweeney experienced life in China in a way that travelers staying in hotels only can guess about. She met fascinating and nice people. And she usually stayed for cheap, sometimes in locations that could have cost five times as much had she booked a hotel.
But it wasn't all good.
She was swarmed by bugs in Hawaii and bitten by a bed bug in Los Angeles. She learned that as nice as hosts can be, she wants her own bathroom. When something breaks, like a screen keeping out bugs, she discovered that owners may not be around to fix it. And she dealt with some crazy showers.
Sweeney learned that sometimes she really doesn't want to make conversation with semi-strangers, even if they are delightful and she's sleeping in their apartment.
And that is why, even though she defends Airbnb and describes her experience as good at six of the eight places she stayed, she will not use the service again anytime soon.
She comes to Spokane three or four times a year to visit her mom, who lives in a South Hill condo. She doesn't mind staying with her, but Airbnb gave her and her husband, Michael Blum, the unique opportunity to entertain friends while visiting her hometown.
Sweeney traveled more than usual last year because of the release of her book, "If It's Not One Thing, It's Your Mother." 
In London, on a book tour, she stayed with a couple just off Piccadilly Circus in a one-bathroom apartment. It cost her only $80 a night for a prime location. But she became self-conscious.
"I feel like I spent an entire week trying not to go to the bathroom," she said. "It was, overall, great. I got to see what it is like to live in London."
In Ireland, on the same book tour, she had an "absolutely dream Dublin experience" thanks to an apartment she rented through Airbnb.
In Hawaii, she picked a place labeled a "tree house." Her stay was ruined by a broken screen the host was not able to fix. At night, "all the bugs from the entire tree" swarmed onto her Kindle as she tried to read.
In December, she and Blum took their 14-year-old daughter, Mulan, who was adopted as an infant from China, for a trip around that country. Sweeney booked them into the only Airbnb place available in Guangzhou, a city of 13 million people. They stayed on the north side of town in a tourist-free, working-class neighborhood.
"We were stared at constantly," Blum said.
They loved the apartment where they stayed in Beijing, but the cold weather was managed by hanging blankets from the ceiling.
In Guangzhou, they found delicious and cheap meals nearby and enjoyed the family they stayed with in a large apartment building.
Sweeney was apprehensive of the shower. 
"Think of it this way, a shower with a toilet in the middle of it," she said. "After I didn't shower for several days … my family put their foot down and insisted."
But Sweeney would not trade this experience for a posh hotel bathroom.
She believes hotels and bed-and-breakfasts will have to adapt to Airbnb – social media has made this new kind of accommodation inevitable, she said. 
Still, Sweeney says she doesn't believe hotels have much reason to feel threatened. Most travelers don't want to share bathrooms and interact every morning and night with a host.
Turns out, she is one of them.
"After eight of them, I'm like, OK, hotels are good," Sweeney said. "I appreciate them a lot more now."
Local journalism is essential.
Give directly to The Spokesman-Review's Northwest Passages community forums series -- which helps to offset the costs of several reporter and editor positions at the newspaper -- by using the easy options below. Gifts processed in this system are not tax deductible, but are predominately used to help meet the local financial requirements needed to receive national matching-grant funds.
Subscribe now to get breaking news alerts in your email inbox
Get breaking news delivered to your inbox as it happens.
---