News > Spokane
Stolen 'Kate' statue found near Coeur d'Alene
Tue., March 11, 2014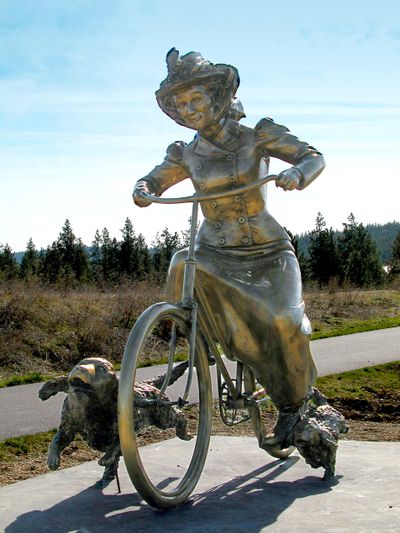 "Kate" will ride again.
The popular bronze statue stolen from a Coeur d'Alene park in January – and assumed sold for scrap – has been found, dirty and dinged but still in one piece.
David Clemons, the Coeur d'Alene artist behind the nostalgic depiction of a woman pedaling a bicycle, didn't think he'd see her again.
"It sounds like a situation which somebody decided it was too hot to try to get rid of it and they just dumped it someplace," Clemons said Monday.
A man looking for antler sheds Saturday on vacant property southeast of Coeur d'Alene stumbled upon the muddy statue, a rope tied around Kate's neck. He called authorities, who determined it was the missing piece.
Valued at $25,000, the artwork was cut from its foundation in Riverstone Park before sunrise on Jan. 18. Similar thefts of public art have been attributed to the lure of quick cash from the scrap metal market.
"We figured she was melted or in the river or something," said Bill Greenwood, interim city parks director.
The city had asked Clemons for a proposal to re-create the artwork, but now officials hope the original piece can be restored and returned to its mount.
"It's good news because now we don't have to start over from scratch," Greenwood said.
Clemons added, "If she's still very intact and recognizable, I can probably put everything back together."
The reinstallation likely will include measures to thwart thieves.
"We're probably going to modify her a little bit so we maybe get it a little more anchored," Greenwood said.
The city also is considering putting a video surveillance camera in the park to keep an eye on Kate.
Local journalism is essential.
Give directly to The Spokesman-Review's Northwest Passages community forums series -- which helps to offset the costs of several reporter and editor positions at the newspaper -- by using the easy options below. Gifts processed in this system are not tax deductible, but are predominately used to help meet the local financial requirements needed to receive national matching-grant funds.
Subscribe now to get breaking news alerts in your email inbox
Get breaking news delivered to your inbox as it happens.
---